Haarlem Stadsschouwburg
52 Views
The city theatre is the place to go in Haarlem for theatre shows and concerts. The Stadsschouwburg underwent a thorough renovation in 2008, ninety years after it was first completed. The interior complies with the most modern requirements although the original elements were preserved. The theatre has many interesting features, including a monumental stage tower, a theatre hall that takes on red and hold hues, and large foyer windows with a view of the square.
Anonymous donation
Haarlem had several smaller theatres until the start of the 20th century. Since the audience's safety could not be guaranteed they were closed down on the fire department's orders. A new theatre was needed and unexpected aid was offered in 1914. The city received an anonymous donation of 250,000 Dutch guilders (about 115,000 euro) to build a theatre. The Haarlem Stadsschouwburg was inaugurated four years later.
Programme
The city theatre is the place to go to for dance, musicals, theatre, cabaret and music. You will not have to walk far to find it because it is right in the city centre, a 15-minute walk from the railway station. There are plenty of restaurants near the theatre where you can have dinner and a drink before the show.
Our recommendations for more Holland information
Vibrant festivals, royal art, canal tours and picnics: enjoy the summer in Holland!

Read More

Undoubtedly one of the jewels of Europe, and not just because of the stunning 17th century canals. Go find out for yourself!

Read More

Hotels in special locations, luxurious or low-budget. Book your hotel room at attractive rates here.


Read More

Holland is the ultimate destination for cycling thanks to its flat landscape, mild climate, short distances and wonderful infrastructure.

Read More
What's nearby
Show on map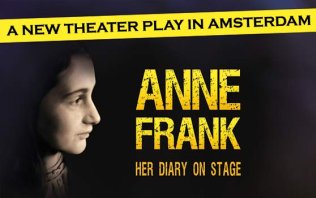 See ANNE in Theater Amsterdam! A unique play, translated into 8 languages, about the life of Anne Frank.
Read More