The Maastoren is not only the tallest building gracing the skyline of Rotterdam, it also happens to be the tallest building in Holland and the Benelux. The Maastoren is 161.2 meters high (529 feet), but you can actually add another 20 meters (65 feet) if you include the roof structure and the mast. If you are leaving the city center, driving across the Erasmus Bridge, you will see the Maastoren rise up on your left.
Construction of the Maastoren
The development of the Maastoren started in October 2006, and in May 2010, the highest tower in Holland was completed. The choice of the name, the Maastoren, was quickly made. The tower occupies a prominent location right on the Maas River, and in fact, part of the river was even drained for construction. The building was designed by the architectural firm of Odile Decq Benoit Cornette, in cooperation with Dam & Partners. The 44 floors house various offices and a parking garage.
Visit the Maastoren
It's easy to combine a visit to the Maastoren with other highlights in the immediate vicinity. Take a stroll down the Wilhelmina Pier, for example, where ships used to set sail for New York, and which is currently the location for various unique architectonic structures. If a cultural experience is what you're looking for, visit the Luxor Theater, and enjoy a delicious lunch in the nearby Hotel New York.
Our recommendations for more Holland information
Vibrant festivals, royal art, canal tours and picnics: enjoy the summer in Holland!

Read More

Undoubtedly one of the jewels of Europe, and not just because of the stunning 17th century canals. Go find out for yourself!

Read More

Hotels in special locations, luxurious or low-budget. Book your hotel room at attractive rates here.


Read More

Holland is the ultimate destination for cycling thanks to its flat landscape, mild climate, short distances and wonderful infrastructure.

Read More
What's nearby
Show on map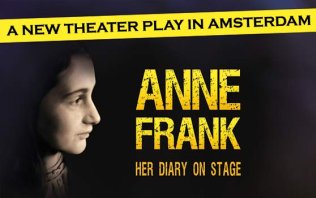 See ANNE in Theater Amsterdam! A unique play, translated into 8 languages, about the life of Anne Frank.
Read More