Peace Palace The Hague
1954 Views
'Het Vredespaleis' (The Peace Palace) in The Hague originated from the ideals of pacifism and world peace. At the end of the 19th century, these principles were blooming as never before. When the Peace Palace was finished in 1913, the palace was just as grand as the idea of world peace itself.

Design of the World

The palace was realized thanks to a collective cooperation of countries from around the world. When taking a tour you'll discover all the different, unique contributions countries have made to make the beautiful gardens, architecture en interior design of the Peace Palace possible.

City of Peace and Justice

The Peace Palace could not find a better home than The Hague; the City of Peace and Justice. Today the building is still used by the International Court of Justice, the Permanent Court of Arbitration, the Peace Palace Library, as well as by The Hague Academy of International Law. By taking a tour you will discover every detail of this iconic structure.
Find out more about The Hague or the culture of The Hague.
Our recommendations for more Holland information
Vibrant festivals, royal art, canal tours and picnics: enjoy the summer in Holland!

Read More

Undoubtedly one of the jewels of Europe, and not just because of the stunning 17th century canals. Go find out for yourself!

Read More

Hotels in special locations, luxurious or low-budget. Book your hotel room at attractive rates here.


Read More

Holland is the ultimate destination for cycling thanks to its flat landscape, mild climate, short distances and wonderful infrastructure.

Read More
What's nearby
Show on map
Address:
Carnegieplein 2
2517KJ The Hague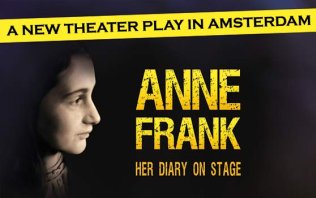 See ANNE in Theater Amsterdam! A unique play, translated into 8 languages, about the life of Anne Frank.
Read More