Volendam, the old fishing village at the IJsselmeer, offers costumes, sporting events, music, and of course fish. The village is characterized by countless little houses around the small fishing port.
Highlights of Volendam
The first thing you should do on your trip to Volendam is to wander through the streets and enjoy the town's lively atmosphere. Walk along the dike, churches and old center. After that, have your picture taken in Dutch traditional costume. The traditional costumes are sill worn on folkloric events. Thirdly, you should ask for the Volendam 'Palingsound' ('eel sound') Some of the most famous Dutch singers and musicians were born and bred in this small fishing village.
Visit Volendam
Volendam is just a short ride from Amsterdam and is visited by thousands of tourists every year. If you're planning on visiting Volendam in June, see if you can combine it with the Volendammer Weekend.
Our recommendations for more Holland information
Beaches, flower-bulb fields and royal feasts: Holland celebrates spring outdoors!

Read More

Undoubtedly one of the jewels of Europe, and not just because of the stunning 17th century canals. Go find out for yourself!

Read More

Hotels in special locations, luxurious or low-budget. Book your hotel room at attractive rates here.


Read More

Holland is the ultimate destination for cycling thanks to its flat landscape, mild climate, short distances and wonderful infrastructure.

Read More
What's nearby
Show on map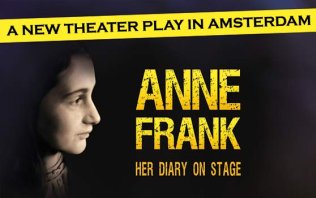 See ANNE in Theater Amsterdam! A unique play, translated into 8 languages, about the life of Anne Frank.
Read More