Cafés and terraces in The Hague
Cafés and terraces in The Hague
1044 Views
The Hague, beautiful and dignified city protected by dunes... But The Hague is about much more than just beauty and chic. Above all, it's a nice place to be! So if you are looking for a cosy café or a convivial terrace, The Hague has plenty to offer. For young and old, chic and casual, pricy or low-budget - everyone will find a place to his or her liking. We have selected a few nice locations for you...
Cafés
De Boterwaag (Grote Markt 8a): Wonderful Grand Café located in a 17th-century monumental building. The beautiful vaulted ceiling must be seen to be believed.
De Zwarte Ruiter (Grote Markt 27): the café to be seen in when visiting The Hague. Many a legendary The Hague band started out on the stage where you can now enjoy a drink and a bite to each. This is the perfect pub for lovers of rock and live music.
De Haagsche Kluis (Plein 20): This beautiful Art Deco style building was not always a cosy café. Before the war, it was used by a famous firm of stockbrokers. So you'll be having a drink in the former vault... Feels quite safe, doesn't it?
Café 2005 (Denneweg 7 F): Pleasant café in district 2005 where you can also have a bit to eat.
Havana (Buitenhof 19): Cuban-style dance café that serves great cocktails and excellent food accompanied by music that makes you want to dance. Highly recommended!
De Pijpela (Noordeinde 14A): This little pub can be found in a cul-de-sac off the Noordeinde. The music mainly dates from the 1960s, 70s and 80s. A hard-core pub for people who want to stay up till dawn.
Café Momfer de Mol (Oude Molstraat 19): Welcoming village café in the big city.  This is a nice place to go for those who have outgrown their teenage tendencies.
Café de Vink (Schoolstraat 28): The oldest and definitely the most bustling gay bar in The Hague.
Terraces
Het Plein: When you are visiting the Dutch government centre, you may want to have your beer amid the political bigwigs and civil servants. The terrace on the Plein is the place to meet them...
De Plaats: Enjoy a good lunch on one of The Hague's oldest squares, with a lovely view of the Hofvijfer (Court Pond) and Binnenhof (Inner Court).
De Mallemolen: The most welcoming street in The Hague has a terrace to suit every taste. Motorised vehicles are banned. You can have a Mediterranean meal at Le Moulin Fou, a stiff drink at de Mallemeid, or the best sateh (Indonesian-style peanut sauce) in The Hague.
De Markt: If you prefer things a little more easy-going than at the chic Plein, give the Markt a try. There is live music at night in many cafés.
Anna Paulownaplein: Intimate city square where you can enjoy a good drink or a great three-course dinner.
Please contact the local tourist (VVV) office for more information on any of the addresses listed above. You could also ask a resident of The Hague for local tips. He or she will probably be able to enlighten you as well.
What's nearby
Show on map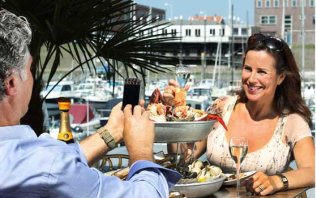 The best Scheveningen restaurants selected for you.
Read More