Orange fever is contagious
Football is a national sport in the Netherlands. Over 1 million people actually play football, but almost everyone has an opinion about it. Especially during championships tension rises and the orange fever takes hold over the country. The Dutch have influenced the game of football with starplayers, such as Cruijff and Van Basten, world famous trainers, like Michels and Hiddink, impressive achievements of the national team and an enthusiastic orange legion of fans. Learn more about the Dutch and their love for football and join the orange madness.
Where can you watch football in Amsterdam? These are the best places to experience the Dutch football madness.

Read More

Support Holland and sing along with the best football songs of all time.

Read More

Holland fans are characterized by their orange outfits. Find out why the color orange is so important to Holland fans.

Read More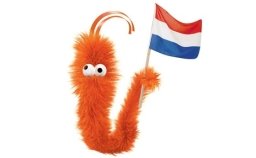 Show your orange support on our official Holland Facebook page.
Read More