'Kop van een vrouw' aan de muur © Marc Bolsius
Het Noordbrabants Museum has once again expanded its ever-growing collection of works by Vincent van Gogh.
Vincent van Gogh features very prominently at Het Noordbrabants Museum. As a regional museum with an international ambition, the museum seeks to bring together a collection representing the works created by the world-famous Brabant artist in his home region. Following three smaller exhibitions in 2015 and 2017, a major exhibition opened in 2019: Van Gogh's Inner Circle: Friends, Family, Models, with works on loan from all over the world. The museum subsequently acquired the watercolour drawing 'The Garden of the Vicarage at Nuenen' (1885) in late 2016, the painting 'Watermill at Coll' (1884) in 2017, and the painting 'Still Life with Bottles and Shell' (1884) in 2018. 'Head of a Woman' (1885) is the fourth purchase of a Van Gogh in just four years. Adding the 'Peasant Woman Digging' (1885) acquired in 1984, the museum now owns five works by Vincent van Gogh. With another eight on loan, Het Noordbrabants Museum currently hosts a total of thirteen Van Gogh works.
'Head of a Woman' is part of a key series of works produced in Nuenen between November 1884 and May 1885. Van Gogh sought to become a good figure painter, producing a few dozen studies of heads to this end. The progress he made in this field was soon reflected in his masterpiece 'The Potato Eaters'. A relatively colourful piece amongst his Brabant works, 'Head of a Woman' is one of the few head studies with a light, coloured background.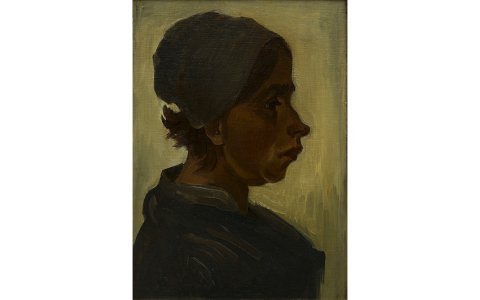 Van Gogh painted various farmers and rural labourers from Nuenen and the surrounding area. Their weathered faces portray the arduous life of a peasant, in close communion with nature. Van Gogh was particularly interested in models with characteristic facial features. This unknown woman with her striking appearance must have made quite an impression on Van Gogh, as he captured her image several times. The contours of her profile stand out vividly against the light background, while her hair playfully pops out of her bonnet. This powerful canvas piece is a wonderful addition to the collection, as the museum welcomes its first portrait.
Het Noordbrabants Museum is not used to spending so much to acquire a single work, but museum director Charles de Mooij is impressed by the support that the museum continues to receive from donors and sponsors time and time again. 'As with many acquisitions, this painting was obtained entirely using outside funds, mostly thanks to those who take part in the BankGiro Lottery. The rest was donated by sponsors and private individuals who have been supporting the museum for many years. It's incredibly heartwarming!'

Visitors can see the newly acquired Van Gogh portrait of a woman from the Nuenen area (1885) at Het Noordbrabants Museum from Thursday 3 to Sunday 6 September. The painting will then undergo conservation treatment, before being included in the completely new 'Van Gogh in Brabant' permanent exhibition, which will open at the end of March 2021.