The Netherlands Board of Tourism & Conventions has launched a Cycling Lifestyle AI tool. Using Artificial Intelligence (AI), Google Streetview and with the knowledge of Dutch cycling experts, among others, it will be possible to transform any street in the world into a green and cycling-friendly environment. With this tool, people all over the world will have the opportunity to add a Dutch touch to their street to have an idea of the Dutch lifestyle when it comes to cycling.
The AI tool plays on the power of imagination. It gives you a representation of your street, neighbourhood or city and what it could look like with more greenery, flowers and bicycles. The tool is designed to get people thinking about what greenery and a safer environment means. Life on bikes is at the heart of the Netherlands' position as a forerunner in sustainability. In Dutch cities with their extensive network of cycle paths, you can vividly imagine a green future. With a culture built around such a sustainable mode of transport, it is only logical that the Dutch can be at the forefront of green innovation.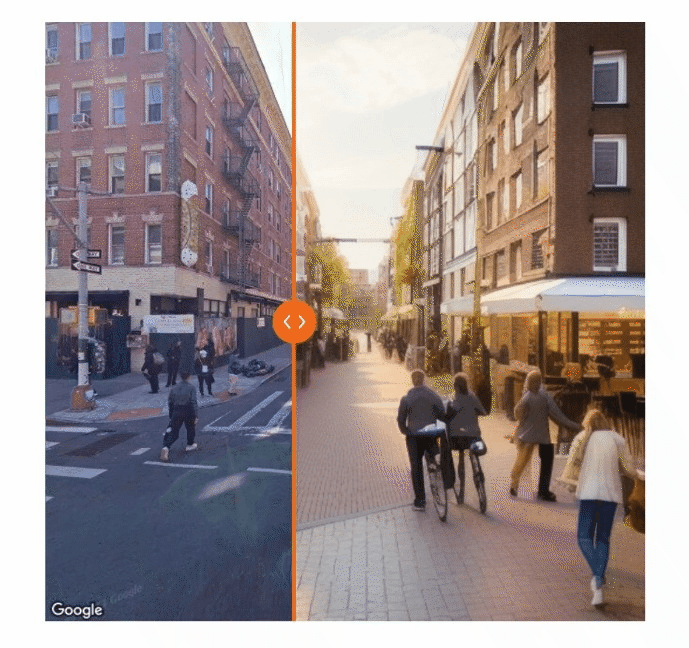 'Add a touch of Dutch'
Cycling is good for your health and for the environment. The bicycle is a sustainable means of transport par excellence and is an essential part of Dutch culture. Cycling is in the DNA of the Dutch. With an average of 1.3 bicycles per inhabitant and more than 37,000 km of cycle paths, cycling is a firm part of Dutch culture and identity. This is why the Netherlands has put cycling at the centre of its plans for a climate-neutral future. Innovations in cycling, such as cycle paths made of solar panels and smart paths that use sensors to manage user behaviour, play an important role in this.
The benefits of cycling
Switching from cars to bicycles reduces emissions per kilometre travelled by 65 per cent, thereby significantly improving air quality. Regular cycling increases life expectancy by 3 to 14 months and prevents serious diseases such as cardiovascular disease. Cycling also brings economic benefits. Cycling requires a lower individual investment than driving a car. The annual cost for cyclists is about EUR 300 compared to EUR 8,500 for car users.
The Cycling Lifestyle AI tool can be found at www.dutchcyclinglifestyle.com.