Grand Hotel Huis ter Duin
Grand Hotel Huis ter Duin
987 Views
Grand Hotel Huis ter Duin is member of Preferred Hotels Worldwide. The hotel has 230 rooms, 20 suites and 4 penthouses, all overlooking the North Sea or the surroundings of Noordwijk. Offers 19 multifunctional rooms, including the largest ball room of Noordwijk (1056 m2) up to 2750 guests.
Hospitality, perfection, facilities and superior service make it an unique location for (inter)national business meetings. The five-star deluxe hotel has 19 multifunctional conference rooms, with a maximum capacity of 1.500 people. The "Keizerzaal" is suitable for 400 guests and offers overlooking the North sea. The "Pickézaal" offers capacity for 1.050 guests and is our pride in Dutch conference industry. A perfect location for board meetings is our Boardroom. The hotel is well known because of the stay of the Dutch soccer team, the NATO and meetings of multinationals and the European Union.
There are 4 restaurants including a Michelin star, Restaurant Latour. For an informal lunch or dinner you are welcome in our Brasserie La Terrasse and Breakers Beach House (permanent beach house), on the beach. During the summer months you can enjoy the summer terraces adjacent to the hotel.
Other facilities are the atmospheric Van Diepeningen Lounge, Bar Maritime and The Club Conversation. For pampering yourself you should go to the MC Wellness Centre, a wonderful place to relax trough a combination of a Beauty Salon, Hair Salon and a Health Centre.
The hotel has 350 parking spaces. No worries, if you want to make your entrance by helicopter, Grand Hotel Huis ter Duin offers a private heliport.
Contact
Grand Hotel Huis ter Duin
Koningin Astrid Boulevard 5
2202 BK Noordwijk aan Zee
The Netherlands
Telephone: +31 (0)71 - 3651392
E-mail: [email protected]
Internet: www.huisterduin.com
Click here to view Grand Hotel Huis ter Duin's meeting capacities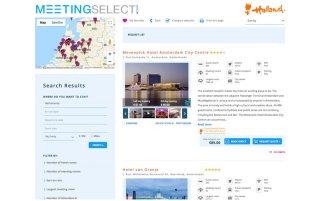 The Holland Venue Finder is the largest corporate booking tool for Dutch hotels, convention centres and venues.
Read more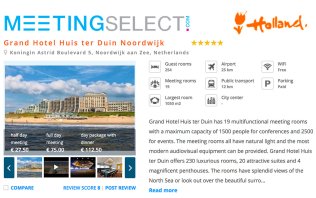 Go to our meeting venue finder powered by MeetingSelect to request a quote or directly book your event at Grand Hotel Huis ter Duin.
Read more
Popular conference hotels