Postillion Hotel Amsterdam
Postillion Hotel Amsterdam
Postillion Hotel Amsterdam opened the doors of its convention centre in the fall of 2016 and recently opened a 4* hotel tower featuring 256 bedrooms. The city centre location, in Amstel Business park, can be reached within 15 minutes from Amsterdam Airport and 10 minutes from the canal district.
The Convention Centre features a plenary room of 1000 m², which can be divided into eight smaller rooms or a combination of them. There are four foyers in front of the main meeting room. The first floor offers eight breakout rooms. The convention centre is a modern location situated in the old gumball factory Maple Leaf, named after the Canadian freedom fighters in World War II.
Hotel tower opening late 2018
The hotel tower in front of the Convention Centre will open late 2018 and contains 256 comfortable guest rooms, a restaurant, bar, a business point and a gym. The tower will also offer extra conference facilities including a main meeting room of 800 m² and a 500 m² foyer.
Meeting technology and Brainfood
Postillion Hotels is all about creating the ultimate condition for feeding the brains of your audience. The rooms contain state-of-the-art technology, a modern atmosphere and we serve actual Brainfood to prevent your audience from having a dip for another hour.
The designated project manager will support you in creating the ultimate conditions and functions as a single point of contact. At the same time, the AV project team will make sure that the state-of-the-art technology is used in the most optimal way to support the conference or event.  
Contact
Postillion Hotel Amsterdam
Paul van Vlissingenstraat 8
1096 BK Amsterdam
The Netherlands
Telephone: +31 (0)850580101
E-Mail: [email protected] 
Internet: www.postillionhotels.com
Click here to view Postillion Hotel Amsterdam's meeting capacities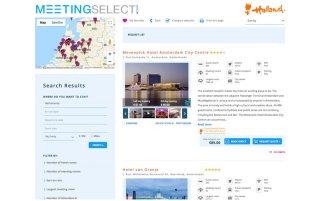 The Holland Venue Finder is the largest corporate booking tool for Dutch hotels, convention centres and venues.
Read more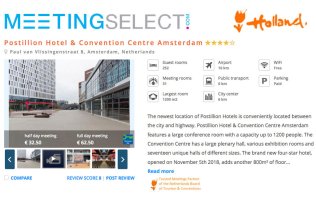 Go to our meeting venue finder powered by MeetingSelect to request a quote or directly book your event at Postillion Hotel Amsterdam.
Read more
Popular conference hotels