© Stijn Poelstra via Rotterdam Ahoy
© Stijn Poelstra via Rotterdam Ahoy

© Stijn Poelstra via Rotterdam Ahoy

© Stijn Poelstra via Rotterdam Ahoy

© Stijn Poelstra via Rotterdam Ahoy
From Corporate Events to XL-conferences
Ahoy is the only Dutch venue featuring an arena, exhibition halls and a congress and meeting centre all under one roof. That makes Ahoy a unique venue in the Netherlands and abroad. In 2020 Ahoy opened the Rotterdam Ahoy Convention Centre, consisting of the largest auditorium in the Netherlands and 35 break out rooms, which can be combined easily. And in addition, the brand new Expo Foyer (2,300 m²) can be used for an exhibition or gala dinner. The venue can now host corporate events or conferences from 50 up to 4,000 guests/delegates. Do you prefer an XL-conference? Then choose the indoor arena up to 11,000 delegates.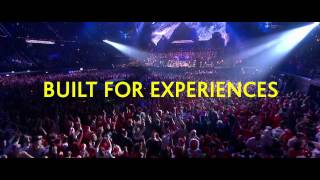 New hotel on premises
The venue is located only minutes away from the city centre of Rotterdam. A brand-new hotel counting 250 rooms is being built on the premises of Ahoy, so delegates can stay close to the venue.
Rotterdam, Europe's largest port city, is a buzzing metropolis with a breathtaking skyline. Because of the huge range of leisure activities on offer in Rotterdam, it comes as no surprise that Rotterdam has held a top position in the International Congress and Convention Association (ICCA) city rankings for years.
Contact
Rotterdam Ahoy
Ahoyweg 10
3084 BA Rotterdam
The Netherlands
T +31 (0)10 293 3243
E [email protected]
W www.ahoy.nl
Click here to view Rotterdam Ahoy's meeting capacities