SugarCity Events is a unique industrial event venue located in a former sugar factory, just 10 minutes away from Amsterdam and Schiphol Airport. With over 10,000 square meters of space filled with high ceilings, atriums and state-of-the-art technology to support your event (such as stunning LED lighting and a vehicle lift) the possibilities are endless!
Industrial venue for 100 to 10,000 people
Raw and authentic charm of the factory
For a great impact to your event
A former sugar factory with great accessibility
The reuse of many original materials ensure all improvements are sustainable and that the raw and authentic charm of the factory remains intact. The several halls provide possibilities for meetings and events, as from 100 people up to 10,000 people. Located opposite a railway station with a direct connection to Amsterdam CS and Haarlem, the location has great accessibility by public transport but also offers private parking spaces.
Leaves a great impact on every type of event
Discover that SugarCity Events can accommodate almost any event you have in mind. Join the many brands that have chosen to organize their event at SugarCity. Product launches, conferences, employee incentive parties, workshops, fashion shows, television programs, commercials and festivals can all be realized at this industrial venue. Historical elements such as brick walls, industrial pillars and staircases add great impact to your event. Last but not least, our well-experienced team would love to hear all about your requirements and is already exited to help you create a great experience for your audience!
Contact
SugarCity Events
Kristalpromende 7
1165  PD Halfweg
The Netherlands
Telephone: +31(0)20 369 01 13
E-mail: [email protected]
Internet: www.sugarcityevents.com
Click here to view SugarCity Events meeting capacities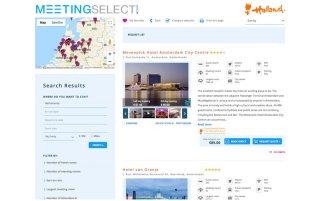 The Holland Venue Finder is the largest corporate booking tool for Dutch hotels, convention centres and venues.
Read more