Holland's finest mobile and movable venues
Holland's finest mobile and movable venues
157 Views
April 3, 2013
The objective of your meeting may require a setting that is out of the ordinary, to ensure that your delegates are inspired by the venue or their surroundings. Quite possibly, the venues you regularly use for meetings are not the most suitable this time, or they are simply not in the right place. Do not limit your choice to existing properties! Just bring the venue to where you want to go. Discover Mr. Holland's most inspiring mobile and movable venues.
Decide on the location of the venue yourself, you do not need to choose a fixed location at all. Holland has a myriad of options that are very different from what you may expect, but that may very well be key to a successful meeting. In order to help you shortlist suitable, yet decidedly unusual, venues, Mr. Holland shares his most inspiring mobile and movable venues. Bring the venue to your desired location or have your meeting 'on the move'. Read on for inspiring alternatives.
10. Ship ahoy

As approximately one-fifth of Holland consists of water, it goes without saying that there is an abundance of vessels. Choose a classical sailing ship, such as De Titaan, a high-tech event and expo vessel, such as the Ocean Diva Future, or a historical saloon steamer, such as the Dame van Amstel. Literally hundreds of ships are available to make the perfect match for your meeting.

9. Floating on the water

Holland also has a rich history in living on the water. Along many canals and rivers, you will see unusual houseboats which creates a unique scenery. Give your group the opportunity to experience what it is like to live on a houseboat. The geWoonboot in Amsterdam recently opened its doors as an exclusive meeting and training venue.
www.gewoonboot.nl
8. Transformer pop-up venues

Create your own mobile pavilion or add extra meeting space wherever you want. You can even take your meeting to your delegates, rather than let them come to you. These trailers transform amazingly into meeting or event spaces for up to 50.
www.eventrent.nl
www.zilvester.nl
7. Sky is the limit

Are you looking for a high-level meeting? Do you need a new perspective on things? We suggest a meeting in the sky, bungling from a huge crane! This Meeting in the Sky concept sounds crazier than it is. Up to 22 delegates are safely strapped in before they are taken up 50 meters. Just the thing to get their creative juices flowing. Alternatively, you may prefer a culinary experience with your private Dinner in the Sky, which is truly unforgettable.
www.showbusiness-entertainment.nl

6. Take the tram to work

Many cities have trams as a convenient means to travel to work. The Hague and Rotterdam also offer trams to actually work in. Several historical as well as modern trams are available for small, informal meetings and dinners. Meet while exploring either city, or make effective use of the commute from one location to another.
www.hovm.nl
www.stichtingromeo.nl 
5. Keep your meeting on track(s)

The train is not only an excellent means of transportation, widely used in Holland. Any railway station in Holland may be the departure point of your meeting, and any destination is possible, provided there are tracks. Your delegates will really move on with their meeting. See the scenery change as you travel through the countryside. Whether you need to set up a meeting for up to 80, organise a sit-down dinner, a cocktail reception or a mobile trade show, consider taking the train for your next meeting.
www.derijtuigenloods.nl 
4. Ballooning

If you have ever had the opportunity to fly in a hot-air balloon you will know what a wonderful experience it is. The wind will make you float through the air, enjoying the spectacular scenery passing by underneath. Combine this experience with a good discussion or brainstorm session and you are set for unconventional outcomes.
www.dutchballooning.nl
3. Wheels of luxury

Most trucks and trailers transport goods, but this one is a container for great ideas and encounters. The Luxury Royalton Lounge is a 14-wheel truck that is set up at your desired location. When the doors open you enter an extremely luxurious boardroom, private dining room or function room. The service that comes along is of outstanding quality.
www.royaltonlounge.nl
2. Busloads of inspiration

The school bus travelled the road to learning in your younger years, now it is the inspirational setting for your brainstorm meeting or workshop. Just hit the road and convert travel time into meeting time, or find the perfect spot to camp out with your group. If you prefer the luxury of modern coach transportation, you may opt for a meeting on a VIP coach.
http://www.vipbus.nl
www.brainstormbus.nl
1. 747 meetings

If you think an airplane is for travel over larger distances, you are in for a treat. Air Theme Park Aviodrome has an actual Boeing 747 available for your meeting. Travel 'Business Class' with up to 18, or have a theatre-style setting in 'Economy' for 75. The most unconventional setting is the 'cargo hold' for meetings and dinners. 
www.aviodrome.nl
You might also like this:
Let's meet at one of the Trade Shows
Team Holland is looking forward to welcoming you at the Holland stand during IMEX Frankfurt, the worldwide exhibition for meetings, events and incentive travel.

Read more

Team Holland is looking forward to welcoming you at the Holland stand during IBTM World, the leading global event for meetings, business travel and more.

Read more

Team Holland is looking forward to welcoming you at the Holland stand during IMEX America, the biggest meetings industry trade show in the US.

Read more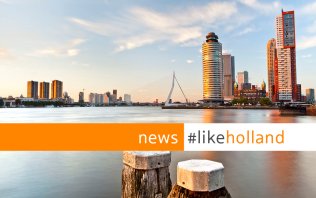 Our Holland Meetings newsletter will keep you informed about the latest news and best meeting deals and give you inspiring ideas for your next meeting in Holland!
Subscribe