Facts & figures about Amsterdam
Facts & figures about Amsterdam
50 Views
Museums
Rijskmuseum; van Gogh Museum; Hermitage Amsterdam; Anne Frank House
Market
The Singel Floating flower market
Excursions
Themed city walks such as 'Rembrandt's Amsterdam'
Events
Prinsengracht Classical Concert: musicians on a barge perform floating in little boats and lining the canal. (every year in the summer)
Unique locations
In Amsterdam you'll find the most diverse special venues for a meeting or conference: an art deco theatre, a 17th-century merchant's house or church building, a hi-tech cruise terminal, a world-famous museum, a state-of-the-art hotel.
Almost all special venues are within walking distance of each other, or a few minutes' boat ride apart over the canals. A rich assortment indeed, in comparison with other locations and all with the added bonus of Amsterdam's unique atmosphere. That's why Amsterdam has become one of Europe's top ten conference cities.
Figures
Number of rooms in 3* hotels: 7,476
Number of rooms in 4* hotels: 10,493  
Number of rooms in 5* hotels: 2,809
Distance to Amsterdam Airport Schiphol: 20 km
Largest venue: Amsterdam RAI Convention Centre
Capacity of largest auditorium: 2,500 pax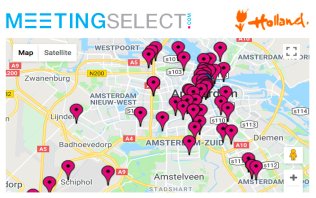 Browse our meeting venue finder powered by MeetingSelect and find your hotel and venue in Amsterdam.
Read more