Eindhoven is located in the Dutch province of Noord-Brabant, which is located in the south of The Netherlands. Due to its convenient location, Eindhoven is easily accessible from a number of international airports in The Netherlands, Germany and Belgium.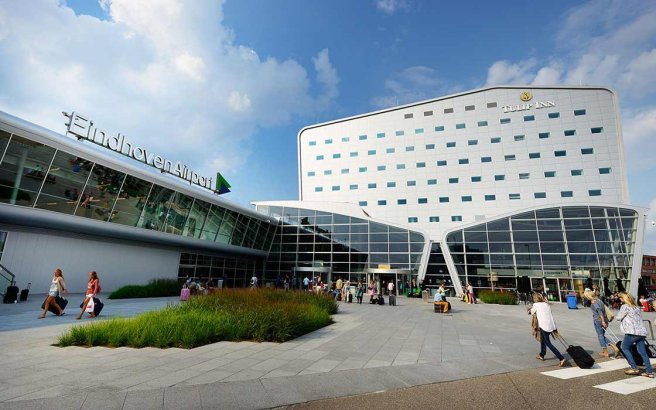 Amsterdam Schiphol, Düsseldorf and Brussels airport all within 125km/78mi reach
Excellent train connections to and from all main Dutch cities
German and Belgian border in close vicinity
By air
Eindhoven has the advantage of having three of the top international airports within an arm's reach. From Amsterdam Schiphol Airport, Eindhoven can be reached within 1.5 hours, either by car or by train. Dusseldorf Airport in Germany and Zaventem Brussels Airport in Belgium are both accessible within 1.5 hours by car. In addition, Eindhoven has its own local airport just outside the city, which serves many European and a few North African destinations. Rotterdam The Hague Airport and Maastricht Airport are also suitable options to access Eindhoven.
By train
All major Dutch cities and Amsterdam Schiphol Airport offer direct and frequent train connections to Eindhoven. No matter where in The Netherlands you are, it usually does not take longer than 1.5 hours to reach Eindhoven by train. Eindhoven's train station is located right in the city centre and all main venues and hotels are easily accessible from there.
By road
A number of The Netherlands' main highways cross paths in the Eindhoven area. This makes it easy to get to Eindhoven by car or taxi. There is also plenty of (paid) parking available in the city and at the larger meeting venues. Important to point out though is that travel times by car can be delayed due to high traffic, especially during morning and evening rush hour.
Looking for more reasons to meet in Eindhoven? The Why meet in Eindhoven page might be helpful.