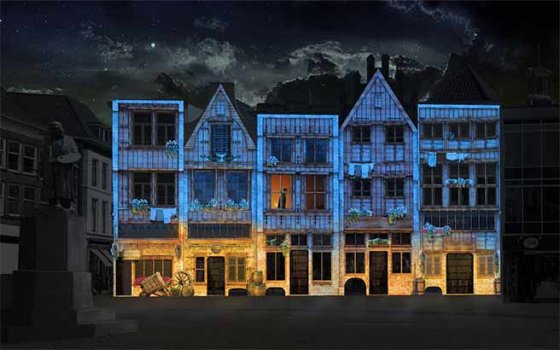 Bosch by Night starts on 8 May 2016, on the Markt (market square) in 's-Hertogenbosch. The light and sound show will bring Hieronymus Bosch to life there where, some 500 years ago, he created his masterpieces. The première will coincide with the final day of the successful Hieronymus Bosch – Visions of genius exhibition. Hieronymus Bosch 500 will use Bosch by Night to herald the rest of the programme for 2016.
Bosch by Night was originally intended to start on 4 March 2016, but was postponed due to the fact that two facades that it was to be projected on collapsed. Luckily, 'De Kleine Winst', the building Hieronymus Bosch's studio was located in 500 years ago, remained intact. The show that starts on 8 May will be projected on 'De Kleine Winst' and the four buildings to its right. To achieve this, the show's creators 'Mr. Beam' had to entirely re-work their original version.
Lian Duif (Programme Manager and member of the board of Hieronymus Bosch 500): 'Bosch by Night is one of the highlights of our programme, we expect to attract large numbers of visitors. Thanks to the excellent cooperation with the municipality and inhabitants we can reward the audience's patience with a magnificent spectacle that brings Bosch to life in his own city'.
Bosch Experience
The life-size projections used by Bosch by Night are of exceptional quality. Video mapping transports the audience to the painter's fantastic world full of wonderful monsters and timeless symbolism that fascinates and inspires people around the world to this day. Bosch by Night was developed as part of the Bosch Experience, a discovery tour of the city that aims to introduce the audience to the world famous painter, his work and era in an appealing, accessible manner.
The Bosch Experience brings figures and themes from Bosch's triptych the Garden of Earthly Delights (Madrid, Museo Nacional del Prado) to life in a concept developed in collaboration with the Efteling theme park.
Show times
Bosch by Night will be projected from 8 May - 10 December on Thursday, Friday and Saturday evenings. The start times take into account when the sun sets as well as other events on the Markt. Any changes and exceptions will be announced on www.bosch500.nl.
8 May - 4 June 22:15 (12 May no show – 13, 14 May 22:45 hours – 15 May 22:25)
5 June - 9 July 22:30
10 July - 23 July 22:15 (15 July no show)
24 July - 13 August 22:00
7 August - 18 August 21:45
14 – 31 August: no show
1 - 17 September 21:30
18 September - 29 October 20:15 (21:30 on Thursdays)
30 October - 10 December 18:30 (21:30 on Thursdays – 11 November no show)
Show times subject to change. No rights can be derived from the above.
Highlights from the Hieronymus Bosch 500 programme from May onwards
Throughout 2016, Hieronymus will be honoured with a rich, varied programme of events for all ages. The following lists a number of highlights from May onwards.
Bosch Grand Tour (December 2015 – April 2017)
In 2016, seven prominent museums in Brabant will present a contemporary exhibition programme under the name Bosch Grand Tour. A tour of discovery featuring contemporary art, design and culture in 's-Hertogenbosch, Breda, Eindhoven and Tilburg. www.boschgrandtour.nl.
Bosch Parade (16, 18, 19 June 2016)
Floating parade of contemporary artistic creations inspired by Hieronymus Bosch's world through the centre of the Medieval city. www.boschparade.nl.
Bosch's World (4, 5 June 2016)
During 'Bosch's World' the audience will be introduced to the late Middle Ages in a playful manner. With music, theatre, children's games, crafts, a market, game songs, food and drink, lectures and exhibitions around the Hieronymus Bosch Art Center and the Groot Tuighuis. Visitors will feel as if they are in 's-Hertogenbosch in Bosch's era.
Bosch Requiem (6 November 2016)
The Royal Concertgebouw Orchestra, the Netherlands Radio Choir and soloists led by Markus Stenz will play the world premiere of a piece composed especially for the commemorative year. With an essay by Robbert Dijkgraaf. At Saint John's Cathedral in 's-Hertogenbosch.
Bosch beast (11 December 2016)
The spectacular closing spectacle in the city featuring the lighting of the Bosch beast and surprising musical accompaniment. www.boschbeest.nl.