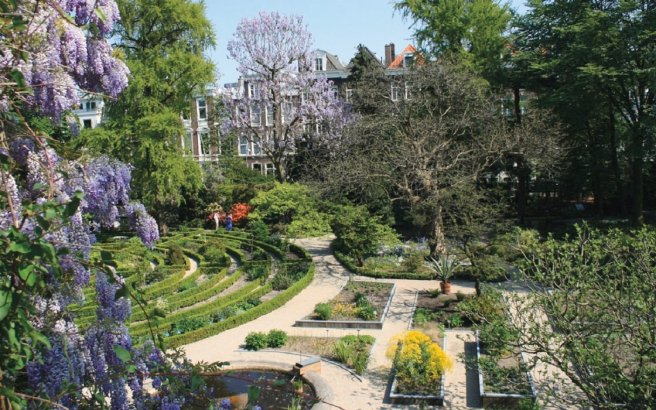 Hortus Amsterdam presents an exhibition about Joséphine de Beauharnais, the first wife of Napoleon Bonaparte. Joséphine managed to - driven by her almost obsessive passion for collecting- create an impressive botanical collection in the gardens of Malmaison. After her death, all of her plant collections vanished into thin air. However, some of the plants were saved forever in the drawings of botanic illustrator Pierre Joseph Redouté. The exhibition of the Hortus Botanicus Amsterdam shows some of those species.
In the last fifteen years of her life Joséphine begins collecting with a passion. In 1799, Joséphine bought the impressive Château de Malmaison. Even before she signs the contract, she already fantasizes about luxuriant gardens with exotic animals and large greenhouses full of tropical fruits. It was here where she would create her Martinique, her own empire. Joséphine collected plants competitively, vying with the Museum of Natural History for specimens. Thanks to the influence of her network, and with the ever-filled funds of Napoleon, she ordered seeds, bulbs and plants from all corners of the world. Botanists accompanying Napoleon on his expeditions, as well as the emperor himself, would send hundreds of seeds to Paris. Joséphine also maintained contacts with other voyagers such as Nicolas Baudin and Alexander von Humboldt.
During the Napoleonic Wars, ships carrying specimens for Joséphine were allowed free passage. Between 1803 and 1814 hundreds of species of plants were introduced to Europe. Joséphine pioneered the planting of acacia and eucalyptus throughout France and propagated many species of Australian plants.
Privileged with power and resources, Joséphine managed to build a collection of imperial proportions. Thus she added seamlessly into the ancient traditions of royal houses. As is usual in the world of emperors and kings, Joséphine commissioned a professional artist to record her vast collections in richly illustrated, exclusive books called florilegia. Pierre Joseph Redouté started in
1804 and made more than 500 engravings of the plant collections at Malmaison. His first publication was 'Jardin de la Malmaison ', containing 125 drawings and paid by Joséphine. Redouté is still regularly invited at Malmaison by Joséphine, until her death on May 27, 1814. Finally in 1817 he published his most famous work 'Les Roses', containing 150 colour drawings. They are the one and only 'registration' of the glorious collection of Joséphine de Beauharnais.
The botanic garden of Amsterdam shows different species of plants from the collections of Joséphine, from colourful dahlias to the extensive collection of South African lilies, but also roses and
hydrangea. The Hortus is open daily from 10am to 5pm.