© Ton Koene
History of Dordrecht
Dordrecht obtained city rights as early as 1220, making it the oldest city in Holland. Located in a wetland area with such rivers as the Merwede, Noord and Ouwe Maas, it was an important merchant city with a lively trade in wood, cereals and wine. That history, wealth and culture is still clearly visible. Not only does the historic city center of Dordrecht harbor around 1,000 monuments – they are also splendidly used as restaurants, museums and theatres.
Highlights of Dordrecht
Dordrecht's rich history is still clearly visible when you walk past the old inner city harbors, monuments and museums of Dordrecht. Absolute must-sees are the Great Church (Grote Kerk), the renowned collection of paintings of the Dordrechts Museum, the gorgeous interior of the old mayor's house 'Huis van Gijn' and the thirteenth-century Augustine monastery 'Het Hof'. Also highly recommended is the gorgeous view of the rivers' intersection from the Groothoofd.
Visit Dordrecht
Dordrecht is best discovered on foot. Take the 'Rondje Dordt' (Dordrecht Round), for instance, a signposted walk past the inner city harbors, monuments, important historic spots and attractive shopping streets. You can sail through the old harbors on an electric boat, which will take you past houses built in the water and under dark bridges.

Watch this video: Dordrecht
Where to go for good food in Dordrecht
Scheffersplein, Statenplein and Groothoofd are real hospitality squares. Early in spring, you can enjoy a drink and a bite on one of the terraces or in the restaurants. The marinas and side streets also harbor great restaurants, hidden eateries and terraces. At Herberg de Kop van 't Land (Zeedijk 32), you can enjoy the most delicious of organic products in the middle of nature. If you're in the mood for something exclusive, Delicees (Lange Geldersekade 8) is highly recommended. At restaurant het Bolwerck (Boomstraat 27) you can enjoy a simple, delicious meal in pleasant surroundings.
More in the area
Close to Dordrecht lies the splendid nature reserve National Park De Biesbosch, and the famous windmills of Kinderdijk are also not far away. By bike, these combine very well with a visit to Dordrecht. Not far from Dordrecht you will also find the cosmopolitan port city of Rotterdam, where you can enjoy modern architecture and museums.
Editor's tip
Much of Dordrecht's historic heritage has been preserved and converted into tourist attractions. Thus, you will find various historic buildings being used as restaurants or shops. A great example is the old water tower, where today you can find the splendid hotel and restaurant Villa Augustus. A very special place to spend the night!
Dordrecht's most noteworthy hotel is located in an old water tower - a unique location close to the old city centre.
Frequently Asked Questions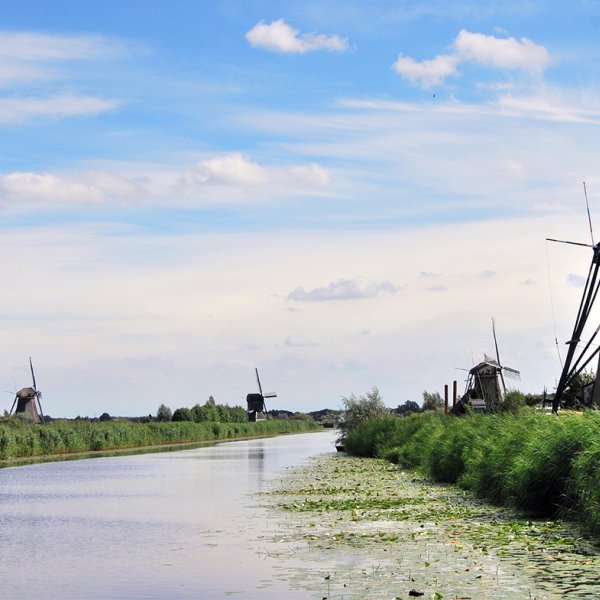 Living on and with the water
Dutch culture is closely interwoven with the water. Discover the rich history, meet local and international water heroes, and travel along to the most iconic places. Immerse yourself in the story of the Netherlands, Land of Water.
Read more