Tip 1: Dine at the Sushikerk
The former Bethlehemkerk church, one of the oldest remaining church buildings in Zwolle, is in use again - not as a church but as a sushi restaurant. The Blue Sakura's Asian interior contrasts beautifully with the historic church architecture with its arches and stained glass windows. The church organ and pulpit still remain, too. Alienating? Walk inside and find out for yourself.
Address: Bethlehemkerkplein 35
Tip 2: The most beautiful book shop in Zwolle, Waanders In De Broeren
The Broerenkerk is another church building with a new destination. It accommodates Waanders book shop, which is famous in Zwolle for a reason. Go to the Leeshemel café ('reading heaven cafe) on the first floor and dream off with a book. If you want to rest your eyes for a bit, look up towards the impressive arches with its 16th-century paintings. The 19th century organ in the middle of the shop is still being used. Waanders is a Tourist Information Point, boasts a restaurant, and sells wonderful gifts as well as books. There is every reason to visit this extraordinary spot.
Address: Achter de Broeren 1-3
Tip 3: Admire the egg of Museum De Fundatie
The museum on Blijmarkt square is clearly a notable structure, surrounded by the city's old facades as it is. The 19th century neo-Classicist facade sports a futuristic 'cloud' covered in 55,000 Makkum tiles. Its eye-catching design speaks to the imagination, as the cupola has been nicknamed 'the egg' and 'the UFO'. As you walk in, the meeting of old and new continues. The collection starts in the Middle Ages and travels through history into the present. Famed artists like Vroom, Turner, Bernini, Mondrian and Appel are all represented at the museum. De Fundatie also invites contemporary artists, so there is always something new to discover here.
Address: Blijmarkt 20
Tip 4: Try the Zwolse Balletjes and order savory waffles for lunch
Zwolse Balletjes were invented a long, long time ago. The Zwolse Balletjeshuis is an adorable authentic little shop full of pots with colorful candy. In the cellar, the Balletjes or little balls are still traditionally made following the old secret recipe. You can also buy other old Dutch sweets and souvenirs from Zwolle. Fifty meters down the street, you will find a completey different experience at WannaWaffle. Find a table and order a low-sugar and low-salt, butter-free savory waffle or a gluten-free vegan waffle. Pick one of the delicious toppings such as salmon, avocado, pastrami, or chicken.
Address: Grote Kerkplein 13 and Sassenstraat 3
Tip 5: Boating on the canal in a doughnut
Zwolle has a historic city moat around its medieval center. Take to the water and glide past old monuments and green parks. This way, you will see the Wijntoren and Sassenpoort, Theater De Spiegel and Museum De Fundatie, and even the remains of the 15th century city wall. Will you opt for the relaxed boat tour with guide who tells you all about it, or a sportive sup or canoe tour? There are many options in Zwolle, from electric boat to ´doughnut boat´ with barbecue facilities.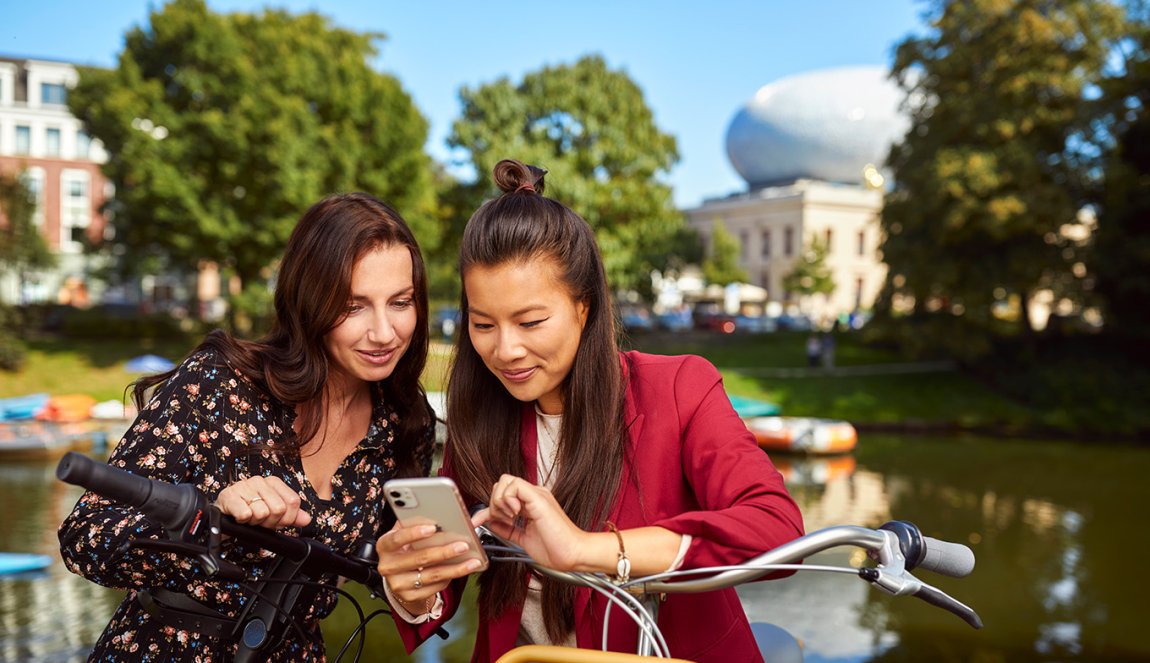 Category:

Destination
Discover the green 'cycling city' of Zwolle! The historic city center offers plenty of shopping opportunities and places to grab a delicious lunch on a terrace, surrounded by a beautiful city canal.