Bicycle Mayor of Utrecht is cycling through Europe to learn and inspire
Belle de Gast succeeded Jelle Bakker as the second Bicycle Mayor of Utrecht. Having retired from professional cycling, she now has time for other cycling adventures. 'I try to cycle from Utrecht to another European city every few months. I want to get to Bremen next, then Paris and Berlin.'
Bring yourself, Belle will do the same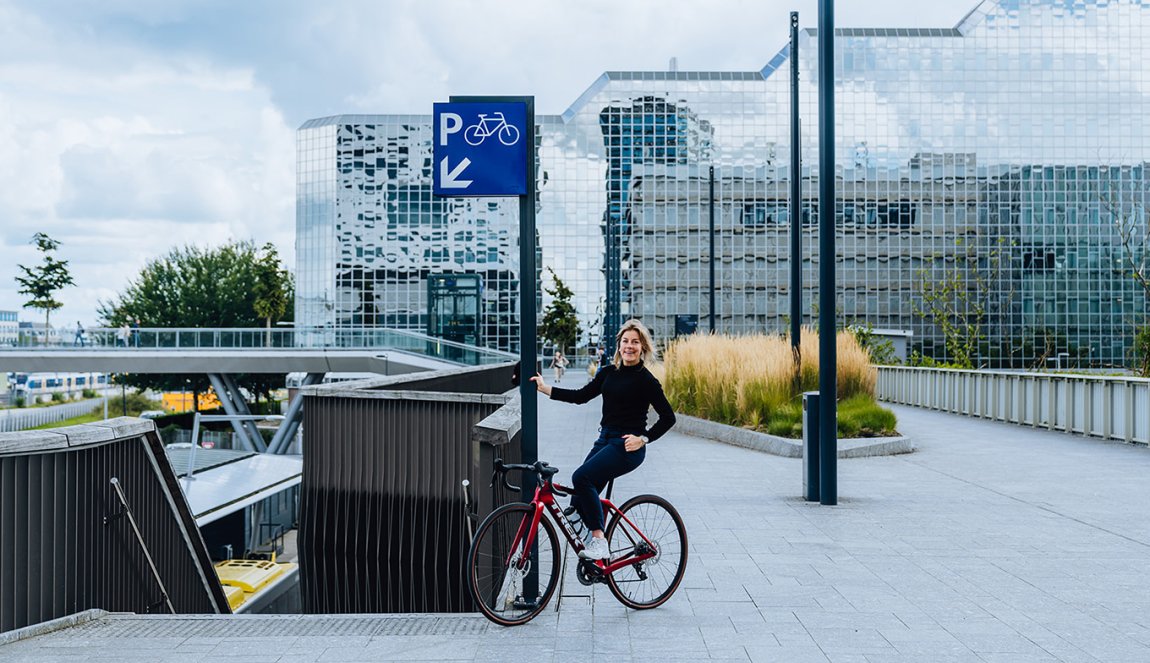 Belle de Gast is a former professional road racing cyclist and is now a physiotherapist. As the new Bicycle Mayor of Utrecht, she is committed to using her passion for cycling to encourage and promote this green, healthy mode of transport in the city where she was born and raised.
"What we have is unique"
Belle had been cycling all her life but didn't realize how nice it actually was until she was in her twenties. When spending a few months in Kathmandu, Nepal during her studies, she thought she would be able to just rent a bike and cycle around but that wasn't possible at all.
'When I returned, I had a new appreciation for just how special and unique the cycling culture is in the Netherlands', says Belle. She became a member of a cycling club in Utrecht and worked part-time as a bicycle courier. 'I deliberately chose the long rides, which meant I was on the bike for about 30 hours a week with a heavy backpack on. It was a great way to train.' This eventually led to a professional contract and races all over Europe.
Although retired, her passion for cycling remains and she's now the face of the cycling city of Utrecht, focusing on themes such as health, commuting and children, all of which benefit from good cycling infrastructure.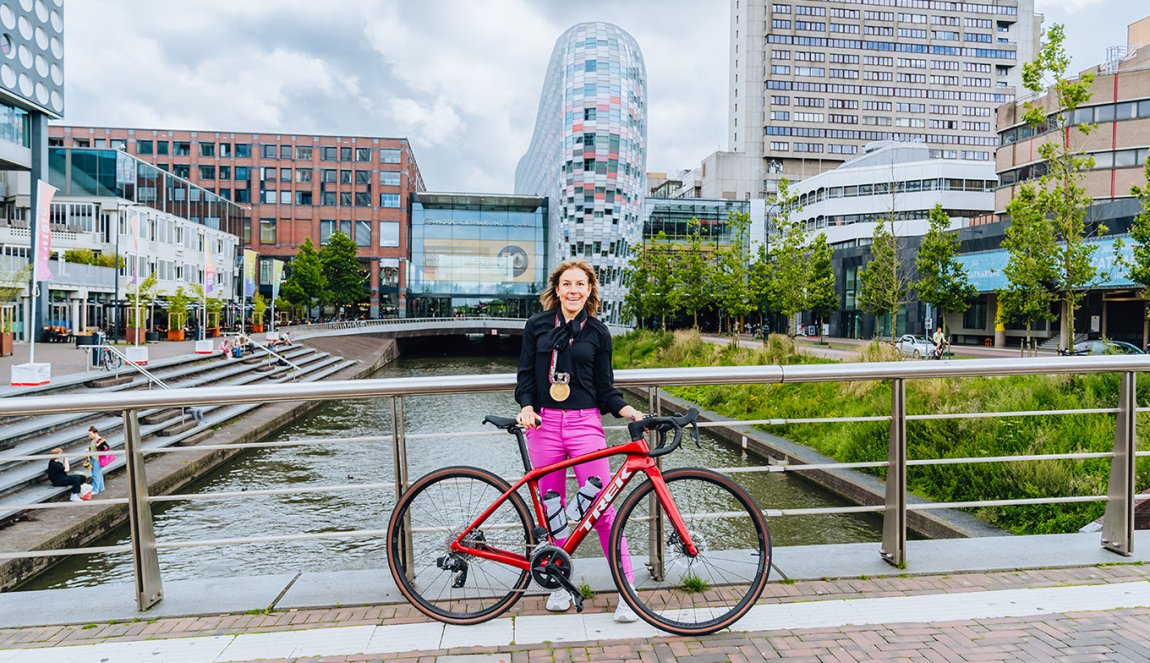 'I had a new appreciation for just how special and unique the cycling culture is in the Netherlands.'
Learn and inspire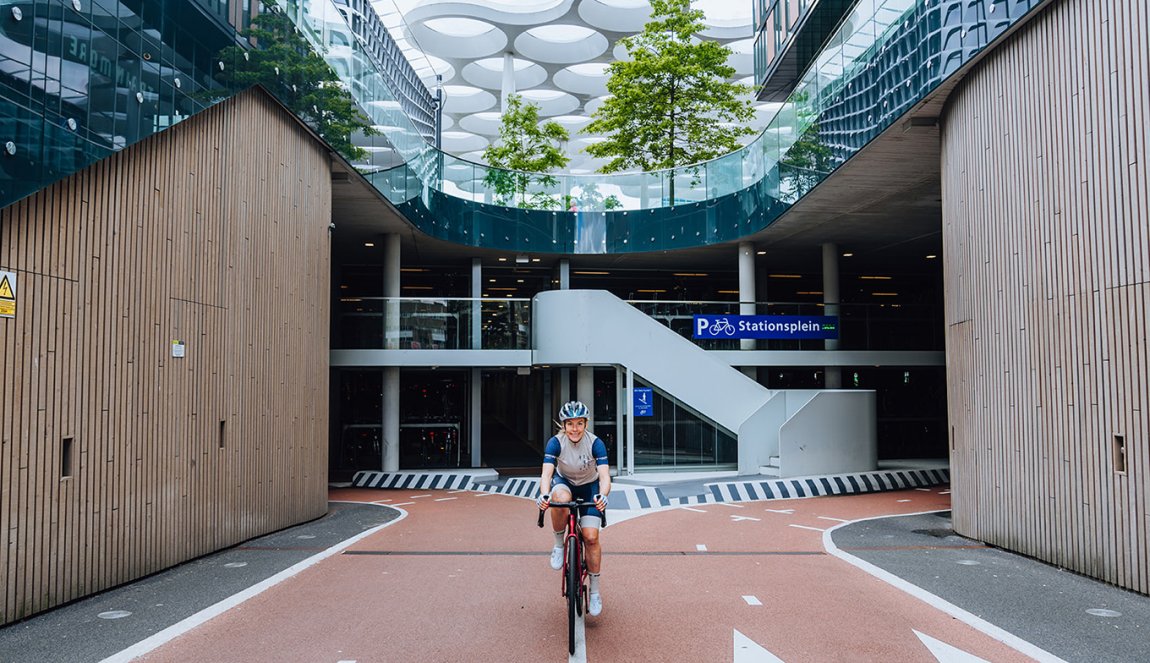 Belle has plenty to show off about 'her' city when abroad. The gigantic, ultramodern bicycle parking facility at Utrecht Central Station is world-famous. Meanwhile, the nearby intersection at Vredenburg is one of the busiest bicycle junctions in the Netherlands – and probably in the world – accounting for tens of thousands of cyclists every day. It's hardly surprising then that Utrecht was ranked the most cycle-friendly city in the world in 2022 by the digital insurance company Luko. All this is in addition to the obvious physical and mental benefits of cycling.
It's safe to say that the trips are a great promotional opportunity. They also serve as a mutually beneficial learning experience.
The
power of a bicycle
While there's plenty for her to be proud of, the Bicycle Mayor of Utrecht still has dreams for her city. For instance, she would like to see cyclists given priority more often and a car-free city centre.
'I am not against cars; I have one myself. But it would be really cool if a car-free city centre could be agreed upon.'
For now, a car-free Utrecht city centre is something that would require artificial intelligence. In the online tool 'Cycling Lifestyle AI', you can upload photos of existing (foreign) streets and have AI transform them into a typical Dutch street scene. 'I am quite interested in learning more about how bicycles can benefit a metropolis where cars cause major issues.'