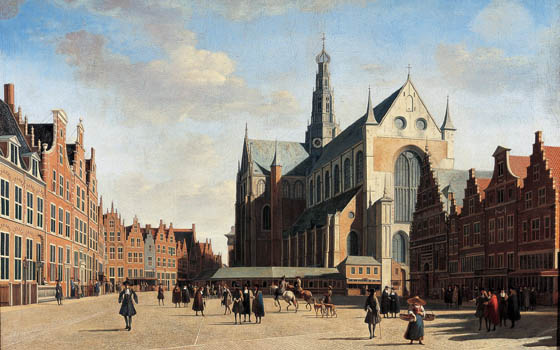 Grote Markt © Hans Guldemond
Haarlem in the Golden Age
The Haarlem of the 1600s was one in which a tulip bulb could sell for the price of a canal house, and the city blossomed on the back of international trade. Haarlem's booming economic prosperity and newly wealthy citizens created a great demand for art. Thus, the 17th century saw an artistic community flourish in the city as Flemish artists from the southern Netherlands (currently Belgium) flocked there. Initially escaping the Spanish invasion and economic decline, these new arrivals put down roots in Haarlem where, struck by the city's beauty, they began to produce some of the most innovative, iconic art of the Golden Age – work which took Dutch art to new heights as artists sought to reflect the beauty of their new surroundings.
Frans Hals in Haarlem
One such artist was Antwerp-born artist Frans Hals, the son of Flemish immigrants who moved to Haarlem in 1584. Raised in Haarlem and studying under Flemish artist Karel van Mander, Hals went on to become one of the foremost artists of the Golden Age, best known for his portraits of Haarlem citizens and realistic group paintings, many of which can be viewed in the Frans Hals Museum today. His loose brushwork and radically free approach to realism led him to capture personalities and rare moments with an intimacy and intuition unlike that of his predecessors. Frans Hals remained in Haarlem until his death in 1666, at the ripe old age of 83. He was laid to rest in the iconic St. Bavo Church on the Grote Markt— where his grave can still be visited today.
The birth of new painting styles in Haarlem
Just a few of Frans Hals' artistic peers in Golden Age Haarlem included Johannes Verspronck, Jacob van Ruisdael and Willem Pieterszoon Buytewech. It was a point in time when Haarlem's artists found new ways of looking at the world, developing new painting styles that would revolutionize the art world, positioning Holland at the forefront of 17th-century painting technique. Hals and his Haarlem colleagues were initiators of major artistic innovations. While Hals himself became renowned for his vivid portraits, Jacob van Ruisdael innovated with dramatic landscape paintings of the region, Pieter Claesz and Willem Claeszoon Heda became new masters of the still life, Porcellis reinvented the marine landscape, and Pieter Saenredam made a name for himself with distinctive paintings of church interiors – an entirely new genre in itself.
Revisit the Golden Age in Haarlem
If exploring Haarlem feels like stepping into a Golden Age painting, that's because much of the city's distinctive architecture can be attributed to Dutch Renaissance architect Lieven de Key and his followers. Appointed city architect in 1592, he was charged with rebuilding vast parts of the city, which had been destroyed in a severe fire in 1576. Whilst touches of De Key can be seen all over the city center, some of his most famous monuments include the iconic Vleeshal on the Grote Market, The Waag, parts of the City Hall, and reputedly the grand façade of the main hall of the Frans Hals Museum – in which you can uncover more of Hals' Haarlem by viewing a large collection of his 17th-century portraits alongside those of his contemporaries and contemporary artists. Of course, the real joy of modern-day Haarlem is that its Golden Age history and architecture is just a part of everyday life in the city. Live and breathe Haarlem's history as you stroll through the city while discovering boutique shopping, fresh culinary experiences and top-notch culture.
We recommend:
Whilst in Haarlem, pay a visit to the beautiful 18th-century
Teyler's Museum
to explore ideas and advances from the Enlightenment and be immersed in more of the city's art, natural history and science.