Mondrian & De Stijl
De Stijl started in Leiden in 1917 when De Stijl magazine was established by Theo van Doesburg. De Stijl artists search for a completely 'new art' that is also expected to renew all of society. Piet Mondrian is a role model for all De Stijl artists. Even today, the principles of De Stijl continue to inspire many Dutch designers like Hella Jongerius, Maarten Baas, Joris Laarman, and Piet Hein Eek.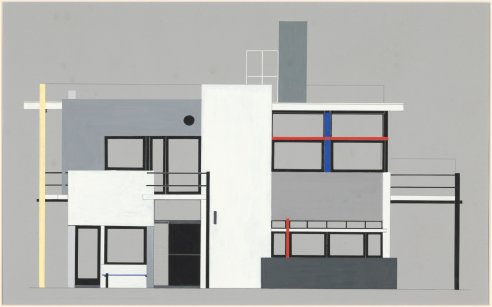 Visit Mondrian's birthplace in Amersfoort and the world's largest Rietveld collection in Utrecht.
Read more
Click here for a list of activities per city or region
Mondrian to Dutch Design: 100 years of De Stijl in 2017
Visit Holland during 2017 and experience the true impact of De Stijl, the art movement founded in 1917, from Mondrian to Dutch Design. What started out as the eponymous art journal grew into a fully-fledged movement in the first half of the 20th century, becoming Holland's most important contribution to modern art. Meet the artists who developed, embraced and shared De Stijl's principles: Theo van Doesburg, Bart van der Leck, Gerrit Rietveld and, most famous of all, Piet Mondrian. See the artworks, designs and buildings that epitomise De Stijl's use of geometric shapes and bold primary colour schemes.
Mondrian & De Stijl around Holland
In 2017, journey across Holland and find a wealth of culture, activities and history, guiding you from Mondrian to Dutch Design. Discover the birthplace of De Stijl in Leiden, then trace the movement's roots in Utrecht and Amersfoort, where Mondrian, Van der Leck and Rietveld were born. The Hague is the international home of De Stijl, with the Gemeentemuseum Den Haag housing the world's biggest collections of works by Mondrian and De Stijl. Head to the north of the Netherlands to find authentic De Stijl architecture and interiors, while in the province of Gelderland you'll find a stunning mix of De Stijl art and design amidst wild nature. Finally, explore the Dutch Design district in the province of Brabant and learn how De Stijl continues to influence contemporary Dutch Design.
Exclusive exhibitions, presentations and tours
Come face to face with many of De Stijl's most famous artworks and designs throughout 2017. The Gemeentemuseum in The Hague showcases 300 works by Mondrian, guiding you through his life and career. The Centraal Museum in Utrecht is home to the world's largest collection of Rietveld works. While museums across the country will host dedicated exhibitions that celebrate 100 years of De Stijl, showcasing the greats, uncovering the lesser-known artists associated with the movement, and detailing the long-lasting legacy of De Stijl and its influence on contemporary Dutch Design. As well as exhibitions, explore De Stijl icons during special guided tours, take in lectures and presentations, or sit back and enjoy a theatrical performance or two.
View the other Holland Stories