© Henk Vrieselaar via Shutterstock
Museum Prinsenhof Delft
Start your exploration of royal Delft at Museum Prinsenhof, the place that witnessed one of the most important events in Dutch history. A must see when you visit Delft.
In 1584, this is where William of Orange was shot in the stairwell by Balthasar Gerards after the king of Spain put a price on his head. It is also where William of Orange wrote the document on which the Acte van Verlatinghe was based, with which a number of provinces rejected the Spanish king.
Today, Museum Prinsenhof is a wonderful museum that brings you face to face with history. See the holes left by the bullets that ended William of Orange's life and are still embedded in the wall nearly 450 years later.
Sint Agathaplein 1, Delft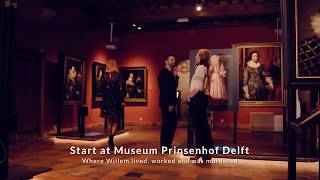 Watch this video: Discover three royal highlights in Delft
De Oude Kerk
Around the corner from the Prinsenhof is the Oude Kerk (Old Church) whose leaning tower dominates Delft's skyline. Don't forget to take a picture of the leaning tower, the beautiful stained glass, and the graves of famous Dutchmen including Johannes Vermeer, Piet Hein, and Anthonie van Leeuwenhoek. The Oude Kerk has a royal past: in 2004, the late Prince Friso wed his Mabel here. The date? 24 April, the date of birth of William of Orange.
HH Geestkerkhof 25, Delft
De Nieuwe Kerk
In about five minutes, you can walk through the pleasant streets of Delft to the Nieuwe Kerk (New Church), where William of Orange is buried. Ever since that day, the Nieuwe Kerk is the location of the tomb monuments of members of the Royal Family. Admire the beautiful monumental grave of the 'Father of the Nation'.
In addition to William of Orange's impressive grave, there is also a permanent exhibition about the church's extraordinary history, and you can climb the tower for the best view of Delft. Your ticket for the Oude Kerk also grants access to the Nieuwe Kerk.
Markt 80, Delft
Editor's tip
Delft is not the only royal city in Holland. The Hague, the government city in which King Willem-Alexander holds offices in a palace, is just fifteen minutes away by train or car. Admire beautiful palaces and the Binnenhof, the centuries old center of power, in this city. Visit Leeuwarden, the royal city of the Frisian Nassaus or the beautiful palace gardens of Het Loo Palace in Apeldoorn. Discover more royal cities.
Royal cities
© NBTC / Royal Holland storyline

Discover the most beautiful palaces and the political center in the Royal City of The Hague.

Read more

© NBTC / Royal Holland storyline

Discover Het Loo Palace and other royal highlights in Apeldoorn. We have listed them for you.

Read more

© NBTC / Royal Holland storyline

Feel the influence of the Royal Family in Breda, the city of the Nassaus. We have listed the best royal places for you.

Read more