Circuit Park Zandvoort
1,985 Views
When people think of Zandvoort, they think of two things: the beach and the race track. Circuit Park Zandvoort (Zandvoort Racetrack) is uniquely situated in the dunes. It is considered to be one of the best tracks in Holland, which challenges the skills of every driver.
Facts of the Track
The motorsport race track is especially well-known for its fast and fearsome, sweeping bends. There's also a elevation difference of no less than fifteen meters. The last Formula One World Championship at Circuit Park Zandvoort was held in 1985. Nowadays, many races and other activities are still held at the track, and make a visit worth your time.

Motorsport Fans
Motorsport fans should definitely check out the program at the Zandvoort Racetrack. There are also days on which you can test your driving skills and the circuit for a reasonable price. Combine the beach with some motorsport action on a daytrip to Zandvoort.
Find out what's nearby
Address:
Burgemeester van Alphenstraat 108
2041KP Zandvoort
Visit the website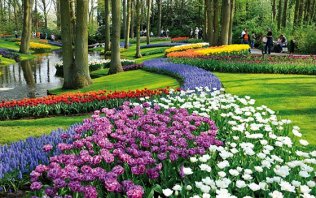 The best place to see tulips in Holland is Keukenhof. Keukenhof is a park with 7 million flower bulbs surrounded by tulip fields.
Read more
Our recommendations for more Holland information
Discover Holland in winter! From Christmas shopping and Christmas markets to strolls on the beach and ice skating.

Read more

Undoubtedly one of the jewels of Europe, and not just because of the stunning 17th century canals. Go find out for yourself!

Read more

Looking for a unique design hotel in the city or would you rather stay in a wellness hotel by the coast? You can choose from over 5000 hotel rooms.

Read more

Holland is the ultimate destination for cycling thanks to its flat landscape, mild climate, short distances and wonderful infrastructure.

Read more