Top 3 sport venues in The Hague
Top 3 sport venues in The Hague
805 Views
The Hague, the city by the sea, is not just internationally renowned as the city of peace and justice but also as a city of sports. Naturally the beach hosts a broad range of big sports events, but The Hague also boasts several large stadiums and internationally attractive sports accommodations.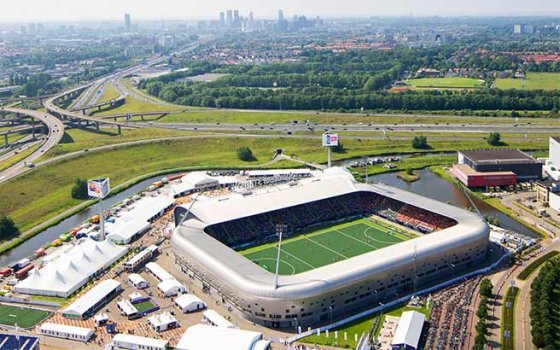 Kyocera Stadium
Kyocera Stadium is not just the home base of football club ADO Den Haag, it also possesses the required facilities to host other sports and events. The stadium can seat 15,000 people and hosted the Hockey World Championships for men and women in 2014. The artificial grass, goals and lines were replaced for the occasion. It proved a perfect location!
Capacity: 15,000
Used for: Football, events, congresses
Address: Haags Kwartier 55, The Hague
De Uithof
De Uithof is just a stone's throw away from Kijkduin beach and is known for its indoor skiing and snowboarding track. You can ride your skis or snowboard down the 400-metre track 365 days per year. The venue has two tow lifts and two magic carpets. It is also the home base of the city's ice hockey club, HYS The Hague, and possesses a semi-indoor 400-metre skating track. As such, De Uithof has the perfect facilities for skiing, snowboarding and skating events.
Used for: Skiing, skating, carting
Address: Jaap Edenweg 10, 2544 NL The Hague
Temporary sports locations
With its unique combination of beach and city, The Hague is known for hosting many events on the beach and in the The Hague Beach Stadium. Both sites are big summer attractions for beach and water sports events, such as the Volvo Ocean Race and the Beach Volleyball European and World Championships. In winter, the Red Bull Knock Out race takes over the beach. The city centre also offers a range of unique locations for beach sports, such as Spuiplein square and the Hofvijver ('court pond'). The latter is also a stage for extreme sports, such as The Hague Pro Freestyle in combination with a site like Grote Markt square, which also hosts the annual winter sports event Rock a Rail.
Our recommendations for more Holland information
Vibrant festivals, royal art, canal tours and picnics: enjoy the summer in Holland!

Read more

Looking for a unique design hotel in the city or would you rather stay in a wellness hotel by the coast? You can choose from over 5000 hotel rooms.

Read more

Holland is the ultimate destination for cycling thanks to its flat landscape, mild climate, short distances and wonderful infrastructure.

Read more