Het Loo Palace
19,718 Views
Stadtholder William III had Het Loo Palace built on the Royal Estate Het Loo as early as 1685. It served as the royal family's summer residence for a long time, but has been converted into a magnificent museum since 1984. The palace's decorations alone are worth a visit, and the gardens are absolutely stunning.
Stroll through the stunning palace gardens and park.
View the splendid coach stables and collection of antique cars.
Immerse yourself in the history of the Dutch royal family.
Royal history in the palace
William III had Het Loo Palace built on the Crown Domain Het Loo as far back as 1685. Like the other European monarchs, he wished to impress his visitors and show them how rich and distinguished he was. William and his wife, the English princess Mary Stuart, were lovers of architecture and landscape design. So when they ascended the English throne in 1689, they had splendid gardens with pavilions built that were worthy of their new status.
The palace remained in the hands of the Dutch royal family, and after World War II, Queen Wilhelmina decided to spend her dotage at Het Loo Palace. After her abdication in 1948, she retired to the palace, and died there in 1962. The castle has been opened to the public since 1984, after extensive renovations.
Visit Royal Palace Het Loo
Needless to say, the Palace Het Loo in Apeldoorn will take your breath away. You can visit the palace any day of the week, except on Mondays. A tour takes three hours and shows you every detail of Holland's most stunning palace.
Paleis het Loo renovation
Due to large-scale renovations, the palace will be closed until 2021. The stables and gardens are open to the public, however. Please visit www.paleishetloo.nl.
Find more information here.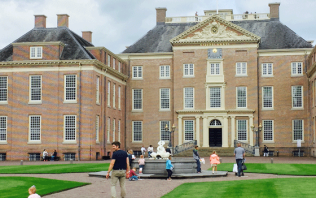 Come face to face with history and grandeur in Holland's castles and country houses.
Read more
Do you like this theme? You might also like: