© Toerisme Veluwe Arnhem Nijmegen
Nijmegen
The fortified city of Nijmegen, Holland's oldest city, will make you think you've gone back to Roman times. The city is full of magnificent historic buildings and centuries-old plazas, and is home to Holland's oldest shopping street, the Lange Hezelstraat.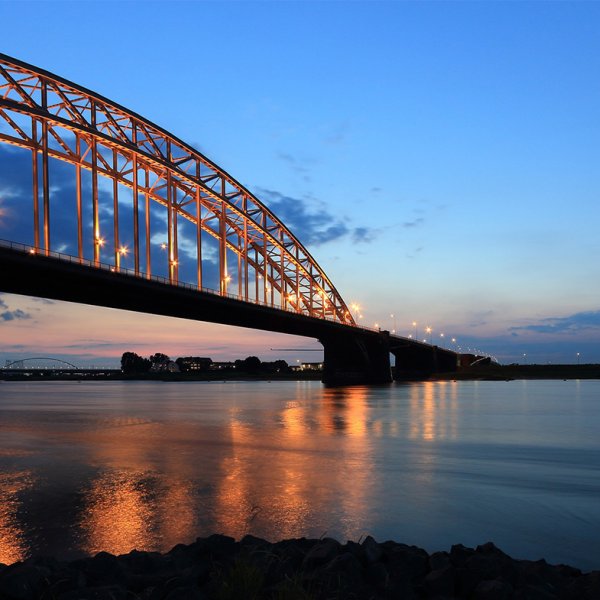 Nijmegen details
Nijmegen, convivial and friendly, is absolutely worth a visit. Not only have the Romans left visible traces everywhere from back when Nijmegen was one of their administrative and economic centres, but the city is also positively crowded with lively squares, parks and shopping streets and innumerable pleasant cafés and restaurants. Visit the Africa Museum or roam through the Malden maize labyrinth… Nijmegen is simply gorgeous!
Check out the map and plan your visit
Transport in Nijmegen
By public transport
The train station is within walking distance from the city center. The train and bus will take you anywhere you want to go in this region.
By car
Nijmegen is easily accessible and offers plenty of (paid) parking spaces. Parking is cheaper at the P+R Waalsprinter parking lot and there is a free bus to the center.
Transport in Holland
Distances within Holland are easily bridged. Any location you might want to visit can be reached within three hours. The train, bus and tram will taken you pretty much anywhere you want to go. You can also explore Holland by bicycle. With over 32,000 kilometers worth of bicycle paths, Holland is a real cycling country with many fantastic cycling routes.
Frequently Asked Questions