© Angela Compagnone via Unsplash
Prik
This relaxed and funky gay-friendly bar serves up unusual cocktails concocted by its highly-trained staff of bartenders. Good to know: Prik was chosen as 2009 and 2010 Best Amsterdam Gay Bar by Time Out Amsterdam.
Address: Spuistraat 109
Club Roque
This swanky, gay-friendly dance club is the perfect place to strike up conversation with a handsome stranger. Happy Hour every night from midnight-01:00am!
Address: Amstel 178
Spijkerbar
This friendly neighborhood gay bar has a dark side upstairs…if you are feeling adventurous, visit Spijkerbar's darkroom!
Address: Kerkstraat 4
Amstel Fifty Four
You'll find friendly locals and join spontaneous sing-a-longs at one of Amsterdam's most traditional gay bars.
Address: Amstel 54
Soho
This two-story English-style, gay pub draws a crowd of trendy young men sipping cocktails and grooving on the small dance floor located in the back.
Address: Reguliersdwarsstraat 36
Mix Cafe
Living up to its name, the Mix Cafe draws a mixed straight and gay crowd. Extended hours allow the party to last long into the night.
Address: Amstel 50
Saarein
One of the oldest premier lesbian bars in town with a beautiful interior. Saarein was formerly known as a women-only bar, but today you will find the crowd is amicably mixed.
Address: Elandsstraat 119
Lellebel
Grab your highest heels and head over to one of Amsterdam's most popular LGBTI drag show bars! Lellebel is known for its extravagant live shows, performances and theme nights all year round, seven days a week.
Address: Utrechtsestraat 4
Church
Ironically named cruise club that is open from Tuesday to Sunday. Church hosts the infamous Sex on Sunday party along with a number of other notable events, including a Slave auction and Flight club.
Address: Kerkstraat 52
GAYtic
Gaytic, the Amsterdam Gay Tourist Office (a branch of VVV Amsterdam), offers tailor-made personal tours of Amsterdam. You can take these tours choosing from a variety of themes, depending on your interests. Are you interested in architecture, art, gay history or something else? The guides at GAYtic create personalised tours lasting anywhere from a few hours to your entire vacation. You can visit all the places worth seeing around Amsterdam, such as Volendam, Marken or the windmills in Zaandam with your personal guide.
Spending the night in Amsterdam: Gay friendly hotels
Though no hotel can refuse service to couples of any sexual orientation, the following hotels focus their efforts and services on catering to gay clientele. Amsterdam has numerous gay-friend hotels, but these are open exclusively to gay travelers.
Hostel Orfeo Orfeo is a hotel and hostel located near the very active Leidseplein. Targeting the budget traveler and backpacker.
Address: Leidsekruisstraat 12-14
Golden Bear Gay Hotel the Golden Bear is located in 2 historic buildings and is the oldest gay hotel in Amsterdam, having been founded shortly after WWII. The hotel is only minutes away from the famous Club Church and Reguliersdwarsstraat's gay bars and clubs.
Address: Kerkstraat 37
ITC Hotel Small hotel offering servicable rooms to budget conscious travelers.
Address: Prinsengracht 1051
Freeland Hotel This friendly hotel is located on the corner of the Leidseplein and very close to the main attractions and places of interest.
Address: Marnixstraat 286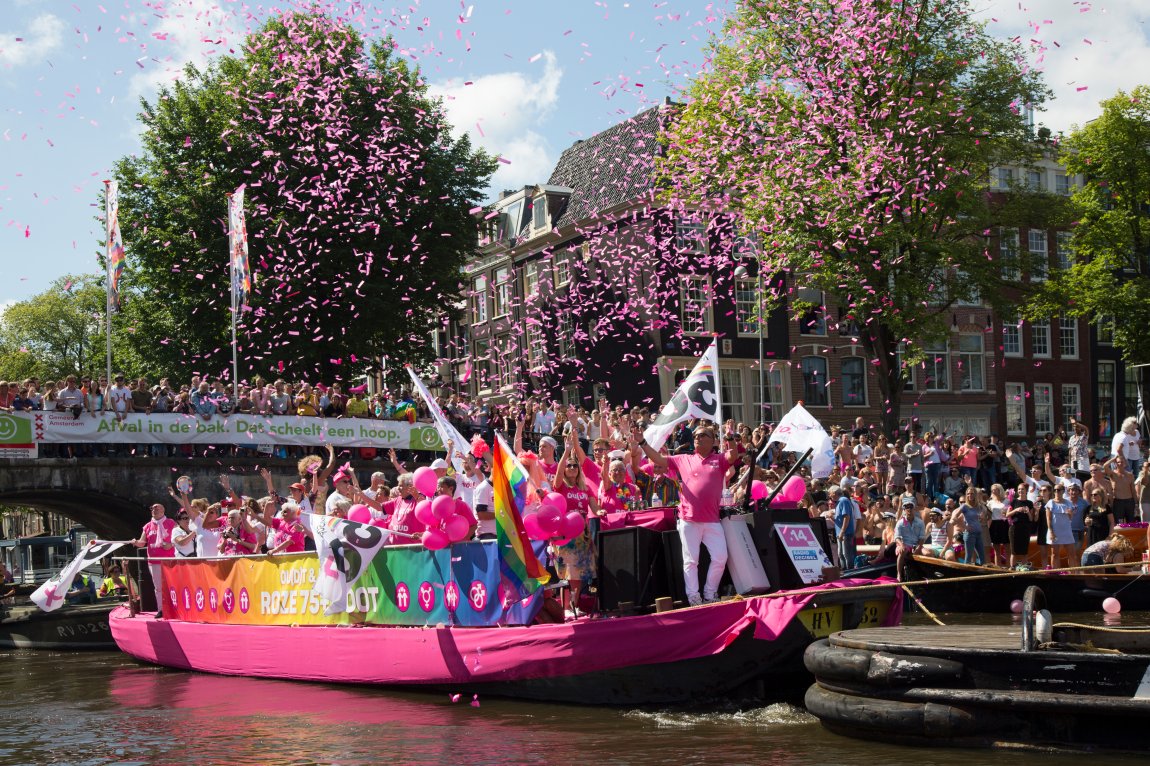 Category:

Event
Aug. 3, 2024
Amsterdam
Have a great time at Amsterdam Pride and visit the famous Canal Parade.