© Edwin van Eis via Iamsterdam Mediabank
Pride festival is the biggest celebration of the equality, acceptance, and inclusion of the LGBTQ+ community. It's now held all over the world, and the Netherlands is a great place to experience it. Where can you visit this cool, inclusive party and what's on the agenda? An overview.
Hundreds of thousands of partygoers during Canal Pride.
Interesting and informative conferences with and about the LGBTQ+ community.
Pride events throughout the Netherlands.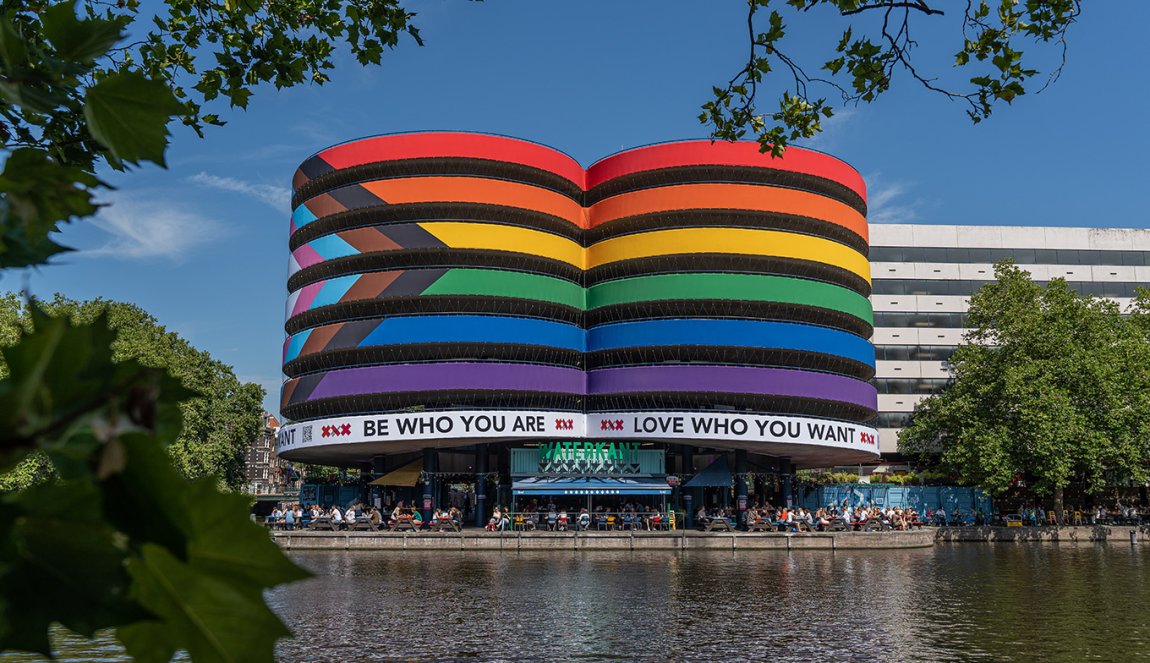 Amsterdam is likely the first place that comes to mind when you think of Pride in the Netherlands. That's hardly surprising since Pride Amsterdam is one of the largest Pride events in the world. With parties and gatherings of all kinds of cultural establishments, hospitality and other institutions, it's a huge nine-day celebration of the LGBTQ+ community.The absolute highlight is the spectacle of Canal Pride, when about 80 to 100 boats full of people in various types of fancy dress sail the canals. It is one of the main attractions for the hundreds of thousands of people who often come to Pride Amsterdam. In the words of the organization: "it's a festival to celebrate being able to just be yourself and loving who you want". For many people, Pride Amsterdam is the start of a nice, long LGBTQ+-friendly vacation in the Netherlands.
World Pride in Amsterdam 2026
World Pride, the international event for LGBTQ+ acceptance, will take place in Amsterdam in 2026. It's the first time that World Pride will be held in the Netherlands and it corresponds with the 25th anniversary of the Netherlands becoming the first country in the world to legalize same sex marriage.
World Pride was first organized in 2000 and took place in Rome. Later locations include London (2012), Toronto (2014) and New York (2019).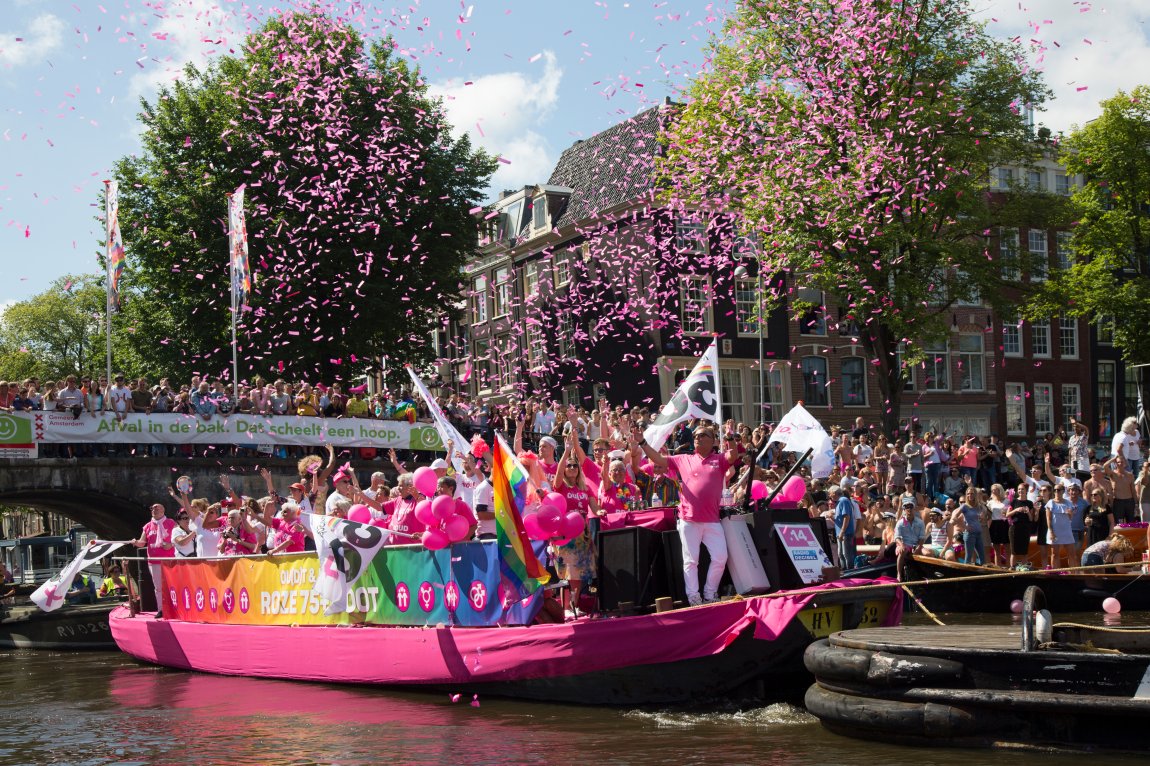 Rotterdam Pride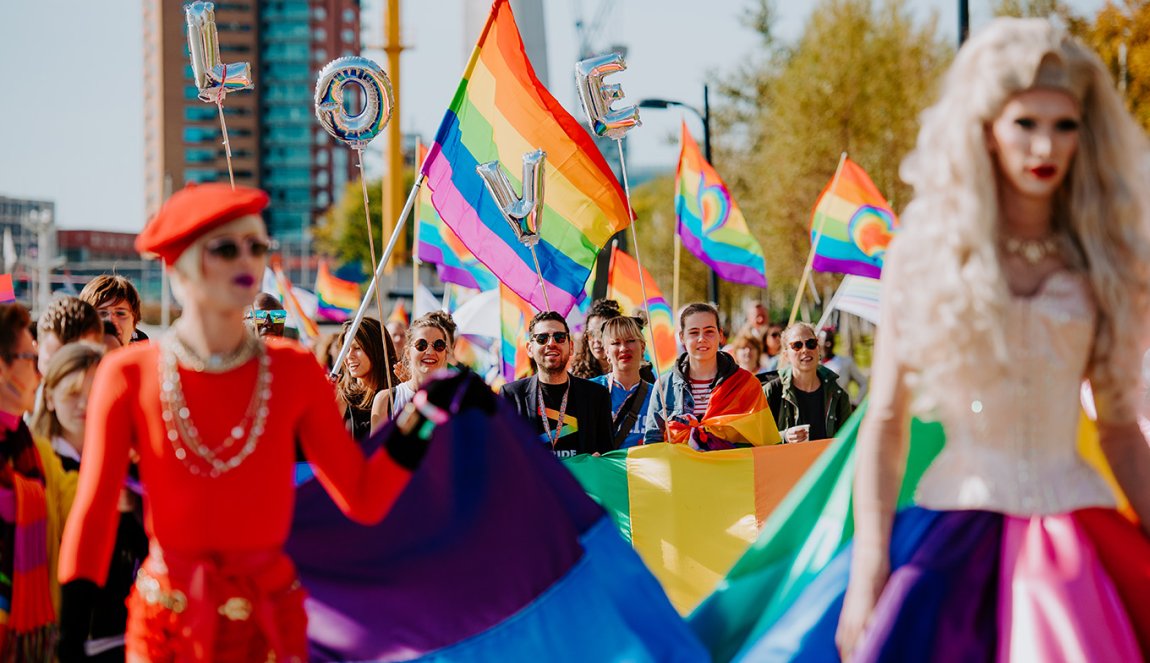 Rotterdam's Pride Festival is almost as big as Amsterdam's but with one important difference: as with many other Pride festivals, the highlight of the festivities is a Pride Walk. This unique tour runs from the Leuvehaven port to the Schouwburgplein via the many queer-friendly bars on Van Oldenbarneveltstraat.Rotterdam Pride is known for its Pride Conference, the substantive conference where interesting and important themes in the LGBTQ+ community are discussed. Examples of recent themes include extensive discussions about homosexuality in soccer, what it's like to be queer and a refugee, and the coming out of teenagers.
Utrecht Canal Parade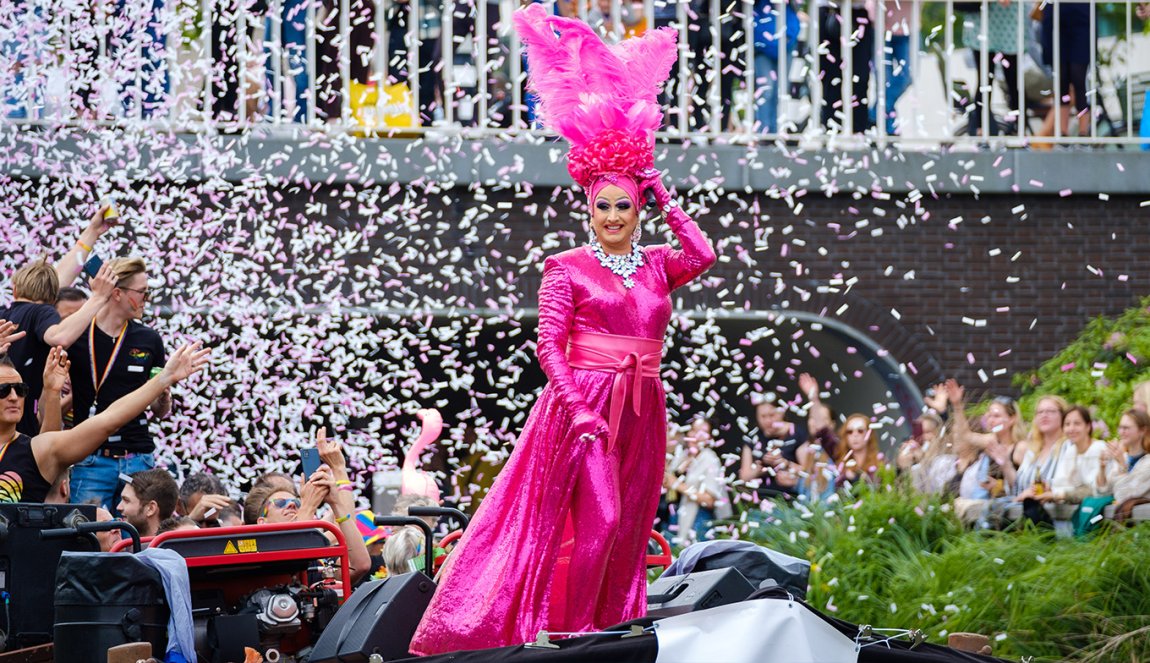 Just like Amsterdam, Utrecht has a great Canal Pride event thanks to its beautiful canals and many hospitality establishments. Fewer boats participate, but with tens of thousands of visitors it is still a fantastic party.Something to keep in mind is that Utrecht's celebration of love and inclusivity is a one-day event compared with Amsterdam's whole week of festivities. But should you be in the Dom city (Utrecht's nickname thanks to the Dom Tower) on that one day, you are guaranteed to have a fun and special experience. If you are looking for a bar with like-minded people, Café Kalff and the Body Talk are by far the best-known queer bars in Utrecht.
Pride in Leeuwarden
Eindhoven: Pride month
June is Pride month. It's a month focused on themes such as the position and acceptance of the entire queer community. There are all kinds of fantastic festivities, round table discussions, and parties. Eindhoven goes all out for this. The Queer 040 Foundation organizes various gay parties and is a true champion of the Eindhoven LGBTQ+ community. They have set up a special Instagram page where all events are neatly listed.
Pride Groningen
In Groningen, there is a particular event that everyone flocks to: Street Pride. It's an event in which the Zwanestraat, not entirely coincidentally the location of one of the most famous LGBTQ+ cafes in Groningen, is transformed into a special festival site. There are several beer stands and a music stage where artists from the queer community get a chance to shine.
New locations celebrating Pride appear every year.
In addition to Street Pride, the non-profit organization
Pride Groningen
works with numerous partners to put together a
packed two-day program, with various (photo) exhibitions, a drag show, and even
a karaoke night.
In conclusion: Pride is everywhere!
New locations celebrating Pride appear every year. Even some of the more conservative regions in the Netherlands participate in this celebration of freedom, inclusion, and love. Examples include Ede with its Pride Festival in 2022 and Nijmegen playfully introducing the "smallest gay pride ever", with one party on a small ferry. Maastricht organizes an annual atmospheric Pride Walk that starts from the Vrijthof, while Arnhem does not hold back with a four-day event.
In other words: in the Netherlands, you can visit the biggest queer festival with love.
© Edwin van Eis via Iamsterdam Mediabank

© Danielle van der Veeken via RBT

© Marleen Stoker via Flickr