Zeeland is a province situated in the southwest of the Netherlands. Enclosed by the provinces of West and East Vlaanderen, the island group boasts a rich variety of dialects. It is also known for its rich waters, of course. The Oosterschelde, Westerschelde and North Sea are literally breeding ponds for delicacies from the briny deep. Fresh fish, crustaceans, and even sea vegetables represent the culinary highlight of your holiday in these northern lands.
Go on a boat trip with Henk's fishing boat
Try the briny highlights at Codium
See how Hubrecht grows Salicornia
Oosterschelde lobster, a recent delicacy
Oosterscheldekreeft is a recent product. Lobsters live in rocky areas where they can seek shelter from their natural enemies. When rocks and concrete blocks were used to build dikes in the Oosterschelde at the end of the nineteenth century, a lobster population emerged quite unexpectedly. In their remote location and the colder water of the Oosterschelde, the lobsters have a unique DNA. It takes seven years for them to become fully grown and it is that slow growth that explains their tender and intensely flavored meat.
© MooiBelicht Fotografie

© MooiBelicht Fotografie

© MooiBelicht Fotografie

© MooiBelicht Fotografie
A fascinating season on the water
Henk Jumelet is one of the fishermen who catches this delicacy during trapping from mid-April to mid-July. It's a labor-intensive job. "We used to be mussel farmers, but our focus has shifted to local fish through the years," Henk explains. "We used to catch eels 30 years ago, when there were no lobsters to speak of yet. So, we actually grew along with the lobster population." During lobster season, Henk sets out every day with lobster traps and bait. "We always have to wait and see how much we catch. One year there are many lobsters, the next only few. And of course, some days are always better than others, which keeps lobster-trapping interesting."
They cannot sell every lobster that gets caught in their traps. The fishermen must comply with a sustainable fishing policy, which helps maintain a sizable lobster population. "Lobsters that are too small and females with eggs are released into the Oosterschelde again. Sometimes that's the better part of our catch. Our passion for the job and for the lobsters makes up for it." Henk mainly sells his lobsters to restaurants, which use them in creative dishes.
Pride of Zeeland's cuisine
One of these chefs who love Oosterschelde lobster is Wouter Kik at restaurant Codium. Which makes sense knowing that the name of his restaurant refers to one of the many seaweeds found in Zeeland's waters. Codium uses the greatest number of seaweeds of all restaurants in Zeeland, for instance combined with oysters and wild marine herbs that Wouter Kik loves to pick himself on the dikes. Herbaceous seablite (schorrenkruid) and oysterleaf (oesterblad) are among his favorite marine herbs to garnish his dishes.
"When we opened Codium, the sea vegetable season was over. I explored the region in the past few months, searching for the spots with the best currents and the tastiest herbs. So I know where to go in the months to come", explains the chef. While sea vegetables and weeds may be a popular ingredient in the kitchen, he is truly proud of the lobster. "It is a unique product with a unique DNA structure. When we built dikes and the lobsters could no longer migrate to France when the water got colder, this started a kind of survival of the fittest. This is why our lobster is sweeter and has a stronger taste of algae. What makes it even better for a chef, is that it is more gastronomically versatile. The lobster will withstand pretty much every preparation and technique without losing flavor or becoming dry. It's the path to unlimited creativity on the stove."
© MooiBelicht Fotografie

© MooiBelicht Fotografie

© MooiBelicht Fotografie

© MooiBelicht Fotografie

© MooiBelicht Fotografie
Sea vegetables cultivated with love
During the season, glasswort and sea lavender can be found in many supermarkets and ordered at many restaurants in Zeeland. Or better yet: get it directly from the sea vegetable grower. Such as Hubrecht Janse at Zeeuws Zilt. He specializes in glasswort but is also experimenting with sea lavender, oysterleaf, sea fennel and even more exotic varieties such as karkalla. "It is a fascinating process to test what we can grow here, possibly to withstand future challenges," says Hubrecht. To test the different varieties and demonstrate them to customers, he brought in a plastic greenhouse on wheels from Australia. It has become a permanent fixture on his land.
© MooiBelicht Fotografie

© MooiBelicht Fotografie

© MooiBelicht Fotografie

© MooiBelicht Fotografie
Originally, the family business was a traditional agricultural company with a landscape campground. Its location overlooking Veerse Meer lake was one of its strengths. When it was decided to create an open connection between the lake and Oosterschelde in 2004, the lower-lying land was under threat. Moreover, the water level would be higher in winter, increasing the risk of salinization. "We were looking for a way to add value and sea vegetable cultivation proved to be just that. The interaction with the Oosterschelde ensured continuous replenishment of the water in Veerse Meer lake, a perfect climate to cultivate sea vegetables." They sow the glasswort in spring, which is served as a delicacy starting at the end of May and is also used to flavor or replace salt in other products. "Consumers come to the farm to buy glasswort, but we also supply to chefs. The big difference with Vlaanderen? For you, glasswort is an extra. Here, it is served on a plate as a true vegetable. It's both tasty and healthy."
Delicious sweets
If you travel to Zeeland, you can count on culinary delights from aperitif to dessert, since Zeeland has its very own sweet specialty: the bolus. The background of this sugary confection is quite international, truth be told. At the end of the sixteenth century, Jewish people brought the bolus with them to Middelburg from Spain and Portugal.
Every bakery in Zeeland offers boluses. They are best eaten fresh with a big helping of butter from Zeeland. Whether you drink coffee or tea or prefer hot chocolate, it always tastes better with a delicious bolus on the side.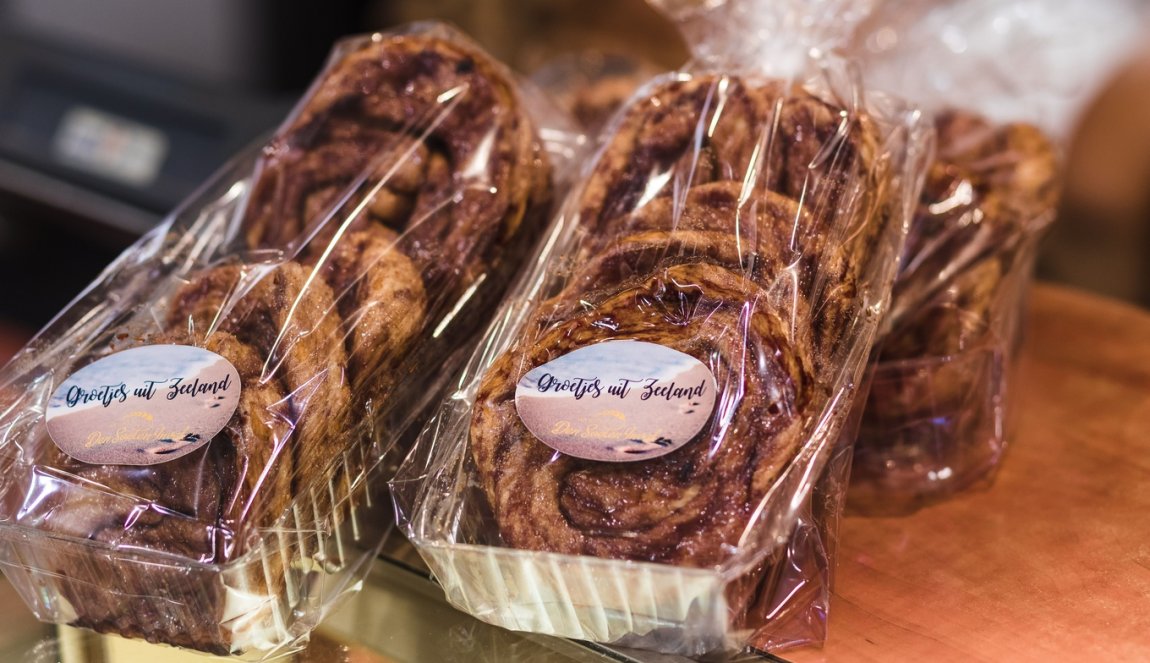 Explore Zeeland
If you are unsure which culinary waters to explore first, our recommendations will help you on your way.
Dining in a fantastic orangerie that rubs shoulders with two elegant villas. And the titillating gastronomic experience hasn't even started yet. The wood and brass interior feels as pure as the flavors on your plate. With the best from Zeeland's land and water on your plate, naturally, chefs Sander de Jonge and Jeroen Tanis will make sure of that.
Experience, share and discover new flavors. Pure C is an ode to Zeeland, a combination of trendy cocktails and beautiful wines with the beautiful view and marine flavors so typical of culinary Zeeland. Including the famous Sergio Herman and his colleague-chef Syrco Bakker.
Want to enjoy a fantastic meal without having to drive back to your hotel? Hotel Mondragon has it all with restaurant Christó under its roof. Chef Kees Visser has lofty ambitions, aiming to become the best restaurant in Zierikzee. Entirely to your advantage, of course.
Gastronomic pleasures in the unique setting of a former church. De Kleine Toren is situated between Goes and Middelburg and surrounded by typical polder landscapes. Whether you order a menu or à la carte, you will definitely taste the regional produce of the moment in chef Dennis van Nispen's delicious dishes.
Are you curious to see where those fantastic oysters come from? This oesterij will show you how oysters are cultivated. It has been the Dhooge family's passion for over a century now, and their enthusiasm is contagious. And of course, they will also serve delicious oyster dishes.