Itinerary: Travel to the Dutch traditions from Amsterdam
Travel to the Kop van Noord-Holland with the Holland Travel Ticket and discover traditional Dutch icons. A route revolving around typical Dutch life could not start any more propitiously than at Amsterdam Central Station. While the building dates from the end of the 19th century, it is equipped with every modern commodity. It is a perfect place to start the day with breakfast at one of the cafés or restaurants. And of course you can buy sandwiches to take with you.
Discover all about cheese in Holland's city of cheese: Alkmaar.
A holiday in Holland is not complete until you have seen the Zaanse Schans.
Do you like Dutch fish? In that case, Volendam is a must-visit.
Cheese: from trade to museum
In Amsterdam, take the train to Alkmaar. This city is famous for its cheese market, which is within easy walking distance from the railway station. Every Friday from April through September, you can visit the traditional cheese market and watch the traditional trading performance for the cheese. The market starts at 10 AM. Want to know more about cheese? Visit the Kaasmuseum (Cheese Museum).
Historic Enkhuizen
Continue on your train journey to Enkhuizen. This was one of the wealthiest cities in the 17th century. Go for a walk through the city and discover the old merchant houses, churches, and harbor. For lunch, Het Wapen van Urk a.k.a. Café Bok is highly recommended. It is the oldest pub in Enkhuizen.
Holland's highlight: the Zaanse Schans
Naturally a route including old Dutch traditions must include the Zaanse Schans. Travel by train to Hoorn, where you switch to another train bound for Zaandijk - Zaanse Schans. You can either walk to the Zaanse Schans or take a bus. It is as if you are traveling back in time: original windmills, an old grocer's, a cheese farm - you can visit them all.
A warm welcome in picturesque Volendam
There is no better way to end the day than visiting Volendam. Travel by train back to Amsterdam Central Station and take a bus to this picturesque fishing village. After a stroll through the labyrinth where you can see all of the green fishermen's houses, canals and bridges, dinner will be served on the dyke. Tip: Hotel Spaander has enjoyed an excellent reputation in the village since 1881. It serves the best traditional Dutch dishes.
After a pleasant night, you can take the bus back to Amsterdam. Your ticket will be valid all evening, so you can also use it to get back to your hotel by tram.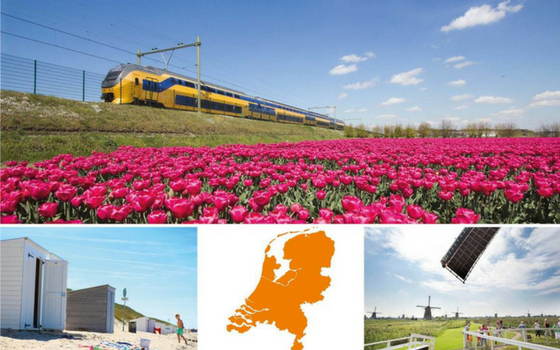 Category:

Visit website
Download
Download an overview of hotspots for 7 itineraries here.