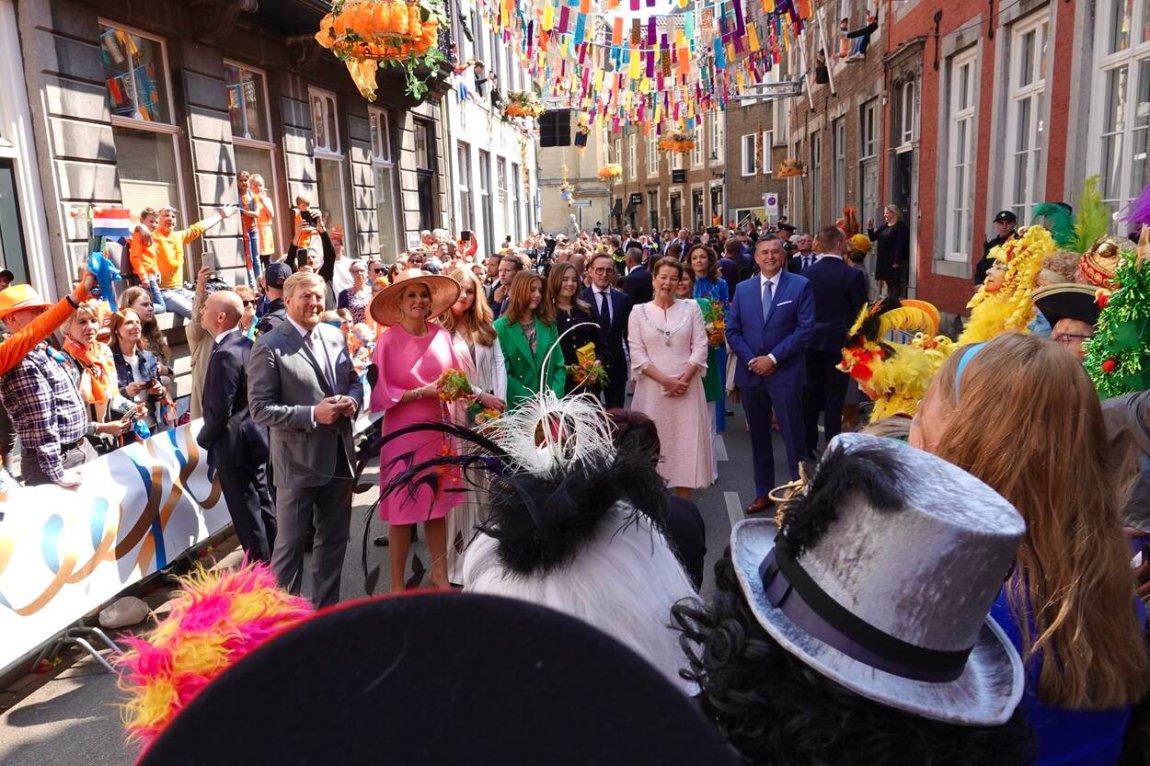 When Queen Beatrix was still head of state, Queen's Day was celebrated on 30 April. This changed in 2014 when Willem-Alexander ascended the throne. We have called it King's Day ever since and everyone in the Netherlands, including the royal family, celebrates King's Day on 27 April.

Traditionally, the King and his family visit a different Dutch municipality each year, which allows the locals to show off their city and the surrounding area in their own unique, festive way. In recent years, the cities of Eindhoven, Maastricht and Amersfoort were amongst those chosen to be the exuberant backdrop for this day of celebration. Most spectators dress in orange from head to toe and proudly wave Dutch flags or paint the small tricolour on their cheeks.
Why orange?
If you have ever seen photographs of King's Day, you probably noticed that almost everyone is dressed in orange. This is because the royal family bears the name "House of Orange" (Huis van Oranje) and as a result it has become the national colour. But how did this come about? Well, it originated with Willem of Orange. He was born Willem of Nassau-Dillenburg in 1533. At the age of 11, he inherited the Principality of Orange in the south of France, thus becoming a sovereign monarch.
His full name then became Willem of Orange-Nassau, or Willem of Orange for short. He led the Dutch revolt against Spain and when he captured the city of Den Briel from Spain, people used orange as a symbolic colour for the first time. He is considered The Father of the Fatherland. Dutch people wear orange as a symbol of national unity and a sign of pride.
Bite-the-cake and throwing toilet bowls
Across the country, people celebrate exuberantly and there are many events and activities for visitors of all ages. One of the most famous King's Day traditions is to visit a flea market and score a few great items or sample some of the home-made delicacies. You can find flea markets in most cities and towns; the residents (often children) sell second-hand items as well as home-made treats. At very reasonable prices to boot.
Want to experience this yourself? Why not visit the flea market in the city of Utrecht and then walk along the canals to watch the festively decorated boats? Enjoy the many parties and performances on the city's squares, such as Domplein, Lucasbolwerk, Mariaplaats, Neude and Janskerkhof. No matter which city you visit on 27 April, you will have a blast. Fun fairs are held throughout the country and you can take part in silly traditional Dutch games such as bite-the-cake and throwing toilet bowls, to name a few.
King's Night
Celebrations are not just limited to King's Day. We recommend being in the Netherlands during the so-called King's Night as well. This is the night before King's Day. In many cities, it is celebrated extensively with live music in pubs and outside in the streets, and DJs play in restaurants or clubs. It is a fun and friendly evening for dancing and celebrating together ahead of the King's birthday. There are also a number of free festivals that you can visit during King's Night, such as The Life I Live-festival in the royal city of The Hague, the Deventer King's festival in Deventer, the Royal Dutch in Eindhoven or the Foute Oranjefeest in Arnhem. If festivals aren't really your thing, you can pop into the many pubs, bars and squares for a fun night.
Public transportation
Keep in mind that all the activities surrounding King's Day take place in the city centres. Due to the flea markets, parades and festivals, roads may be closed and it may be very crowded, particularly in big cities. We therefore recommend travelling by public transport during King's Day.