Our former Queen, now Princess Beatrix, is an important member of the Royal Family: the House of Orange-Nassau. She acceded to the throne on 30 April 1980 and was succeeded by her son Willem-Alexander on 30 April 2013. Her spouse, Prince Claus, passed away in 2002. Princess Beatrix has three sons, the eldest of which is now our current King Willem-Alexander. The younger sons are Prince Friso and Prince Constantijn.
Princess Beatrix was Queen of the Netherlands from 1980 until 2013.
Her husband was Prince Claus, who passed away in 2002.
She is the mother of King Willem-Alexander.
© Raymond Rutting via RVD

©Gemmy Woud-Binnendijk via RVD

© Jeroen van der Meyde via RVD

© Jeroen van der Meyde via RVD

© Mike van Breemen via NOS
Early Life of Princess Beatrix
Princess Beatrix was born on January 31, 1938, the first child of Princess Juliana and Prince Bernhard. Her sisters Princess Irene, Princess Margriet, and Princess Christina were born in 1939, 1943, and 1947, respectively. When Princess Beatrix was two years old, the family fled to the United Kingdom during the war. Shortly after, Princess Juliana took Beatrix and Irene to Canada, where Margriet was born. The family returned to Dutch soil in August 1945. Princess Beatrix attended Leiden University and earned a law degree in 1961.
Marriage to Prince Claus
In June 1965, Queen Juliana announced the engagement of Princess Beatrix and the German Claus of Amsberg. The Princess had met him on New Year's Eve two years earlier. The couple wed in Amsterdam on 10 March 1966. Their first son, who is now King Willem-Alexander, was born in 1967. Princes Friso and Constantijn followed in 1968 and 1969.
Did you know?
Princess Beatrix has eight grandchildren. She is a doting grandmother who once said, "I never imagined that being a grandmother would be so much fun."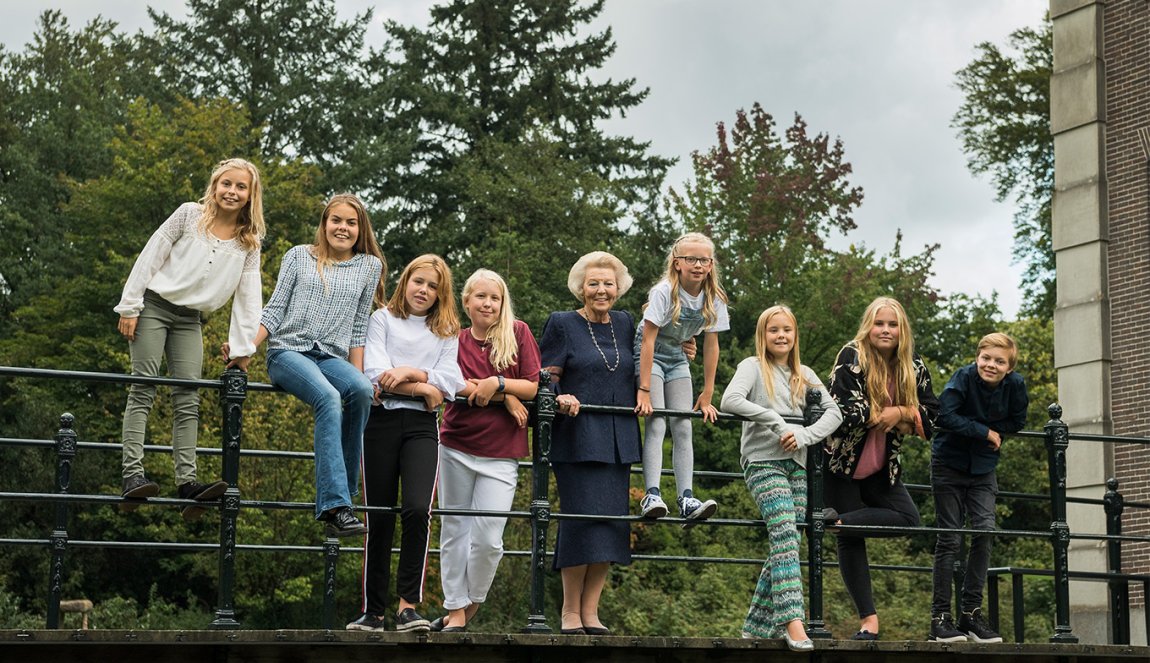 Role as head of state
On 30 April 1980 Queen Juliana stepped down as queen and Princess Beatrix was her successor. As the queen, she was the head of state and fulfilled state-related tasks, such as signing laws and swearing in state officials. She also had ceremonial tasks, such as representing the Netherlands during state visits and receiving foreign dignitaries.
Abdication
On 28 January 2013, Queen Beatrix announced she would relinquish the throne in favour of her son, Prince Willem-Alexander. Approximately seven million people watched her special announcement. Upon her abdication on 30 April 2013, Queen Beatrix officially passed the monarchy to her oldest son, Willem-Alexander. Since then, her title has been Princess of the Netherlands. Here's an interesting fact: while Beatrix was queen for 33 years, her grandmother, Queen Wilhelmina, reigned for 50!