The Nether­lands, Land of Castles
Tulips, windmills, and rich merchants' warehouses along the charming canals of Amsterdam are all well-known iconic symbols of the Netherlands. I'd like to add castles to this excellent list. The Netherlands boasts a huge variety of sturdy fortified castles, grand country estates, and picturesque castle gardens. They number more than six hundred in total, many of which have not yet been discovered by the general public!
I am a huge fan of this fascinating piece of cultural history. Even as a child, I was enchanted by exciting medieval castles. It was love at first sight and the reason I studied history at university. I continue to make fantastic discoveries, with castles, country estates and manor houses revealing themselves as innovative historical gems that emphasize the Netherlands' inclusive image.
I am honoured to share my knowledge and passion with you. Let me be your local guide in the Netherlands, land of castles. I'll take you on a stunning journey of discovery along the most beautiful castles, country estates, manor houses and castle gardens in the Netherlands that you simply must see.
My first castle
The first castle I ever visited was Muiderslot. I must have been around five years old and vividly remember that magical moment. Muiderslot is a castle as children imagine them to be. It sweeps you back in time into the Middle Ages. It is now known around the world as Amsterdam Castle due to its proximity to the Dutch capital and it regularly hosts special events such as a cultural festival at the end of Gay Pride in Amsterdam. On that occasion, the castle was beautifully lit up in pink, which was a huge surprise for me and the other participants.
Just after we had visited Muiderslot, my father took me to see De Haar Castle near Utrecht, the most beautiful fairy-tale castle in the Netherlands. This castle has hosted countless international celebrities, including Maria Callas and Brigitte Bardot. The neighbouring castle village of Haarzuilens is equally picturesque. It is painted in red and white, the colours of De Haar Castle.
Visiting Slot Loevestein is always a magnificent experience. The castle is nestled in the most spectacular location in the Dutch river landscape and can only be reached via a narrow dead-end lane that leads to the confluence of two mighty rivers. The famous Dutch scholar and lawyer Hugo Grotius was imprisoned at this secluded location until he escaped by hiding in a book chest.
Huis Bergh is likely the first castle that German visitors encounter in the Netherlands. Standing in a forested hilly landscape, this huge fortified castle overlooks the border and Autobahn 3. Features such as the extraordinary beauty and quality of its medieval art collection never cease to amaze me.
They'll make your castle-loving heart beat faster
Castle provinces: Utrecht and Gelderland
Now that we're in Gelderland and Utrecht, I have to confess how much I love these provinces. It should come as no surprise that the main reason for this is the large number of castles found here. I'll take you to two of my favourite castles in Utrecht first. Huis Doorn is famous as the place to which the German Kaiser Wilhelm II was exiled after WWI, and he lived at this stunning castle until his death in 1941. Visiting Huis Doorn feels like visiting the last Kaiser of Germany. Slot Zuylen is all about a strong-willed woman called Belle van Zuylen, a celebrated Enlightenment author who was way ahead of her time.
More and more castles in Gelderland have been opened up to the public. Ruurlo Castle recently became the backdrop to the works of art created by Carel Willink, who was a member of the magical realism movement. The large number of visitors are a testament to the museum's success. The Gelderland town of Wijchen is home to another castle museum. Wijchen Castle is a small, charming castle that is maintained and run by enthusiastic volunteers. Also not to be missed is a visit to the unique Jachtslot Sint-Hubertus, a hunting lodge situated on the shoreline of a big lake in Hoge Veluwe National Park. The well-known Dutch architect Berlage designed the house and its interior for the immensely wealthy Kröller-Müller family. It is just a stone's throw away from the museum with its impressive collection of Van Gogh paintings.
Geldersch Landschap en Kasteelen Foundation
Seven other castles open to the public in Gelderland are managed by Geldersch Landschap en Kasteelen, a foundation unique within the Netherlands that is comparable to the National Trust in the United Kingdom. I have already visited all of these locations several times and will definitely revisit them often. Ammersoyen Castle has preserved its medieval origins most successfully. Visitors must climb narrow winding stairs through walls several meters thick to reach all of the halls and rooms. Located on the edge of the Veluwe, Cannenburch Castle stands in a stunning landscaped park with ponds, streams and watermills. At Huis Verwolde, I feel like I am visiting the last baron just before he left this stately manor house. It is Downton Abbey in the Low Countries.
Hernen Castle stands out because of its innovative presentations. In particular, children will enjoy exploring the darkened halls and corridors guided by a talking lantern. A visit to Doorwerth Castle is always an amazing experience for me. Standing on a high moraine in the Veluwe, you can see the enormous castle rising up on the banks of the Rhine. Its escape room experience has been a huge success in recent years. Huis Zypendaal was built with money coming from plantations in Suriname. Geldersch Landschap en Kasteelen is open about this dark page in history and has funded scientific research into the estate's history of slavery.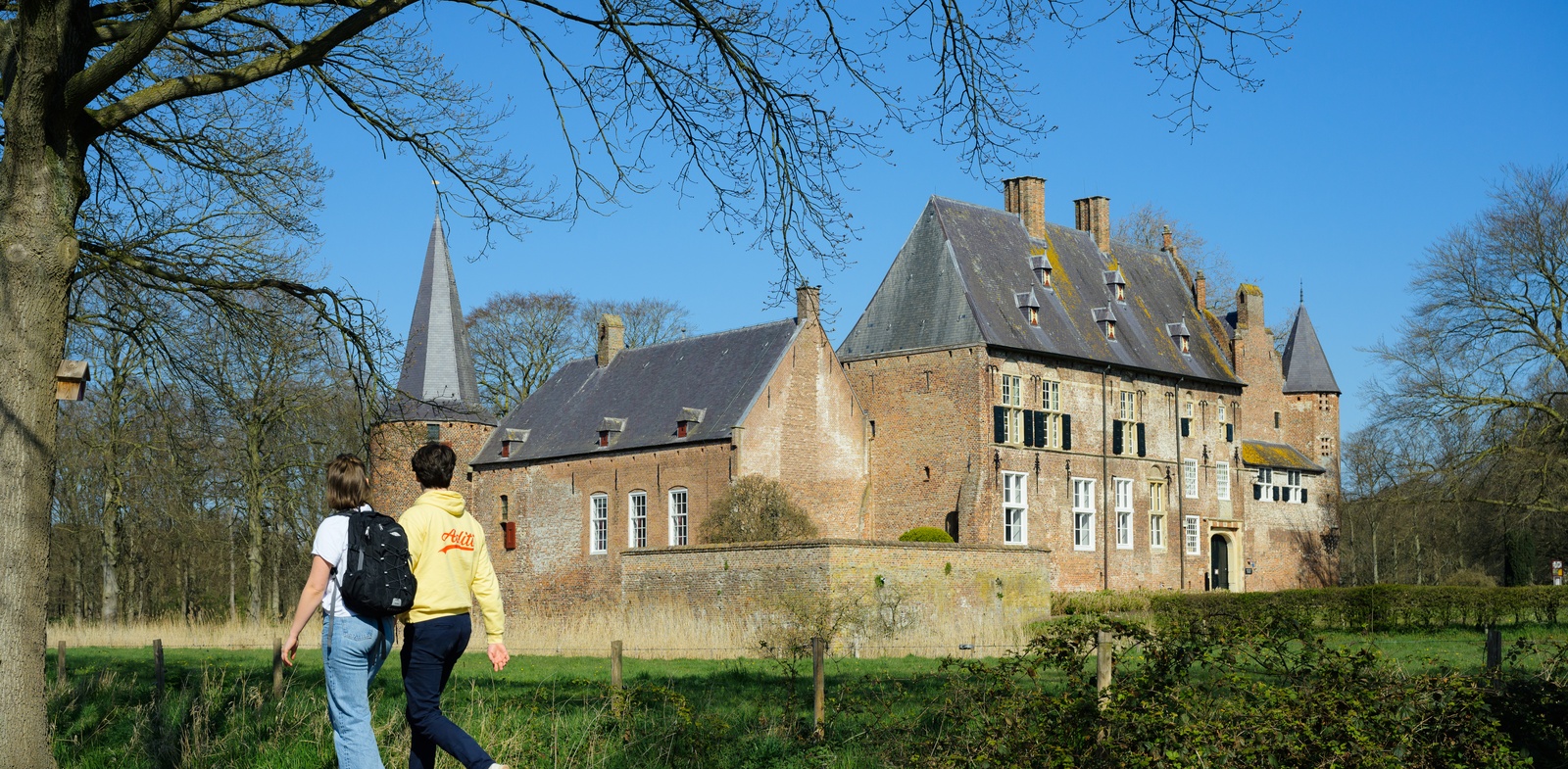 Hernen Castle
Hernen Castle's tower dates back to the 14th century.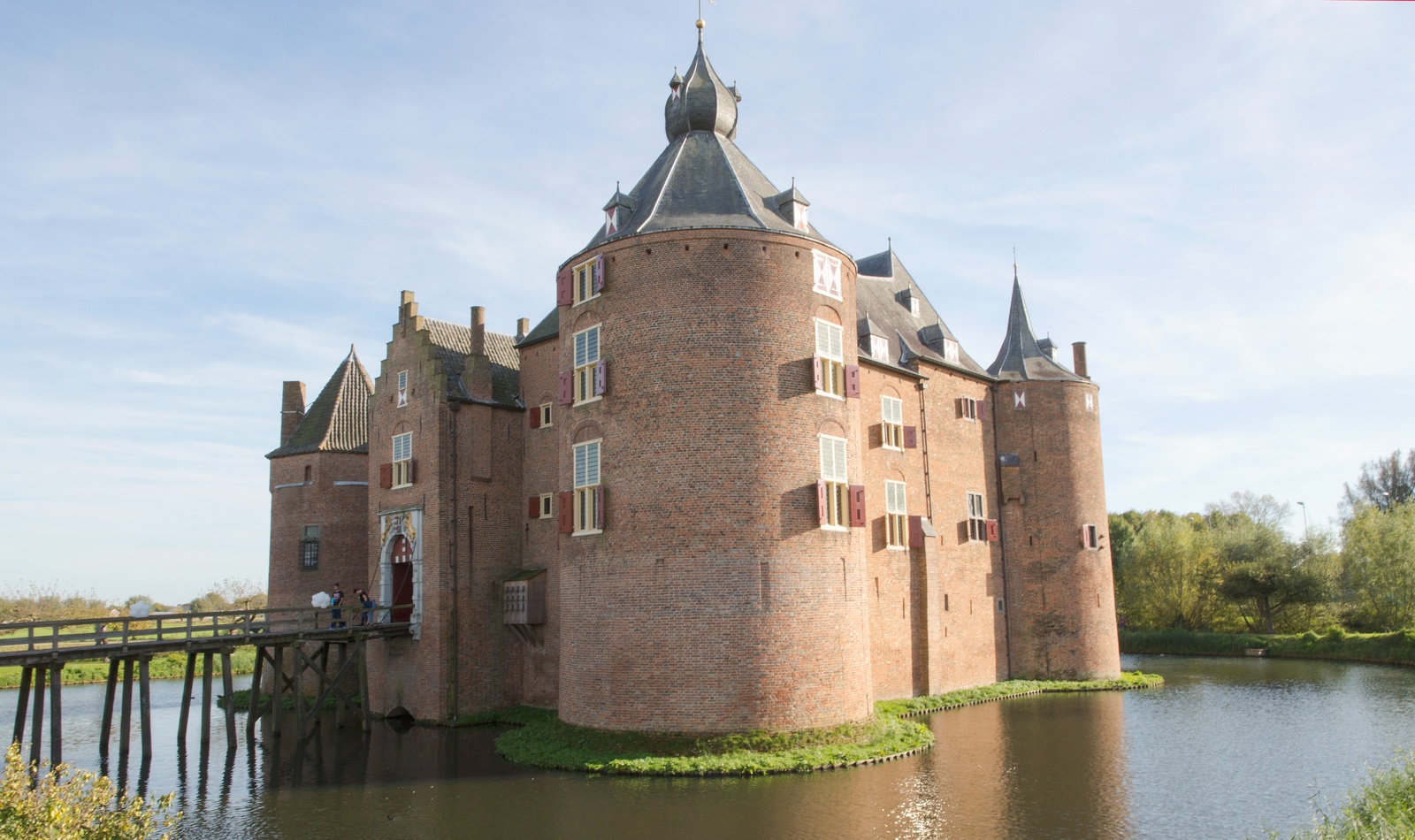 Ammersoyen Castle
Ammersoyen Castle in Gelderland is protected by two imposing moats and is particularly noted for its historic interior.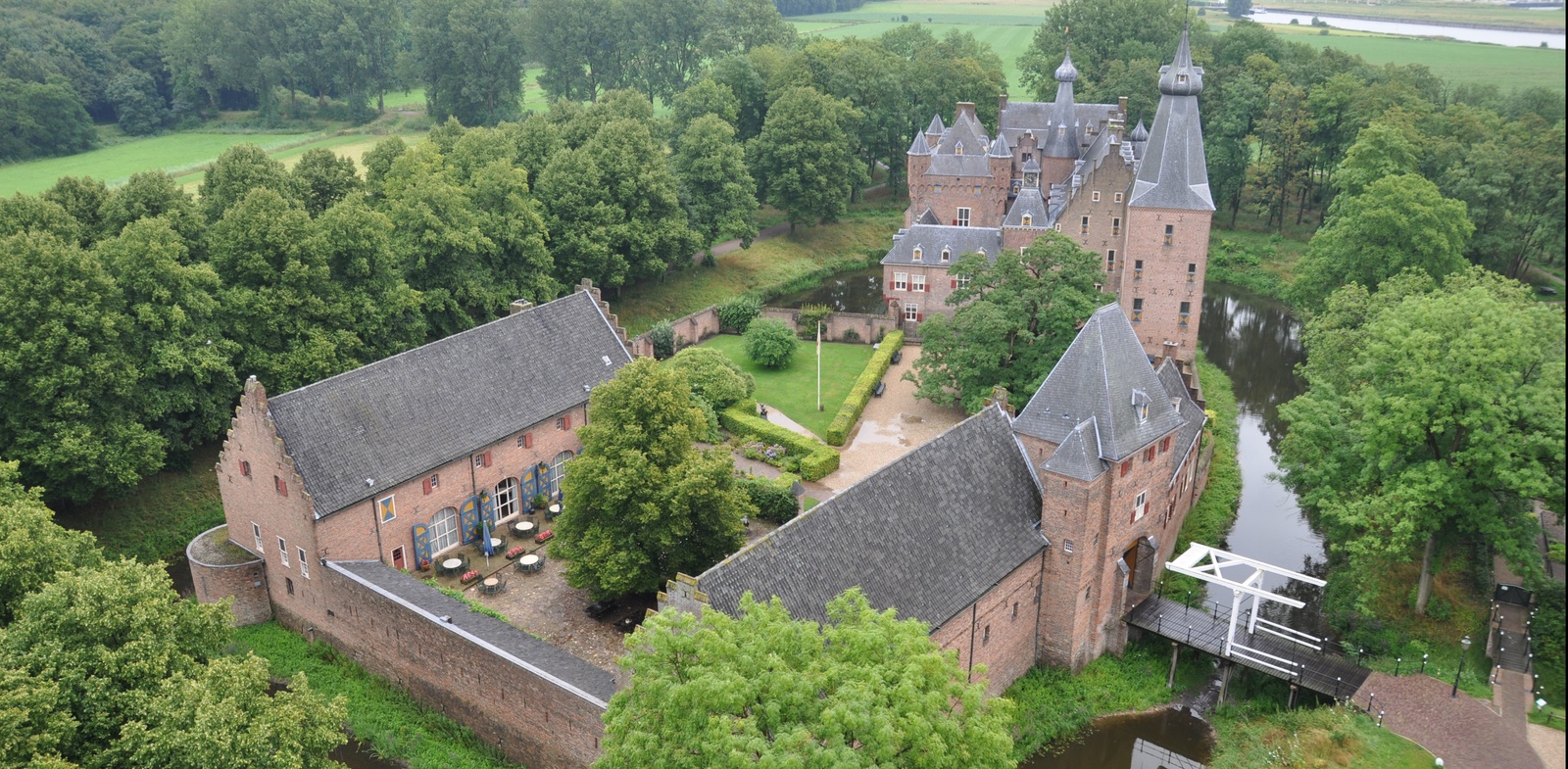 Doorwerth Castle
The history of Doorwerth Castle dates back to the 12th century, making it one of the oldest castles in the Netherlands.
The Chatelaine of Rosendael
I'd like to spend a little more time on the seventh castle of Geldersch Landschap en Kasteelen that is open to the public. I regularly visit Kitty Cloo at Rosendael Castle for tea and a chat and I think she'd enjoy being introduced to you. Her official position is that of Castle Manager, but I always call her the chatelaine. I should note that all of the Foundation's public castles are managed by women, a deliberate choice. We meet Kitty behind her laptop and she has this to say.
When thinking of a castle manager, people tend to think of a grey-haired woman with a bun and spectacles. I'd like to shake off that old-fashioned image.
Kitty guides us to the garden that borders Veluwezoom National Park, the backdrop to the Trots Farmer's Market held every month at Rosendael Castle. The concept for the market was conceived by Groeneveld Castle in Baarn to highlight products that are locally made and sourced. Geldersch Landschap en Kasteelen embraced the initiative, as did the many visitors. It is one of the new activities through which Kitty Cloo aims to modernize her castle's image. "In recent years, we've invested a lot in making all of the Foundation's castles accessible to the disabled. Inclusivity is very important to us – we don't exclude anyone."
The garden also offers a lovely view of the orangery's terrace full of people enjoying lunch or a cup of coffee. "The catering venue is the connecting factor; it is vital to every castle museum. Rosendael Castle is a modern museum, truly a complete and contemporary day out."
The most beautiful gardens
Join me for a walk through the stunning castle gardens
The most beautiful castle gardens in the Netherlands
Castle, gardens, restaurant. These make up the holy trinity at many Dutch country estates. One of the most beautiful gardens lies behind Het Loo Palace near Apeldoorn. For centuries, this was the beloved summer residence of the Dutch royal family. Prince William III of Orange-Nassau commissioned the palace and its magnificent gardens in the 17th century as the Dutch version of the Palace of Versailles near Paris. Also deserving a special mention are the amazing gardens surrounding Arcen Castle on the banks of the Meuse in North-Limburg. The many different gardens, including an Oriental Garden, Italian Garden, Casa Verde, mountain garden with waterfall, and a bamboo forest take visitors on a trip around the world. And that's just a sample of what it has to offer.
I love to roam the gardens around Middachten Castle. This centuries-old estate takes you back in time and has been inhabited for centuries by a family belonging to the Dutch aristocracy. The Count and Countess zu Ortenburg are pleased to welcome visitors for a stroll through the garden. The surrounding estate still looks as it did 300 years ago and is managed using old, traditional techniques combined with modern guidelines for conservation of its unique nature and ecology.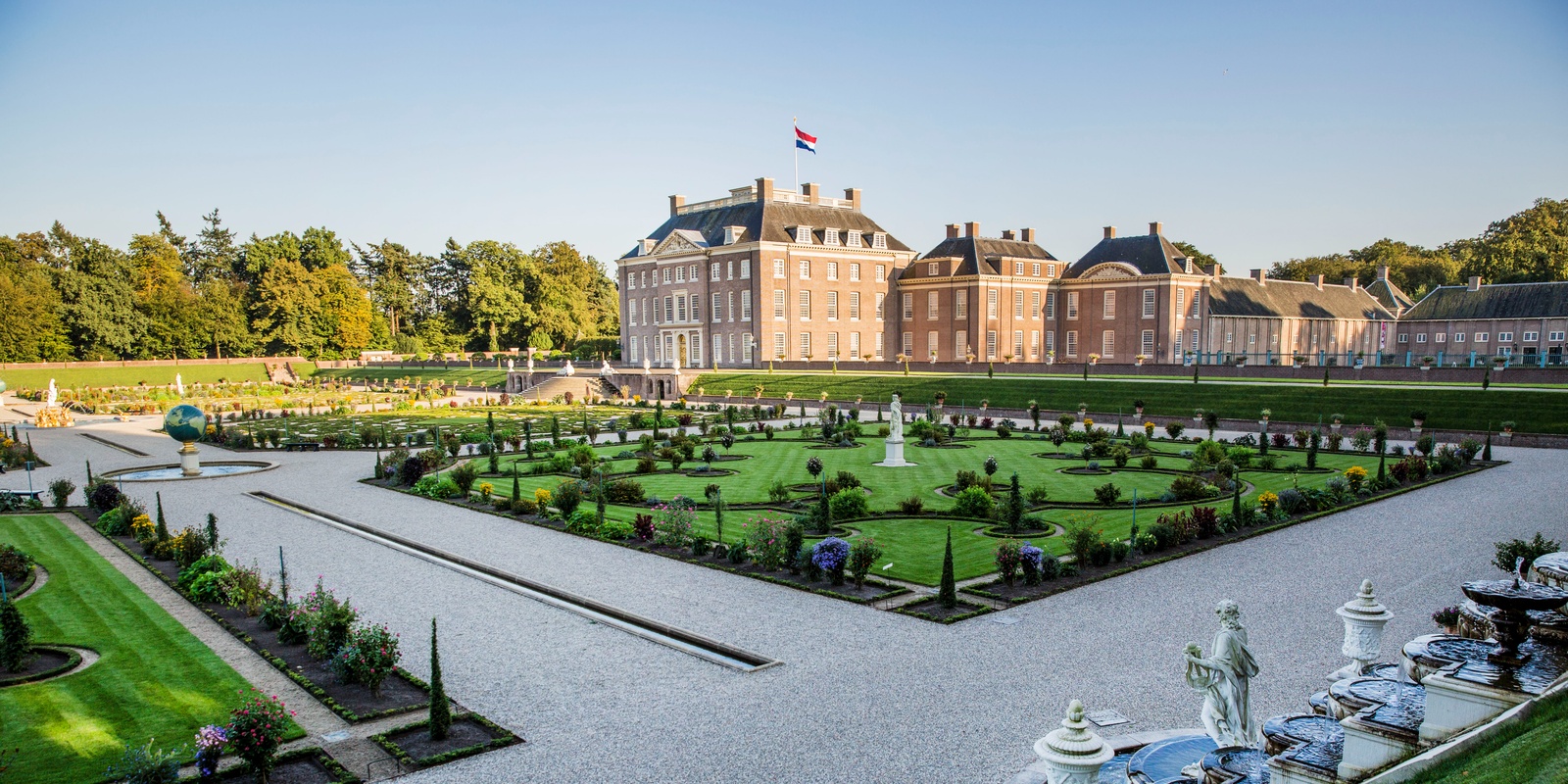 Het Loo Palace
While Het Loo Palace is closed until 2022 due to renovation work, the stables and gardens are accessible to the public.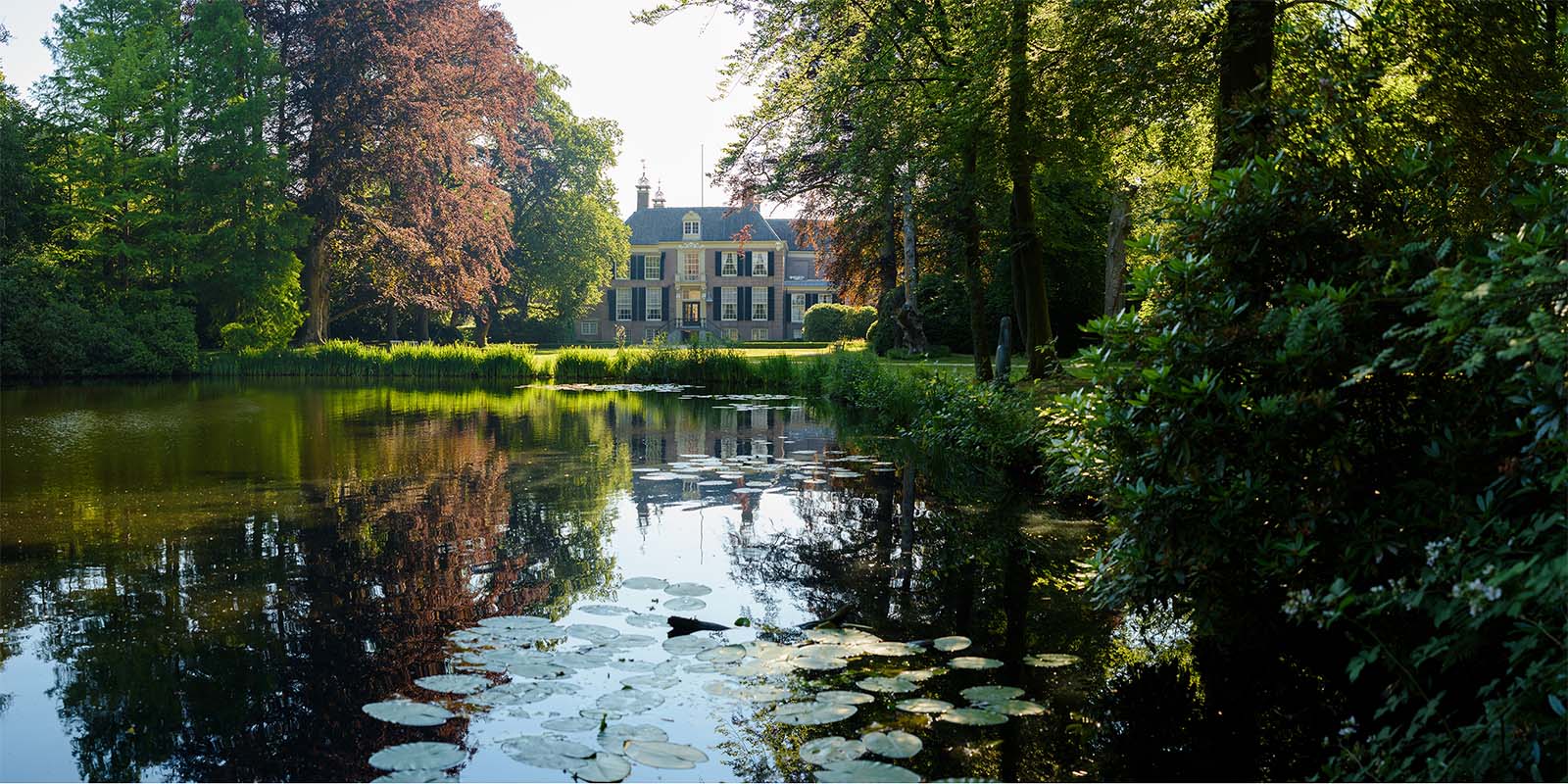 Groeneveld Castle
Groeneveld Castle is located on a 130 hectare estate in the province of Utrecht. The garden park is characterized by the range of garden styles and the fantastic vegetable garden that is an oasis of peace and quiet.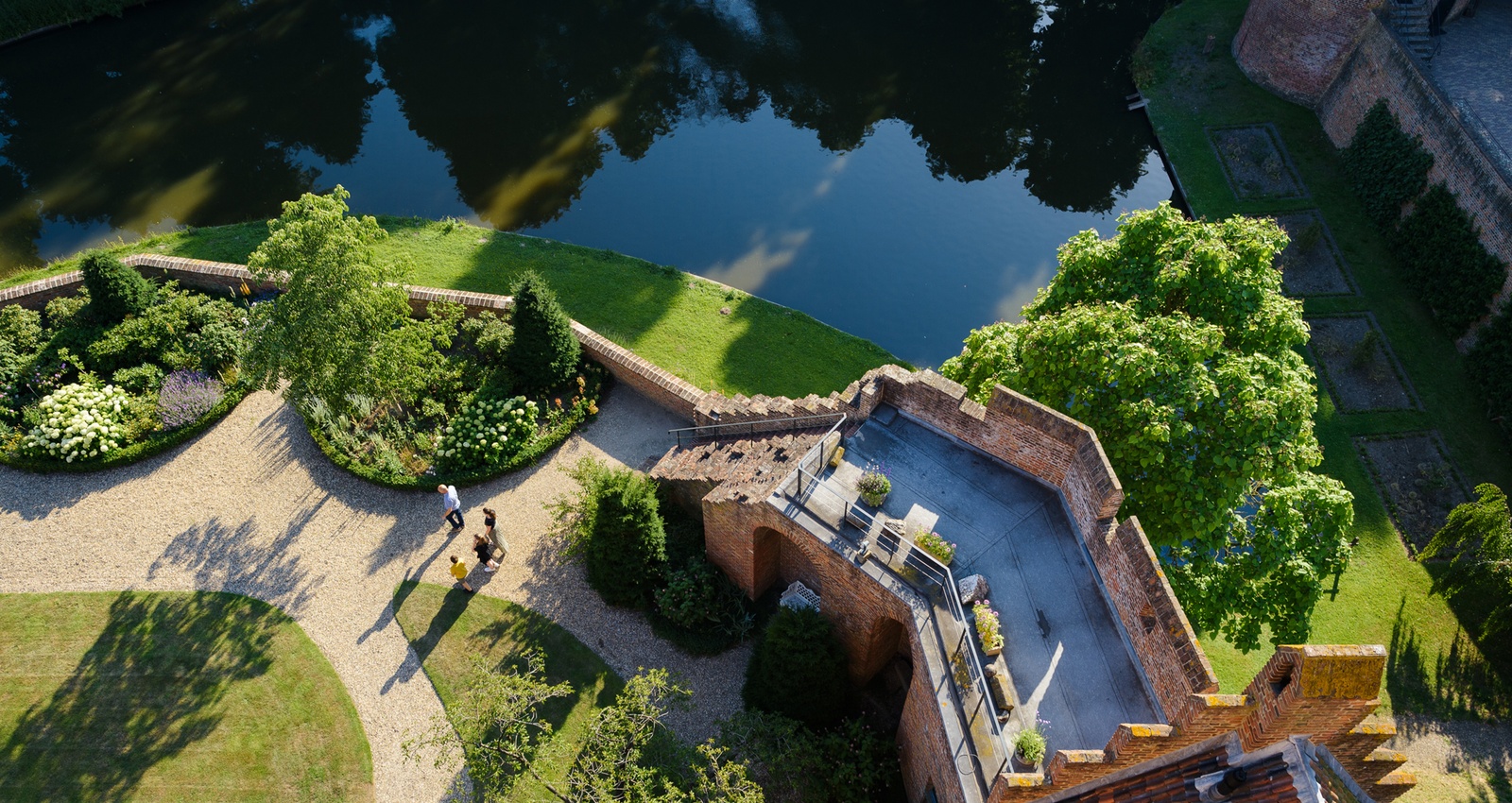 Bergh Castle
Because some of Bergh Castle's defence towers have been converted into luxury suites, you can spend the night in regal style at this ancient castle.
Biodiversity in a castle garden
Let's spend a bit more time at one of my other favourite castle gardens, located in Amerongen. The castle sits snugly between the Lower Rhine and moraines of the Utrechtse Heuvelrug. Ruud Elbertse is responsible for managing the gardens and buildings. "I'm often called the head gardener but that doesn't really cover all of my work." He takes us to his favourite spot on the estate: "On this dike, you can see the defensive function that Amerongen Castle used to have. You had to cross two islands before reaching the castle. That is unique."
Ruud describes managing the estate as a huge challenge due to climate change, the effects of which he can see in his garden. "Trees drop huge branches due to drought and soil life is dying. We're trying to create extra water access points and new borders to improve biodiversity. I'm organizing a symposium to share our solutions because declining biodiversity is an international problem. It is my way of contributing to a better world." Ruud also shows us another of his favourite spots in the garden. It contains the graves of pets buried here by previous castle owners. "I love this. Loving your pet so much that you give them a beautiful final resting place, complete with a homemade tombstone. I really like coming here to relax and enjoy some peace and quiet."
Healthy and freshy picked from the garden
Culinary enjoyment at a country estate
We're now embarking on a real journey of discover together. Overlooking the Vecht river near Utrecht, we'll visit the Doornburgh estate. I must confess that this is also my first visit. Our guide today is Niels van Zijl, the innovative 25-year-old chef of restaurant DeZusters on the Doornburgh estate.
Restaurant DeZusters is located in an imposing cloister complex from 1964 that was inhabited by Kanunnikessen van het Heilig Graf or Canonesses Regular of the Holy Sepulchre. Like the nuns, guests dine in the refectory – the priory's historic dining hall. Niels also takes us on a walk through the beautiful natural surroundings of Doornburgh. "I pick wild garlic here, and over there is elder blossom that I use to make syrup. The other day I discovered an entire field full of currants, which we used to mow but now leave in place to improve biodiversity on the estate. It's good for our planet and enriches the dishes I serve our guests." Like previous residents of country estates and manor houses, Niels aims to be as self-sufficient as possible. One of his plans is to commission a worm hotel for optimum composting. "I have so many ideas and there are so many pioneering concepts I want to try. There is still much to accomplish here at Doornburgh."
I work with hyperlocal produce here. I source all ingredients right here on the estate or its immediate surroundings whenever possible.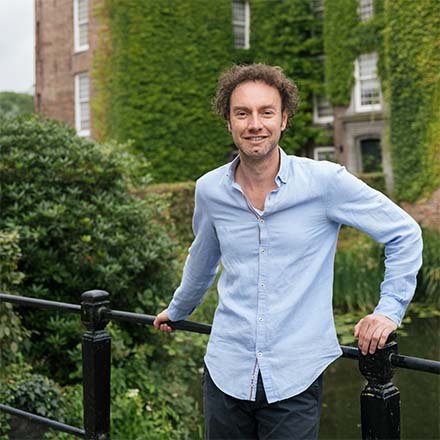 It's time for you to go on an adventure of your own. Dutch castles, country estates and manor houses are distinguished by their hospitality, innovative nature, and close ties with their natural surroundings. They often manage to surprise even me! I won't be visiting Scotland, the Loire Valley or the Rhine Valley this year, instead I'll be going on an adventure in the Netherlands, land of castles.