© Aline Dassel via Pixabay
Holland and water, the two are intimately interwoven. There is the coast that stretches for kilometers, of course, but even more so the fascinating landscapes with our iconic windmills, pumping stations, polders, dikes and storm surge barriers. For centuries now, the Dutch have had a relationship with water that is unique in the world. Discover it for yourself here!
Read about Holland Land of Water and the many iconic water works, such as the Afsluitdijk and Delta Works.
Visit UNESCO World Heritage Sites like Schokland, the Woudagemaal pumping station, or the Beemster Polder.
Enjoy water-rich natural landscapes like the Wieden-Weerribben, Giethoorn, or the Biesbosch.
Pleasures and troubles of the water
While Holland is proud of the riches of its waters, the Dutch haven't always had it easy in this respect. Nearly one thirds of the Dutch territory is below sea level. This meant that windmills and pumping stations, polders and dikes, and later on water works like the Afsluitdijk and the Delta Works were built to control the water. In the end this has led to a country that doesn't only owe its beauty, but also its wealth in part to the water.
Wise with water
For centuries, the Dutch have managed to exploit the water to their benefit. It started with living on knolls and building dikes, dams and storm surge barriers. After that, they developed windmills, pumping stations and steam engines to reclaim land from the water. Dutch perseverance and inventiveness has brought Holland immeasurable good and a strong reputation in water management. Even more so, our head of state King Willem-Alexander is an internationally renowned advocate of good water management.
© Rijkswaterstaat

photo: Ivo Vrancken

© Foto Citymarketing Lelystad

© Thijs Jansen
Beautiful polder landscapes
Holland has many polders and reclaimed land areas, such as the Beemster and Schermer, and even created an entirely new province, Flevoland, by reclaiming a huge stretch of water. Today, people live there in modern cities and on what used to be islands. You will find fields full of colorful tulips and huge natural landscapes with untouched nature. In short, these unique landscapes created by man demonstrate how ingenious the Dutch handle their water.
Iconic heritage sites
To keep their feet dry, the Dutch built mills and pumping stations, for instance the Kinderdijk windmills and the Woudagemaal pumping station, which are so iconic that they have become UNESCO World Heritage Sites. There are also the impressive twentieth-century water works, such as the Afsluitdijk and Delta Works. These ingenious structures are among the world's biggest, oldest and most impressive water works and well worth a visit.
Water-rich landscapes
Living on the edge of land and water means that Holland boasts fantastic water-rich landscapes in places where dikes broke through and land disappeared beneath the water. National Park De Biesbosch, for instance, with its pure rivers and creeks, its water basins and willow woods. There is also National Park Wieden-Weerribben, a water-rich moor in which people live in idyllic water villages, such as Giethoorn.
Enjoying the water
You can enjoy the riches of the water throughout Holland. The cities offer wonderful boat tours of their beautiful canals and old harbors. You can also go on fantastic bicycle tours or enjoy a long walk, go sun-bathing and engage in water sports. And because Holland is not very big, you can see a lot in just a few days.
Frequently Asked Questions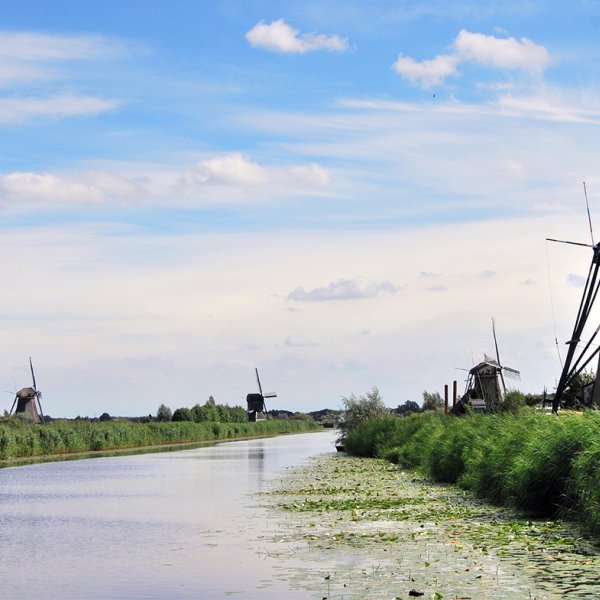 Living on and with the water
Dutch culture is closely interwoven with the water. Discover the rich history, meet local and international water heroes, and travel along to the most iconic places. Immerse yourself in the story of the Netherlands, Land of Water.
Read more