Water sports in the Netherlands
As you travel through the Netherlands, it's practically impossible to miss the lakes, beaches and charming waterways everywhere. Naturally, this makes our country a fantastic water sports destination. Whether you're interested in an active day out or just want to relax and unwind, you'll be spoilt for choice with all the options on offer. Hardly surprising then that water sports are also extremely popular among Dutch people of all ages. No need to worry about bringing all your gear with you because water sports equipment is widely available and can be hired. So come and enjoy the water – for a day or your entire holiday!
Places with unique possibilities
Recreation and water sports are possible throughout the Netherlands.
Fun on the water, from the Wadden Islands to Zeeland.
The Netherlands is a top water sports destination
The Netherlands is a fantastic destination for water sports enthusiasts. Close to a third of our country is below sea level, which used to pose a problem but now offers unique opportunities for water sports. With all the beautiful lakes, beaches and waterways in our country, it's no wonder that almost a quarter of all Dutch people now participate in water sports. Anyone who has ever spent some leisure time on the water here already knows that Dutch waters are top class when it comes to variety. Our seaside and many lakes are ideal for anyone wishing to experience the exhilaration of the wind, water and fresh air. From the Wadden Islands to Zeeland, the Netherlands has plenty of unique places where you can enjoy your favourite water sport.
Kitesurfing on the coast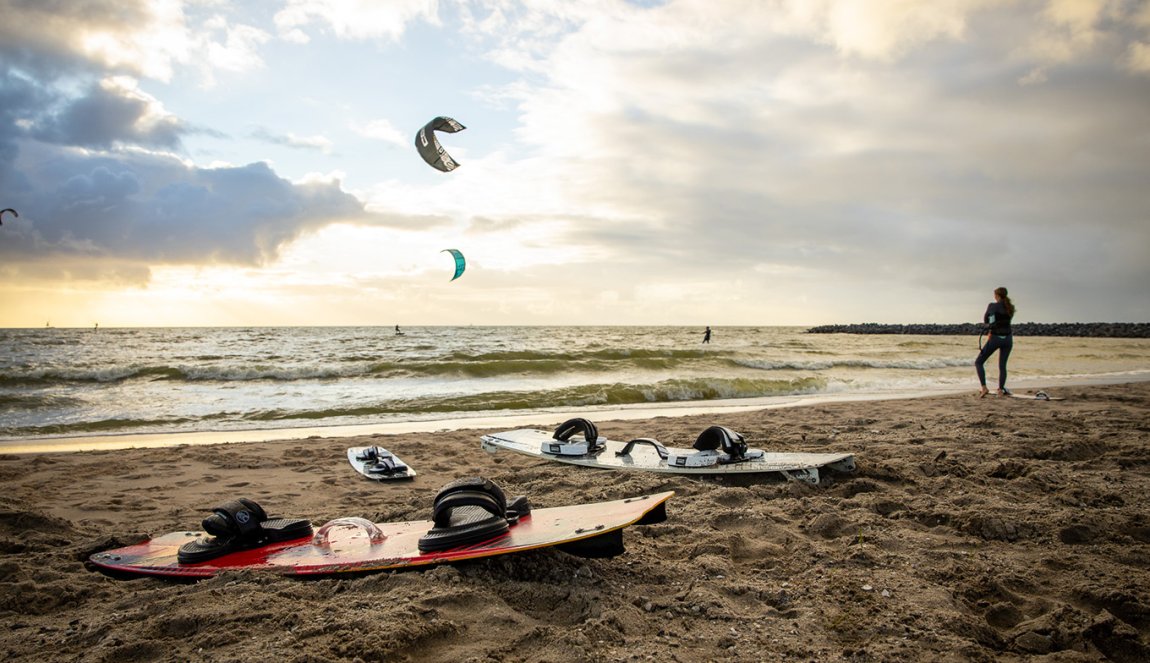 Kitesurfing
is a combination of windsurfing, paragliding and snowboarding and is the perfect activity for anyone looking for adventure and action. Revel in the rush of skimming over the water with the wind in your hair. If you're new to kitesurfing, it's a good idea to first practise in quiet, shallow waters.
A good place for kitesurfing in the Netherlands is
Noorderstrand
beach on the Wadden Island of Terschelling. The wind here is a lot stronger than on the mainland. When the tide is high, you can also kitesurf on the southern side of the island.
Other good places include
Workum
,
Callantsoog
,
Groote Keeten
and the beaches in
Zeeland
. The beach of Groote Keeten is most suitable during the high season because the beach is wider and often less crowded.
10.000
avid surfers in the Netherlands
Surfing: riding the Dutch waves
Surfing
is the premier sport of 'riding' the waves. It not only provides a huge kick but is also very good for your physical and mental health. You get a whole-body workout while simultaneously working on your flexibility and coordination. Surfing helps you unplug from the modern world and de-stress.
With 450 kilometres of coastline, there are many places to surf in the Netherlands. On
Texel
, it is rarely crowded in the water and you have a good chance of catching a nice wave due to the island's location. With a bit of luck, you might even spot a seal while you're at it! The seaside resort of
Domburg
also has a rich surfing history and is a lot quieter than, for example, Scheveningen. Another plus is that it is usually a bit warmer there than on the beach of Scheveningen because of the high number of hours of sunshine in Zeeland.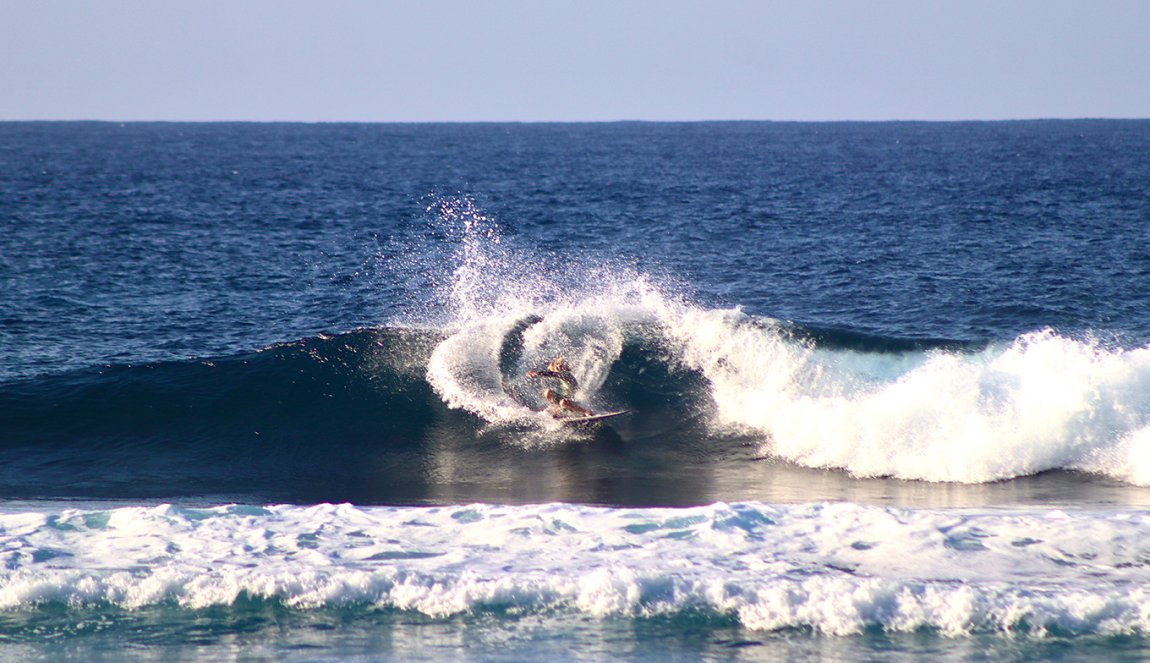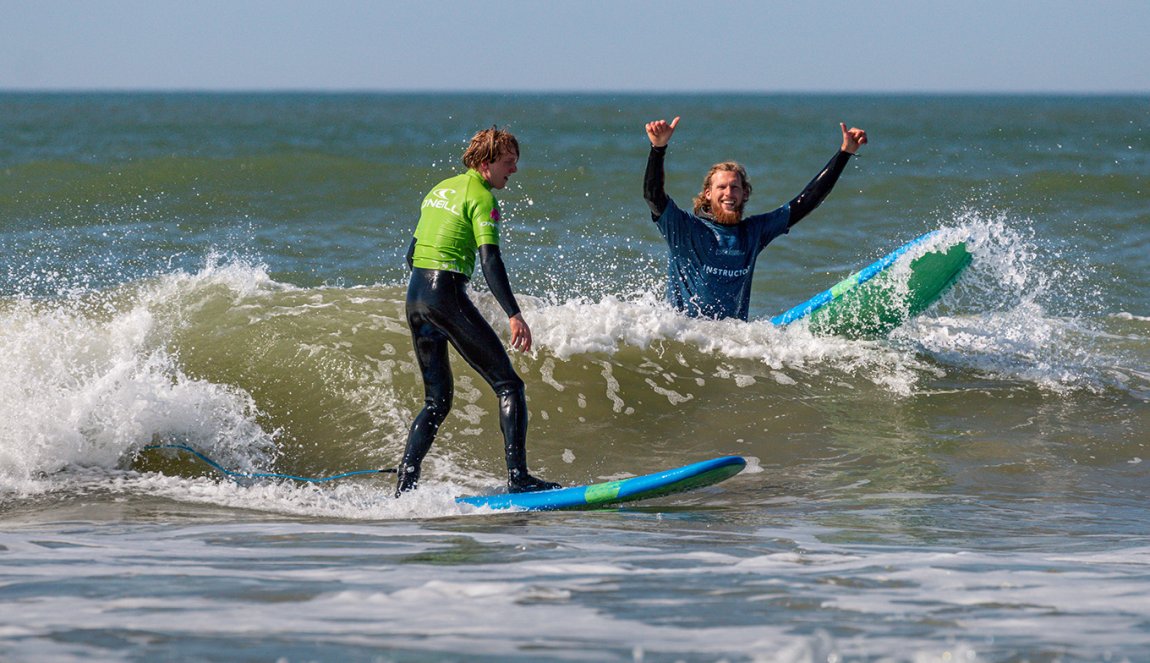 Just starting out with water sports? The safest option is to have a lesson first. For your first lesson, pick a surf school that feels right for you, preferably on a day when the water isn't too crowded. There are so many things you have to focus on already; the last thing you want is to have to deal with other distractions in a busy sea. The
Dutch Surf Academy
, for example, is located on a relatively quiet, beautiful stretch of beach in
Hoek van Holland
.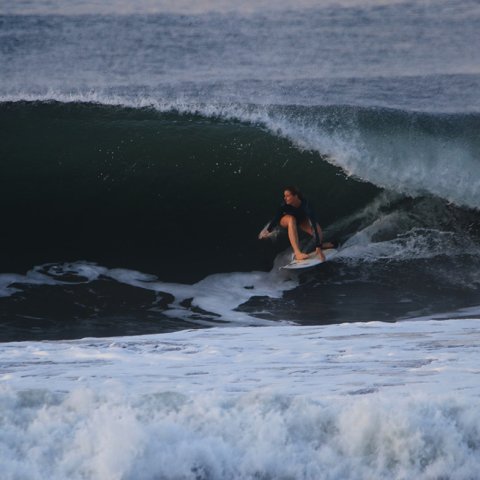 Water sports on the Dutch lakes
In addition to its countless sandy coastal beaches, the Netherlands also has plenty of beautiful natural and man-made lakes where you can practise water sports. One such example is the
Maasplassen
, the largest contiguous water sports area in the Netherlands. It has more than 30 km2 of man-made lakes of various sizes and is truly unique due to its diversity. Surfing, canoeing, stand up paddleboarding, sailing, kitesurfing, swimming – it's all possible on the Maasplassen. A true paradise for water sports enthusiasts!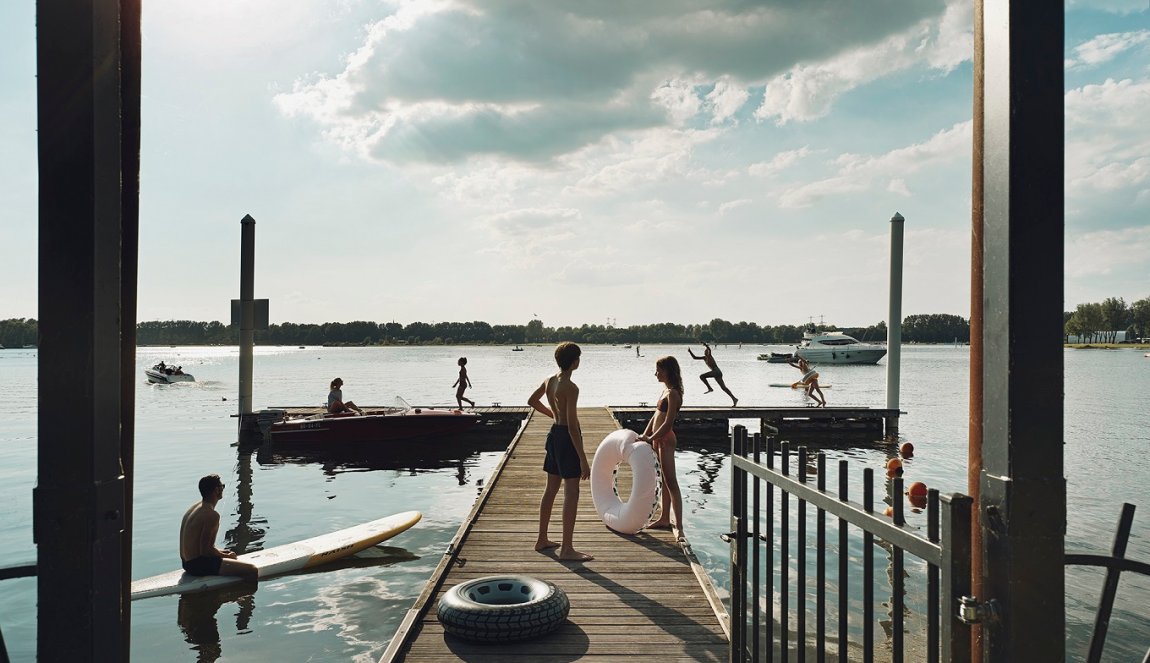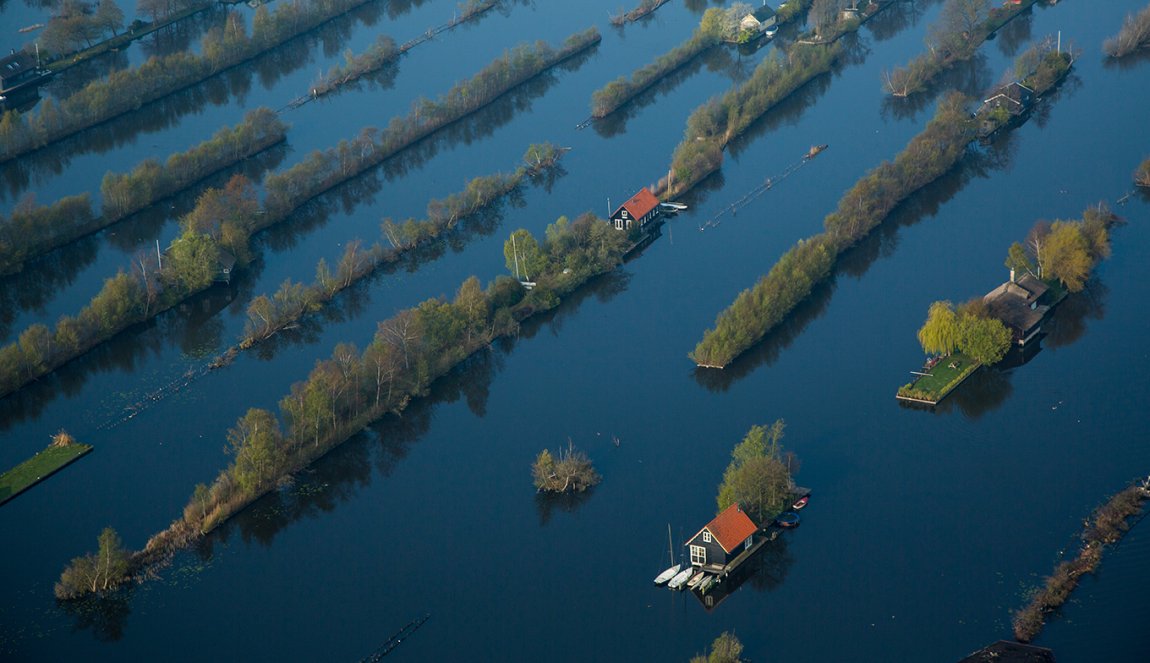 Another beautiful nature reserve where you can enjoy many types of water sports is the Loosdrechtse Plassen. The Loosdrechtse Plassen consist of several man-made lakes that are separated from each other by dikes and islands. The first five lakes form a large contiguous chain of lakes referred to by everyone as "the Loosdrechtse Plassen". There are special areas for swimmers and surfers where boats are not allowed, so everyone can enjoy themselves safely.
Both areas are also great places to relax and quietly enjoy the water. Why not hire a rowing boat or canoe and enjoy the beautiful nature reserve and relax on the water?
Stand up paddleboarding in Friesland
Stand up paddleboarding, or SUP for short, involves standing on a surfboard and using a paddle to move across the water. It is a popular water sport well-suited for calmer waters, such as our canals and lakes. Friesland is also called the SUP province of the Netherlands. The calm lakes, quiet canals and wide waterways are great places to paddle along the water and relax. The waterways run right through the meadows so you can also enjoy Friesland's beautiful landscape and wave to the grazing cows or horses along the way.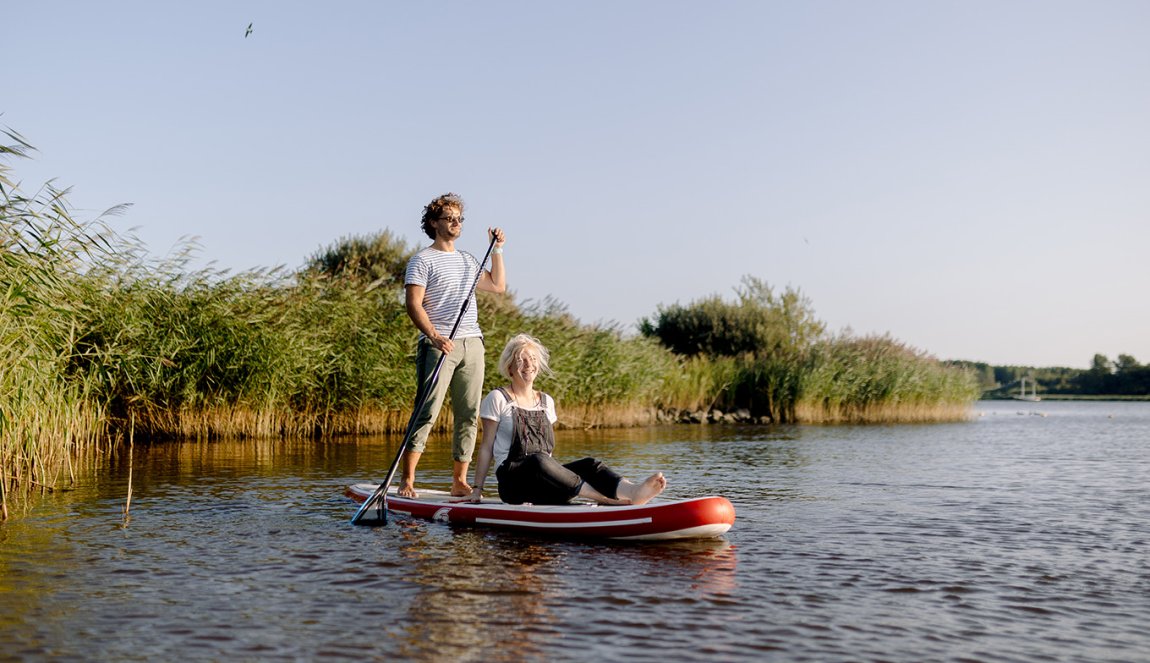 Julia van Rooij's tips
Make sure you hit the water with the right gear: a suitable surfboard and possibly a well-fitting wetsuit. People often make the mistake of beginning on their own using the wrong board. For good surfboard advice, always turn to a specialised surf shop.

Surfing is not just a summer sport! Come and check it out in the winter. There are usually more storms around England at that time of year. The bigger the storm, the more waves that come our way. It's also less crowded in the water.

While surfing in the Netherlands, I have come across seals and porpoises in the water around me. Awesome! As users of the sea, let's also give something back by, for example, not leaving anything behind and picking up any litter from the beach after your session.
Water sports locations
© Visit Flevoland

Category:

Read

Sail across the Markermeer. Enjoy peace and quiet on the water, near Amsterdam
Frequently Asked Questions