It is incredibly tempting, of course, to walk into a tulip field and shoot a picture in the sea of wonderful flowers. But did you know that every year flower growers suffer hundreds of thousands of euros worth of damage due to people wading through their flower fields? We have collected the dos and don'ts for the most beautiful #tulipselfie for you.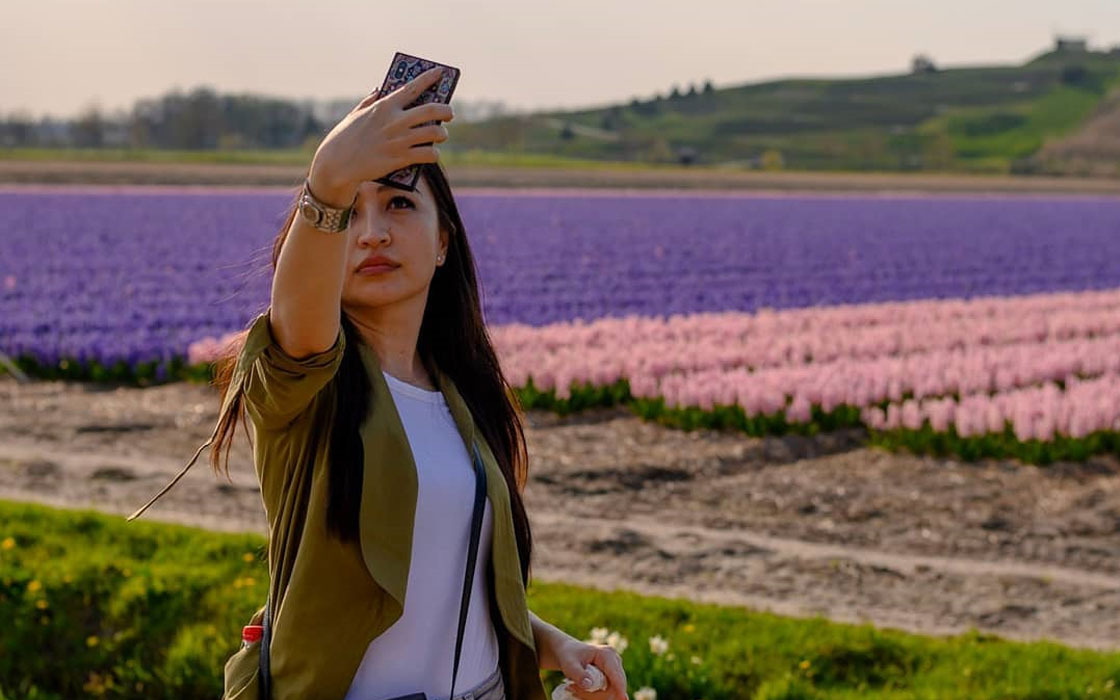 Feel free to photograph yourself with the flowers, but do not walk into a flower field.
Visit one of the many cutting gardens where you are allowed to pick flowers.
Enjoy our flowers respectfully.
Holland is proud of its flowers. And you are very welcome to enjoy this annual spectacle of colors with us. Please do respect this source of national pride, however.

How to make a tulip-friendly selfie!
Dos and don'ts
Do not walk into the flower fields, however tempting it may seem. The flower fields are on private land. Wading through the flowers may damage the flowers and bulbs or spread diseases to the flowers. Such actions cost flower growers lots of money every year. And surely you would not like people to walk into your back yard without asking every day.
What you are allowed to do is walk along the edge of the tulip fields. You can shoot beautiful pictures from there. Be careful and respectful of our flowers. You can create the most wonderful photographs without walking into a field of flowers.
Places where you are allowed to stand amid the flowers for photos
That does not mean there are no places at all where you can take pictures amid the flowers. There are many special cutting gardens in Holland, where you are allowed to walk between the flowers and even pick them!
Our tips: Hanneke's Pluktuin (Ellerweg 18, Biddinghuizen), the Zomerbloemen Pluktuin (Amsteldijk Zuid 183b, Nes a/d Amstel), or the Tulpenpluktuin van de Boerenshop (Steenwijkerweg 26, Marknesse).