© NBTC / Royal Holland storyline
© NBTC / Royal Holland storyline

© NBTC / Royal Holland storyline

© NBTC / Royal Holland storyline

© NBTC / Royal Holland storyline

© NBTC / Royal Holland storyline

© NBTC / Royal Holland storyline
Het Loo Palace
If you love palaces and the Dutch Royal Family, Het Loo Palace is a must-see. The palace is located on the crown estate Het Loo, Holland's biggest estate. The palace was commissioned by Stadtholder William III and his wife, the English king's daughter Mary Stuart, in 1685. When they ascended to the English throne in 1689, they also had beautiful gardens created to uphold their status.
The palace gardens of Het Loo are as beautiful as the world famous Versailles gardens and may well be the most wonderful gardens in Holland. Take your time for a walk through the gardens and stables. Would you like to know everything about this special place? Take the free tour with a guide who will tell you all the great background stories and interesting facts. You can book a guided tour at the kiosk on the Stallenplein.
Het Loo Palace is the official summer residence of the kings and queens of Holland. King William II, and his daughter Queen Wilhelmina after him, resided here virtually permanently and governed the nation from Het Loo Palace. During the reign of Queen Wilhelmina, Queen's Day was celebrated in Apeldoorn with aubades on the Palace Square and fireworks in Apeldoorn's central park.
The Palace itself will be closed due to renovation work until 2021. The gardens and stables are open to the public, however, and well worth a visit. Visitors are welcome in the gardens, stables and various events from April through September.
Koninklijk Park 1, Apeldoorn
Cannenburch Castle
Cannenburch Castle is about a fifteen minute drive away from Het Loo Palace. The large park that surrounds the castle borders on Het Loo crown estate. It is therefore not surprising that the members of the Royal Family and their guests visited frequently. The museum at Cannenburch Castle is highly recommended. Many of the objects on display, such as porcelain and furniture, were actually used by past residents. It brings you face to face with history.
Maarten van Rossumplein 4, Vaassen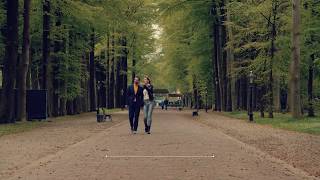 Watch this video: Discover the royal palaces in Apeldoorn
Rosendael Castle
It takes about half an hour to drive from Het Loo Palace or Cannenburch Castle to Rosendael Castle. This is where Jan and Janne Margriete of Arnhem, confidants of King and Stadtholder William III and his wife, resided. William III and the Lord of Rosendael shared a passion for hunting and the palace gardens. Rosendael Castle's landscaped park is one of the most beautiful parks in Holland and a great spot for a walk.
Rosendael 1, Rozendaal
Editor's tip
Want to see more beautiful palaces and royal monuments? Holland has many more cities with a royal touch. Visit Leeuwarden, the royal city of the Frisian Nassaus or the city palaces of the House of Orange in The Hague. Discover where William of Orange, our 'Father of the Nation', is buried in Delft, and stroll through the centuries old Begijnhof in Breda. Discover more royal cities.
Royal cities
© Henk Vrieselaar via Shutterstock

Discover the three royal highlights you must see when visiting Delft.

Read more

© NBTC / Royal Holland storyline

Discover the most beautiful palaces and the political center in the Royal City of The Hague.

Read more

© NBTC / Royal Holland storyline

Feel the influence of the Royal Family in Breda, the city of the Nassaus. We have listed the best royal places for you.

Read more