Gouda by Candle light, known as Gouda by Kaarslicht or more colloquially as Kaarsjesavond (Candle Night), is a famous annual Christmas event in the city of Gouda in western Netherlands. This tradition is marked by countless lit candles, singing, and festivities.
Instagram @teraaa13

Astrid de Haan
A day full of musical, theater, cultural and entertainment highlights.
Experience the magic of a city full of lights.
Stroll past the restaurants and entertainment at your own pace.
Thousands flock to Gouda by Candle light every year, including important national and international guests. The event is held at the central market square in front of the Gothic town hall. Street and electric lights are turned off, and instead the evening is lit by candles placed in windows facing and around the square. The Mayor gives a speech and lights a towering Christmas tree adorned with thousands of light bulbs to create a truly magical experience. The Christmas tree is an annual gift from its Norwegian sister city, Kongsberg.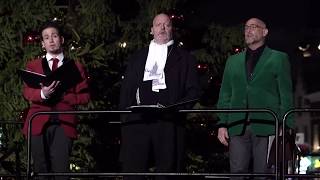 Watch this video: Gouda by Candlelight
An Old Tradition
Candle Night (Kaarsjesavond) in Gouda is a long-running tradition spanning decades. Choirs gather to sing Christmas carols with audiences enthusiastically joining in. Attendees visit nearby churches and museums following the celebration. Gouda became known for producing quality candles around the mid-19th century, although it is probably most famous for its other waxy product—Gouda cheese. Gouda candles are made from a natural wax that burns steadily for hours and can be purchased around the city as souvenirs.
Historic City
The city of Gouda is not only magical during Gouda by Candle light. Pretty canals, historic churches, and Dutch architecture make a great setting for a city that is also known for its breweries, smoking pipes, and stroopwafels. Gouda is easily accessible by two train stations, and the journey from Amsterdam takes an hour.