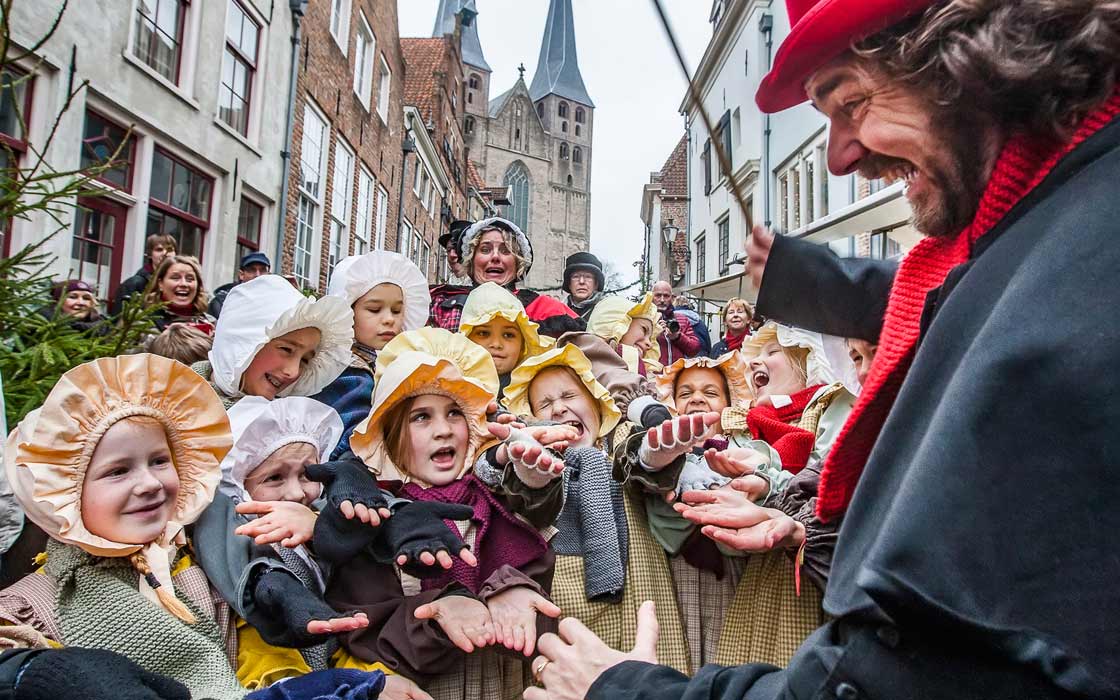 Photo: Dickens festijn - Foto: Ronald Hissink
Events
Dickens Festival Deventer
Dec. 10, 2022 - Dec. 11, 2022, Deventer
The world of Dickens
During the Dickens Festival in the historic centre of Deventer, the 19th-century world of Charles Dickens comes to life. Hundreds of characters from his famous books can be found strolling around the centre, from Scrooge to Oliver Twist and from Mr Pickwick to the Christmas Carol Singers, orphans, drunkards, clerks and posh gentlemen. This unique event will truly make you feel as though you were celebrating Christmas back in this famous author's age.
Music and punch
Enjoy punch and roast chestnuts, thousands of Christmas lights and Christmas trees, choirs and orchestras playing music – it's the romantic time of Charles Dickens coming back to life in the streets, in homes, in shops and in galleries.
Grote Kerk Christmas Market
In and around the Grote Kerk (the Great Church, officially St Lebuinus Church), you will find a Christmas market with no less than 75 different stalls selling Christmas decorations, toys, clothes and handicrafts, while Christmas songs are sung here, there, and in various other places too. The church also has an indoor terrace where you can enjoy excellent snacks and drinks.
Practical information
The Dickens Festival is open from 11:00 to 17:00. You can reach the Dickens Festival via Keizerstraat street (by Deventer Schouwburg theatre). Do bear in mind that you may have to wait in line (for as much as 1.5 hours) to reach the entrance to the festival in Walstraat street. The other streets are closed off.
Accessibility and parking in Deventer
Deventer lies about 45 minutes by car from Arnhem. Accessibility by public transport is also excellent; direct trains bound for Deventer can be taken in various places, including Utrecht and Arnhem.
If travelling by car, follow the 'parkeren Dickens Festijn' (Dickens Festival parking) from the A1 motorway on to reach a temporary parking area with shuttle buses to the town centre. A parking route has been established around the centre which leads to other parking areas.
Upcoming events
Through Mar. 6, 2022
Dordrecht

18 Dec. 2021

Through Mar. 6, 2022 Canceled
Zwolle

Through Feb. 8, 2022
Rotterdam
Discover what events you can visit in Holland. The calendar shows the best festivals each month.