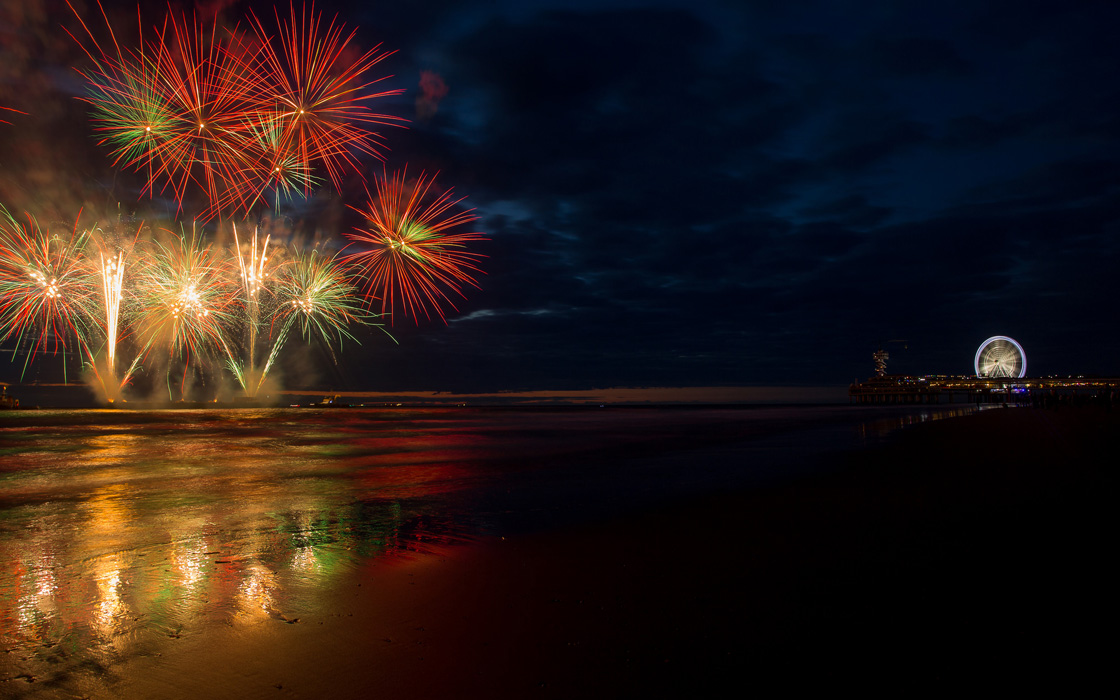 Photo: © Graeme Anderson - Creative Commons
Events
Scheveningen International Fireworks Festival
Dec. 1, 2019 - Dec. 22, 2019 Canceled, Scheveningen
Every year the International Fireworks Festival in Scheveningen draws tens of thousands of visitors. In the course of the festival several countries try to put on the best fireworks display. If you happen to be in or near Scheveningen in August, you should definitely stop by in the evening.
The competition
The International Fireworks Festival is a serious competition with strict rules. Participating countries have the same budget to spend, must ensure that at least 80% of their fireworks are produced in their own country, and have 11 to 13 minutes to display their fireworks prowess. In other words, it is a fairly formal contest that the participants take very seriously.
Other spectacles
The festival spans several evenings (generally 4) and is held on the Scheveningen beach. In addition to fireworks shows, you can watch fire eaters and jugglers as well as dance and music groups. Take the bus, tram or bike to get to Scheveningen because it is hard to find parking space on the evenings of this spectacle.
More in the area
It is highly recommended to also visit the centre of The Hague. Tip: stroll around the historic streets, go shopping in the many boutiques and have dinner at the Grote Markt.
Upcoming events
Through Mar. 6, 2022
Dordrecht

18 Dec. 2021

Through Mar. 6, 2022 Canceled
Zwolle

Through Feb. 8, 2022
Rotterdam
Discover what events you can visit in Holland. The calendar shows the best festivals each month.