Royal Package The Hague and Delft
Royal Package The Hague and Delft
Would you like to be treated like a royal during your stay in Holland? In that case, you should book the Royal Package The Hague/Delft. You will spend the night at the beautiful Hotel Des Indes, which is located in an old city palace. It is situated in the heart of The Hague, making it the perfect starting point for discovering the royal highlights of The Hague and nearby Delft.
Enjoy a luxury package including four-course high wine and tickets to four royal attractions.
Experience the royal ambiance of The Hague.
Discover Delft, the city of William of Orange.
The package
The Royal Package includes a hotel room with luxury breakfast, a four-course Royal High Wine, and tickets to Galerij Prins Willem V, Royal Delft, Museum Prinsenhof Delft, and the Old and New Churches in Delft.
Book now starting from 169 euros p.p.
Two royal cities in one
From Noordeinde Palace, King Willem-Alexander's office, to the Binnenhof, the Dutch center of power, it is all within walking distance from Hotel Des Indes. The package includes a ticket to Galerij Willem V, an art gallery which Prince William V of Orange-Nassau commissioned for his impressive painting collection in the eighteenth century. Today, you can still view masterpieces by painters like Rubens and Steen here.
Delft, the city of the 'father of the nation' William of Orange, is less than 15 minutes by car away. Visit Museum Prinsenhof Delft, which is Holland's principal museum about William of Orange, the ancestor of the Dutch Royal Family. It is also the place where he was shot to death in 1584. You can still see the bullet holes in the stone wall. The Oude and Nieuwe Kerk (Old and New Churches) are near Museum Prinsenhof Delft. The Nieuwe Kerk is where members of the Royal Family are buried. Admire the impressive monumental grave of William of Orange and climb the tower for the best view of Delft. Celebrated Dutchmen, such as Johannes Vermeer, were put to rest in the Oude Kerk. Conclude your day at Royal Delft with our world-famous Delft Blue pottery. Discover the secrets of this beautiful, hand-painted pottery at Royal Delft and see the master painters at work.
The tickets to Galerij Prins Willem V, Museum Prinsenhof Delft, Royal Delft, and Oude and Nieuwe Kerk are included in the package.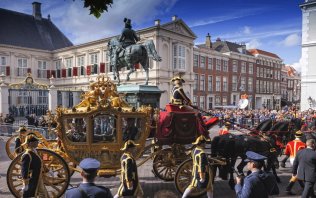 Read all about the House of Orange-Nassau.
Read more
Our recommendations for more Holland information
Vibrant festivals, royal art, canal tours and picnics: enjoy the summer in Holland!

Read more

Looking for a unique design hotel in the city or would you rather stay in a wellness hotel by the coast? You can choose from over 5000 hotel rooms.

Read more

Holland is the ultimate destination for cycling thanks to its flat landscape, mild climate, short distances and wonderful infrastructure.

Read more