Almere, located in the south-west of the province of Flevoland, has actually not been around that long. In fact, the entire province of Flevoland is relatively new. At the beginning of the last century this entire area was under water. A lot of water. To accommodate the growing population of Amsterdam and the surrounding area, it was decided to dam and drain the shallow Zuiderzee bay. The result: a modern province with Almere as its beating heart. It's a green heart with the Floriade Expo as the absolute highlight.
Almere has everything you need for a wonderful day out in any season. With over 400 stores, the new center is ideal for shopping, and the more than 42 kilometers of coastline is perfect for beach and water sports enthusiasts. For example, this city in the Flevopolder has the largest catamaran beach in Europe, and surfing and kiteboarding enthusiasts will be in their element at Surfstrand Almere Haven and Atlantis Beach.
© VisitFlevoland

© VisitFlevoland

© VisitFlevoland

© Visit Flevoland

© VisitFlevoland

© VisitFlevoland
Nature in and around Almere
The city is surrounded by beautiful forests, lakes and polders, which are known for their unique flora and fauna. The most special nature reserve is without a doubt the Oostvaardersplassen. You can spot remarkable birds and possibly encounter wild boars, red deer, roe deer, beavers, and even seals.
The Lepelaarsplassen is the best place to be for bird watchers. This unique spot in Flevoland is home to more than 300 bird species. The specially equipped visitor center De Trekvogel is a good starting point for a bike ride or walk. Cyclists and walkers will enjoy particularly great views of the area from the Oostvaardersdijk.
But above all, Almere – which has overtaken Lelystad, the official capital of the province of Flevoland, in terms of population – offers a lot of art and culture, often with a focus on nature and people.
For example, the Oostvaarders nature experience center has an exhibition about the nature and archeology of the previously mentioned Oostvaardersplassen, and well-known architect and artist Daniel Libeskind created one of the seven special Land Art projects in Flevoland. According to its maker, the Polderland Garden of Love and Fire is intended as a garden for meditation. While not really a museum, it is definitely worth a visit!
Watch this video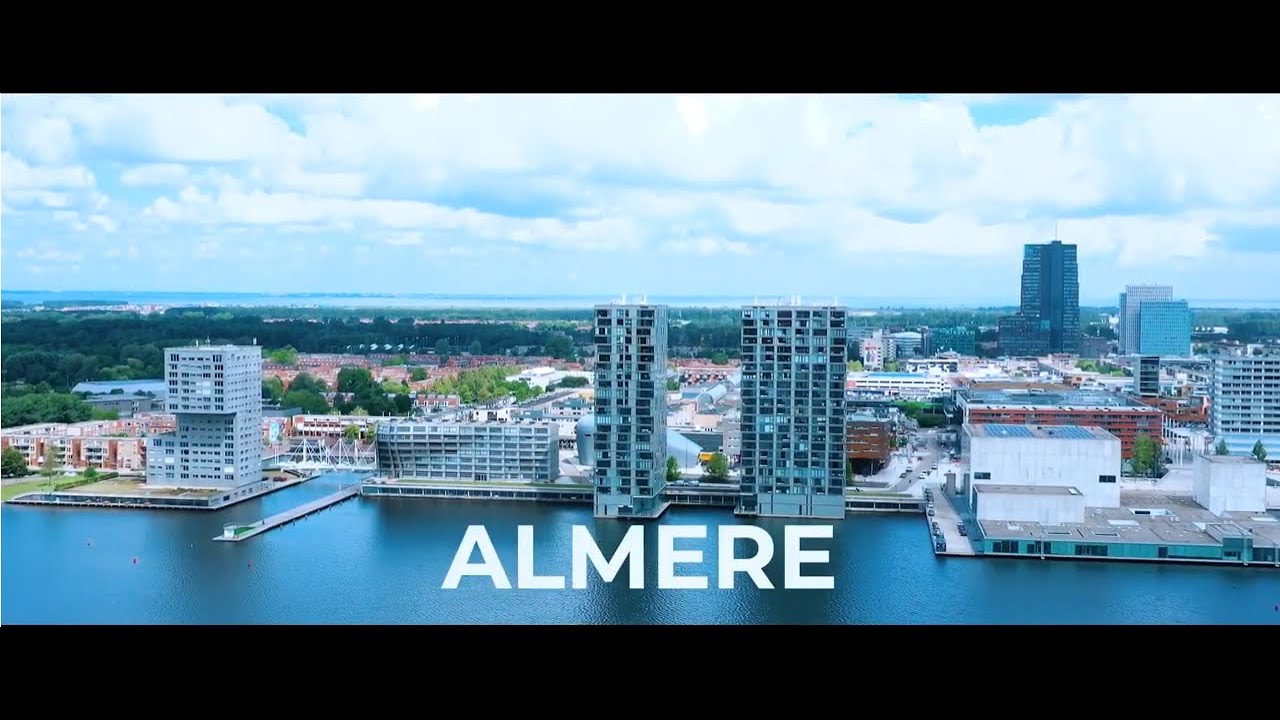 Modern architecture in Almere
Finally, Almere is also an absolute must for lovers of modern architecture. With many high-profile buildings such as the town hall, the Kunstlinie theater, the Smaragd and the Citadel, the city center offers many architectural delights.
Another unique feature is the ecological suburb De Buitenkans, where 55 colorful houses have been built inspired by the theories of the anthroposophist Rudolf Steiner. He believed that organic architecture, with many oblique lines, would spark cosmic inspiration.
Those theories are too complicated to explain here, but the result is a colorful series of houses, in which no house is straight. Rooms are never rectangular and roofs have sloping lines. These roofs have sedum plants and collect rainwater, which eventually ends up in a central pond where reeds provide water purification.
Dining by the water
You will probably work up an appetite after visiting all these fantastic sights. You're in luck because Almere is known for its many restaurants and terraces on the water, especially on the Gooimeer lake, which is also a great place to relax and enjoy yourself.