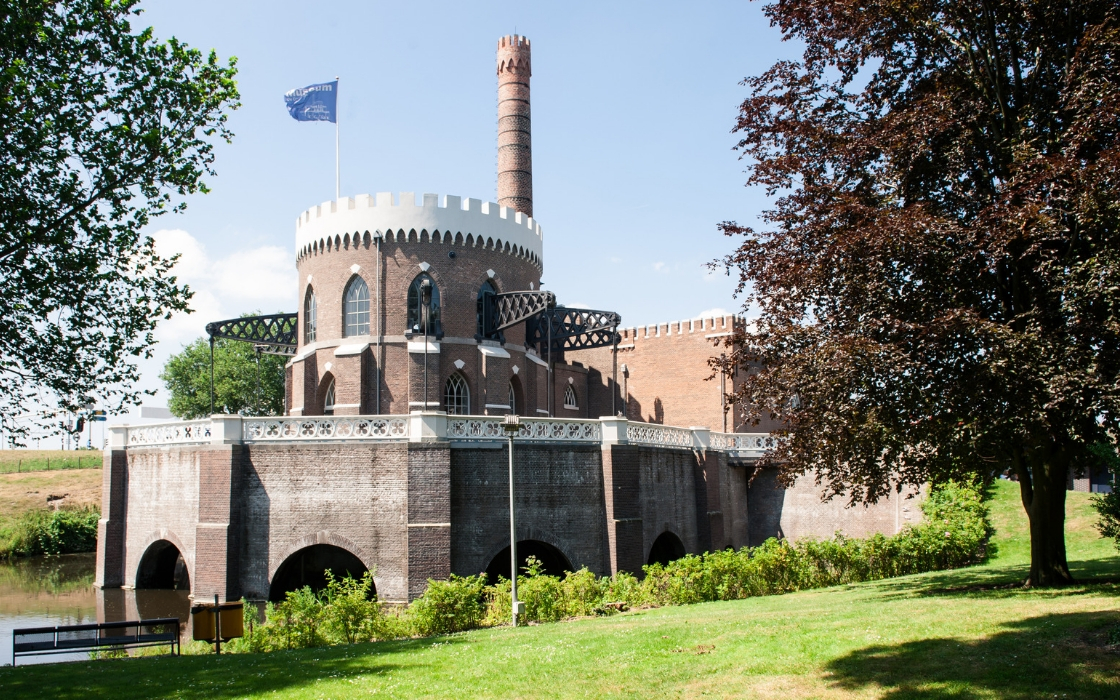 Reclamation
In storms, increasingly bigger pieces of land and sometimes even entire villages were swallowed up by the water. The risk of Amsterdam and Leiden being flooded became too big, and it was decided to drain the Haarlemmermeer. Holland already boasted a rich and successful tradition with 'inpoldering', reclaiming land using windmills. Draining the Haarlemmermeer would require as many as 166 mills, but highly advanced steam technology, which had recently been introduced, proved a promising alternative.
Construction of the 63 kilometer Ringvaart and Ringdijk (ring canal and dyke) started in 1840. Nine years later, in 1849, the De Cruquius steam pumping station was commissioned.
© Museum Cruquius

Machine © Museum Cruquius
De Cruquius steam pumping station
The steam pumping station is a world-class industrial monument. It's architecture is extraordinary, with lancet windows and crenellations embellishing the exterior of the building. Inside, you will find countless cast iron ornaments. Of course, the highlight of the Cruquius Museum is the internationally renowned steam engine that dates from 1849.
The machine room contains the world's biggest cylinder with an astounding 3.66m diameter. There are eight pumps at the end of the crank arms. Each pump raises 8,000 liters of water nearly 5 meters per stroke, at a speed of 5 strokes per minute.
Steam engine demonstration
The modernized hydraulic system powers the system several times every day, showing how it worked in the past.
Accessibility of Cruquius Museum
Museum Cruquius is located in the Haarlemmermeer, near Haarlem, Hoofddorp and Schiphol. It is easily reached by public transport from Amsterdam and Haarlem. And it is less than 45 minutes from Leiden.
Het museum is open 7 days per week, except on New Year's Day, King's Day, and 24, 25, 26 and 31 December.
Nearby
Combine your Keukenhof visit with this museum, which is just 11 kilometers away. You can ride a bike along most of the characteristic Ringvaart canal.
We recommend
The Ringdijk is a popular cycling tour among cyclists. There are few traffic lights on the 63 kilometer route, so racing cyclists can reach high speeds!