"It's one of a kind. Hotel Jakarta is hypermodern, green, and sustainable. It's got it all!" Claudia says proudly. We're sitting in the Skybar on the 9th floor of Hotel Jakarta Amsterdam and talking with Claudia van Poelgeest, Assistant Front Office Manager at the hotel. The glass walls on both sides meet in a sharp angle, providing us with a spectacular panoramic view of the IJ.
Bring yourself, Claudia will do the same
Claudia van Poelgeest is 28 years old. She is Assistant Frontoffice Manager at hotel Jakarta Amsterdam.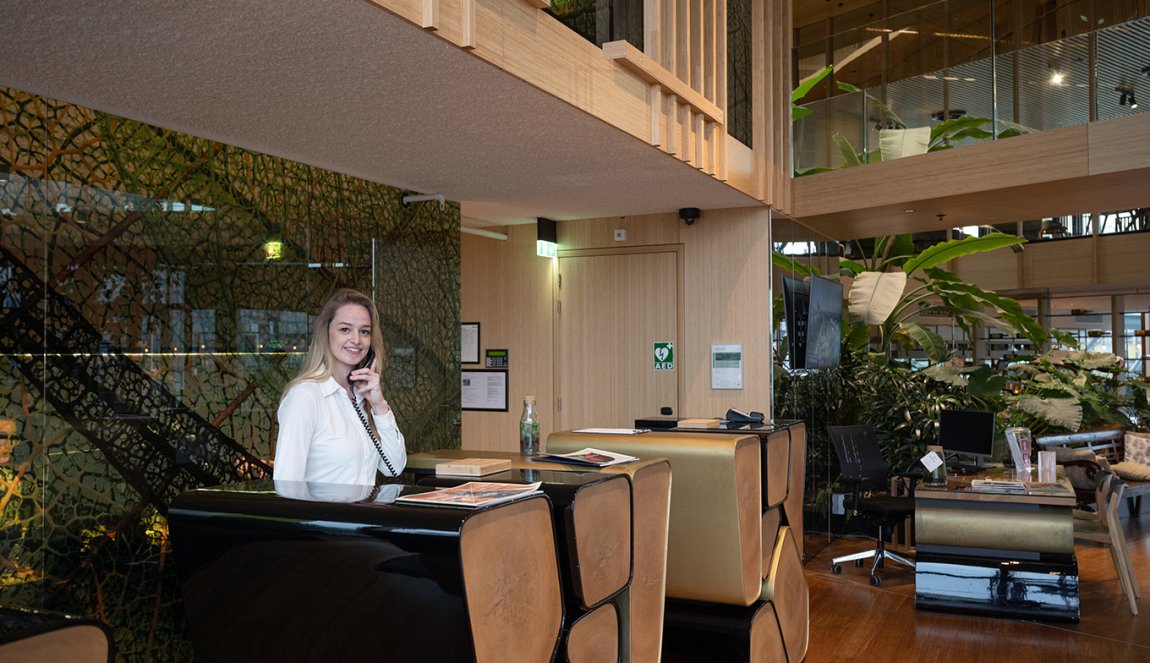 Claudia van Poelgeest
"There is a couple who arrived on Java Island 70 years ago on a steamboat from the Stoomvaart-Maatschappij Nederland (Netherland Line steamship company) and they're now returning to sample the atmosphere here. All these stories from guests are the best part," says Claudia about her work at Hotel Jakarta.
"Java Island has quite an interesting history that people know very little about. We're trying to bring it back to life," says Claudia. The Stoomvaart-Maatschappij Nederland, which operated regular services to the Dutch East Indies, was located here in the 19th century. "Look, opposite from here you can see the Amsterdam and Rotterdam warehouses." Claudia points outside. "From Amsterdam, they left for the East and from Rotterdam, they left for the West."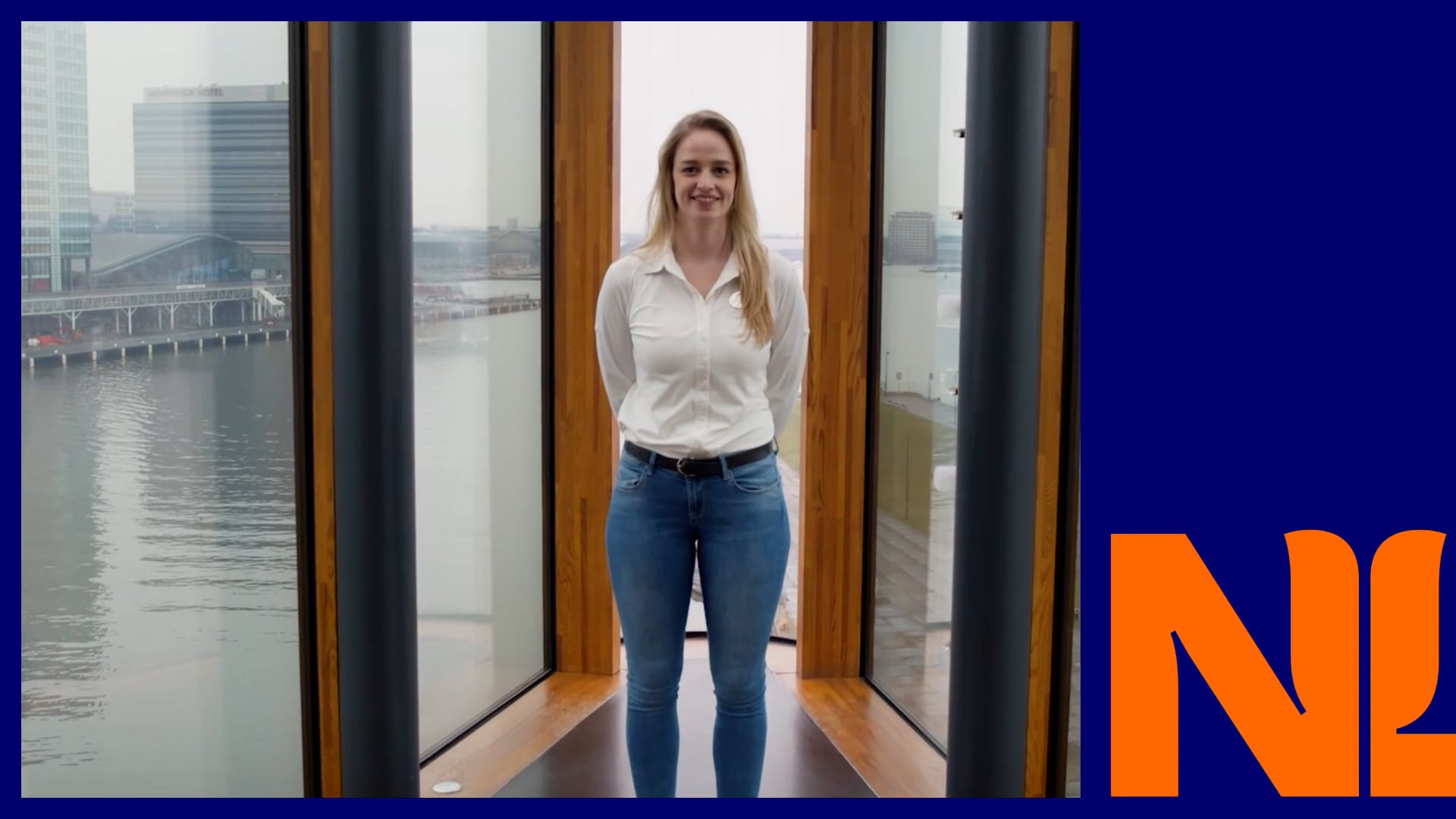 Sustainability can be fun
In 2013, the municipality launched a competition for a hotel to be built at this location. It had to meet three conditions: incorporate the history of this place, be sustainable, and contribute to the neighborhood. This special concept was developed based on that brief, and hotel owner, WestCord, was eventually given the green light to build it. Hotel Jakarta is one of the most sustainable hotels in the Netherlands and completely energy neutral. Or as they say themselves: the greenest hotel in the Netherlands. Upon entering, you almost immediately encounter a tropical indoor garden, the lush green heart of the hotel. The hotel is finished in bamboo throughout, which also creates a very warm, welcoming atmosphere. "We want everyone to see how fun and stylish sustainability can be and you can experience that for yourself, right here."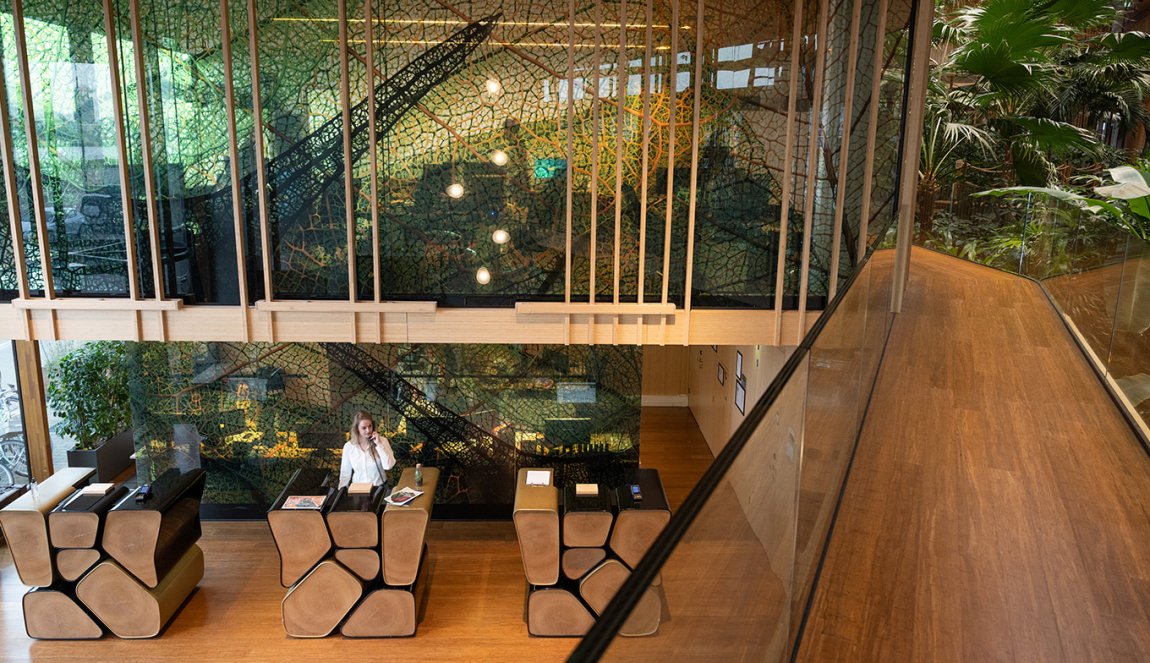 Sustainability has been implemented in all facets of the hotel. Sustainable materials were used for construction. For example, 90 % of the hotel is made of wood and concrete was used for the remaining 10 %, of which 20% is recycled concrete. The temperature in the hotel is regulated by a heat and cold storage system using water from the river IJ. Solar panels on the roof provide the energy to pump the water throughout the building. Rainwater is collected in a basin for watering the tropical indoor garden, and leftover food is processed into biofertilizer. The staff wear sustainable company clothing and there are even recycled bicycles available for guests.
Grab a bike and you'll be cycling along the Amsterdam canals in five minutes, says Claudia enthusiastically
Inner garden as the green heart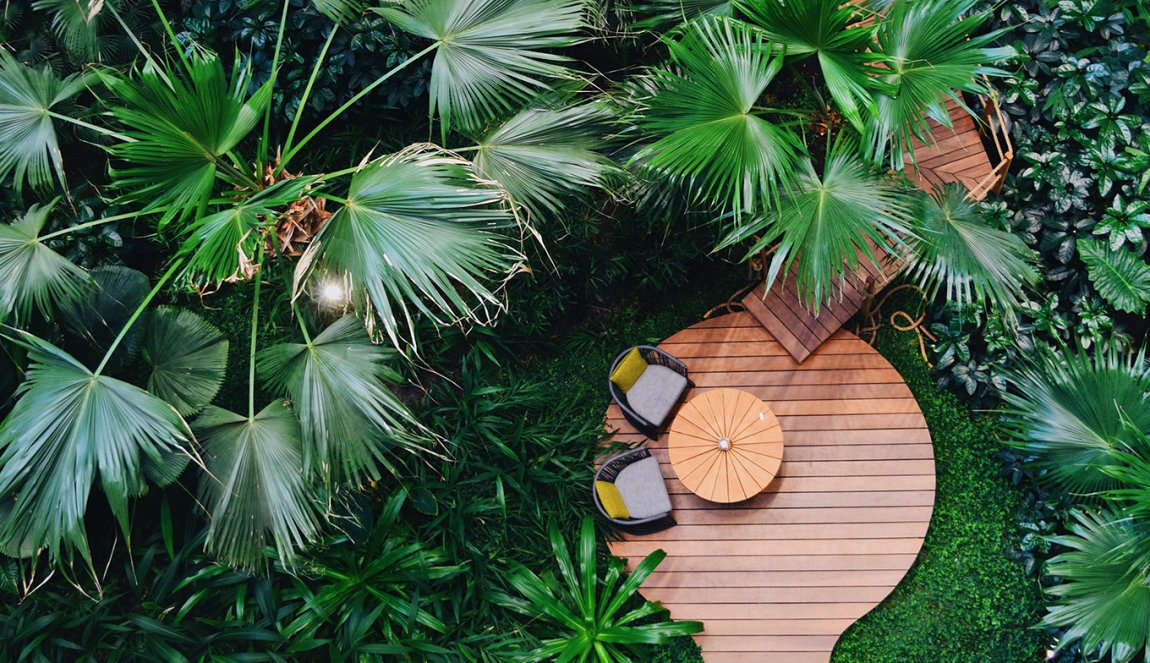 "We have a beautiful indoor garden with 29 different tropical plants and tree species. They were cultivated especially for us, with the help and guidance of Hortus Botanicus Amsterdam. It's really nice to see how the garden grows over the years. The tallest palm tree now reaches up to the 5th floor, for example, while in the beginning it was somewhere between the 3rd and 4th floor. The garden needs at least 1,000 liters of water per day. There are also some scenic seating areas and bridges in the garden, which have been the location of quite a few marriage proposals!"
"By now I've held passports from every country in my hands," says Claudia. Hotel Jakarta attracts everyone from international guests to Dutch people who feel as if they have spent three weeks in Bali. "Everyone is welcome here, and that includes local residents. There are many facilities that are publicly accessible. Through various entrances you can, for example, enter the bakery, the restaurant with a terrace along the water, or the wellness facilities. We have a 14-meter-long swimming pool, a fitness room, sauna, steam bath, and treatment rooms for individual and couple's massages."
Close to the center of Amsterdam
Java Island has a completely unique atmosphere. You see postmodern canal houses with bicycles and pedestrian bridges. Yet the city center of Amsterdam is surprisingly close. "Grab a bike and you'll be cycling along the Amsterdam canals in five minutes," says Claudia enthusiastically. "Get lost in Amsterdam. When you are done with the hustle and bustle of the city, you can return here to enjoy a wellness treatment and the swimming pool."
And finally, don't forget to have a drink in the Skybar. "We have a DJ every weekend. As you can see, he has the best spot!" Claudia points to the loft, which, being on the 10th floor, has an even better view of the wider area. We can see the warehouses, the skyline of Amsterdam, and the boats sailing along the IJ. "The sunset is so beautiful from the Skybar, with the most stunning skies. I've been working here for over four years and never get tired of it."