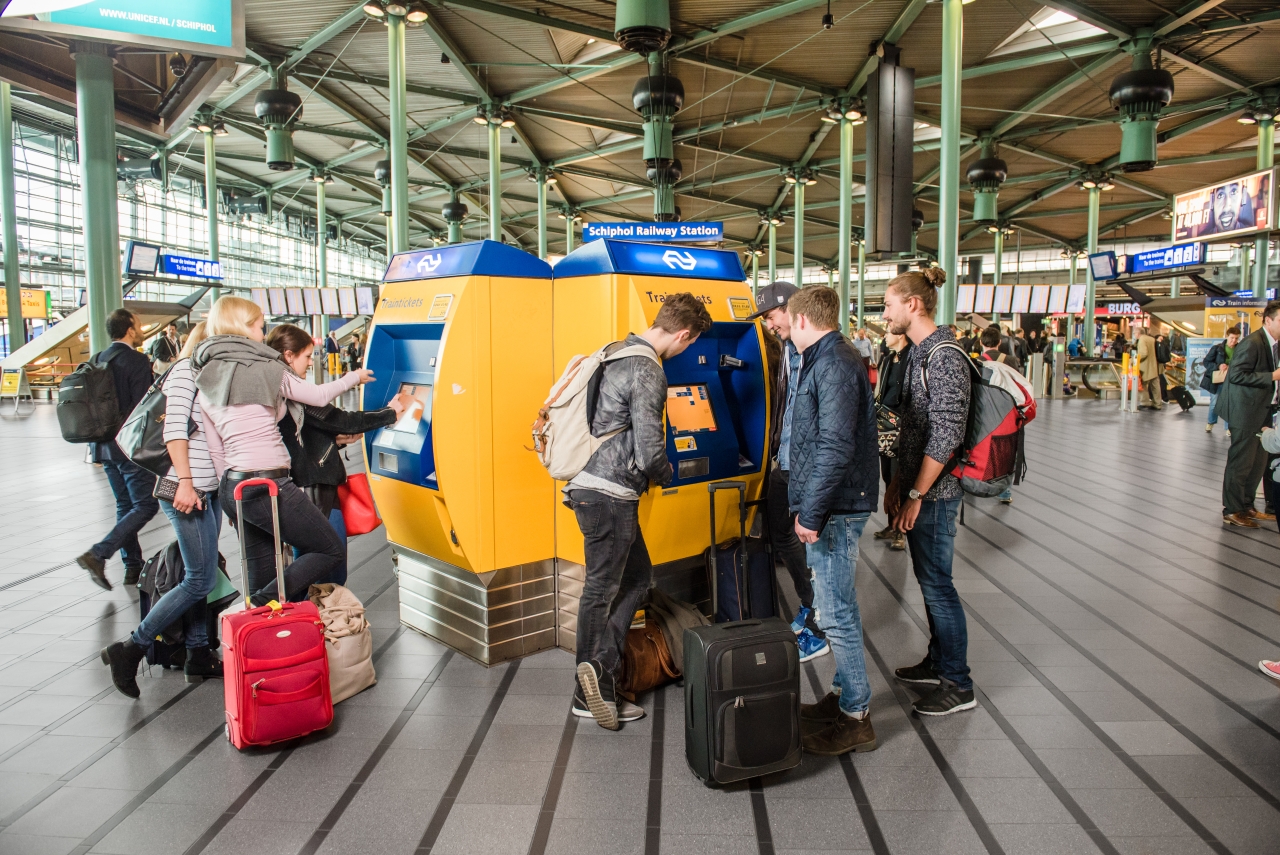 Train or bus?
The train station is located right below the airport and you can find your domestic and international connections there. Simply take the escalator down to the train platform. Outside the airport you can find many bus lines. Many of the buses at Schiphol are fully electric. This way you can continue your journey from Amsterdam Airport Schiphol using public transport in a sustainable way, which compensates for the rather polluting flight.
Paying for public transport
Paying for public transport is easy with OVpay or the anonymous OV chip card. Another option is to buy a disposable ticket, although it costs one euro more than the other payment methods and it is not as sustainable. With OVpay, checking in and out is easy with your Dutch debit card. If you do not have a Dutch debit card, you may want to consider getting a credit card if you prefer to travel with OVpay. Alternatively, you can purchase an anonymous OV chip card at various points of sale or at an NS vending machine.

Plan your travel in advance so you know which bus, tram, metro, train or ferry to take. Check out the NS.nl or 9292.nl websites, which will help you getting from A to B. The NS app also has additional features such as news and discounts for outings and snacks at the station, a train radar to see all moving trains and the speed at which they are traveling as well as a feature to check out all the facilities at each station.
Staying overnight at Amsterdam Airport Schiphol
Although there are many trains and buses that serve the airport during the evening and at night, it may be convenient to spend the night near the airport. There are a number of hotels at the airport itself and in the surrounding area that offer shuttle services to and from the airport.
Practical information for your travels in the Netherlands
Have you lost track and are unsure how to proceed? No need to worry because we can help you on your way with plenty of practical information. Visit a VVV Tourist Office for a map of your destination and for tourist information about the town and the region. Nearly every city or municipality in the Netherlands has its own VVV Tourist Office, which you can recognise by its blue and white logo.

Paying in the Netherlands is easy using cash, debit card, credit card, Apple Pay or Google Wallet. There is no shortage of options to spend money here, but do keep a few things in mind. If you want to pay in cash, bear in mind that few shops accept or redeem 500 euro notes and smaller businesses may not accept 200 or even 100 euro notes. Also, 1 and 2 euro cents are no longer in circulation so all amounts are rounded up or down to 5 cents. Do you prefer not to carry cash around? It is easy to use a foreign debit or credit card for payment in the Netherlands and you can also use these to withdraw money from an ATM.

Are you travelling with a disability? There are many opportunities in the Netherlands for people with disabilities. Many tourist attractions, hotels and restaurants are well accessible. Public transport is also accessible for everyone.