© Vera Bos via Rotterdam Make It Happen
Street Art from you home
Take a sneak peek at your Street Art exploration in the Netherlands and view here some great examples. Streetartfrankey's surprising street art, for instance, will make you smile. Or follow a great digital route through The Hague with the The Hague Street Art Tour. In Heerlen, you can roam the virtual Encore Gallery.
Street Art and current events
The artists also respond to current events, with all kinds of COVID-19 and war-related murals are appearing on walls worldwide. Militant, as a warning, or full of hope and love, ranging from characters wearing facemasks to tangled toilet paper roll and Ukrainian flags..
Check out the Street Art tips for the Netherlands.
Hanseatic cities
From March 2022 onwards, countless street art works will be installed in Dutch and German Hanseatic cities. In all, the 'De Strakke Hand' art collective will create 10 murals in the Dutch Hanseatic cities and 4 in the German ones. Would you like to follow the project up close? Follow @DiscoverHansa on Instagram and find out what street art to see in which Hanseatic city.
Tilburg
In 2022, a mural in Tilburg was elected as the world's most beautiful. An international audience overwhelmingly voted for the mural from a selection of artworks from ten countries. The piece, created by Studio Giftig and aptly named Trashure, portrays a woman jumping around in a dress made of plastic trash. By doing so, the creators want to show that there is no such thing as trash and that every piece of waste deserves a second life. If you are looking for more street art in Tilburg, you should grab a bike or walk from Central Station and discover the Street art route. Not only will you pass by beautiful murals, but also the Wilhelminapark and Museum de Pont.
Rotterdam
In Rotterdam, you can go on a tour with a Street Art guide who will lead you through one of several districts in this vibrant city. You will see murals that reflect stories from the neighborhood, for instance, works made by famous local artists, or murals made especially for the building or location. If you would prefer to strike out on your own, download the Rewriters010 app with different routes. The app also shows works that have disappeared by now.
Amsterdam
Naturally our capital must be included in the list of Street Art cities. The Moco museum offers a virtual tour with a large number of Banksys. There is also a Museum for Graffiti and Street Art. In Amsterdam-Noord, the NDSM-werf is a real hotspot for outdoor and street artists.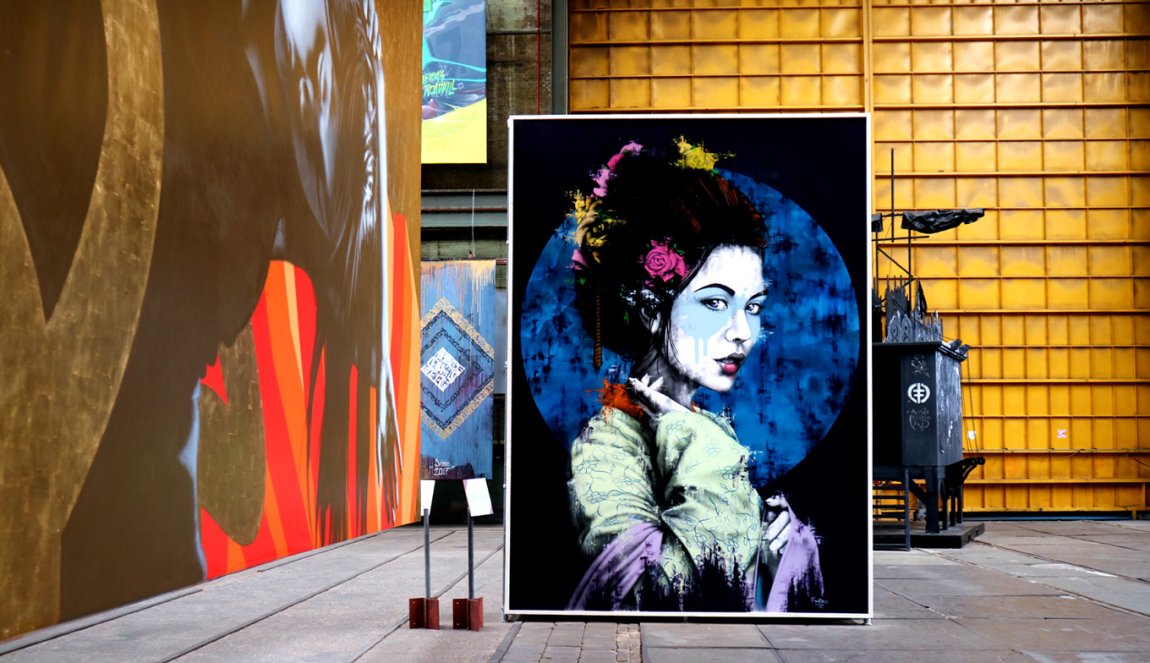 Eindhoven
There are two fantastic locations for outdoor art and Street Art in Eindhoven: Strijp and De Berenkuil. On the former Philips factory site you will find one of the biggest murals, The sound of Strijp S. In all, the work of art is 66 meters long and 11 meters wide. De Berenkuil is a complex of bicycle tunnels and pedestrian paths beneath the Insulindeplein traffic hub, a real hotspot for street artists and the site of the annual Step in the Arena event, with 150 artists from around the world converging to show off their talent. De Berenkuil also honors the 'transience' of Street Art: all of the walls are repainted in black before every edition.
Arnhem
Stroll through this creative city and you will see the most beautiful murals and eye-catching outdoor art. A special Street Art event is also held here: the World Street Painting Festival. In the heat of summer, artists from the Netherlands and abroad create 3D illusions on squares and in streets in just five days. The street drawings can be admired for another two months, the perfect opportunity to shoot a selfie as part of the work of art!
More Street Art hotspots
Street Art is everywhere! It is impossible to highlight all of the options but you could certainly put these cities on your travel itinerary. Heerlen for instance, in the southernmost tip of Limburg, claims to be the 'mural capital of the Netherlands'. What used to be a dun-colored mining town now has a much more colorful ambiance, with dozens of works by famous artists from around the world. You will also find many other forms of street art in Heerlen, so keep an eye out! Den Helder, the naval city at the tip of North-Holland, celebrates a 3D Street Art festival in the inner city in summer. International artists will create five spectacular drawings for the festival. Dordrecht is known primarily as a historic city overlooking the water but it boasts countless contemporary murals. Local artists turn dilapidated buildings and bare walls into colorful works of art. In Utrecht, icons from the 17th century look down on you, including a 30 meter high mural De Fluitspeler (The Flutist) by Abraham Bloemaert, a Caravaggio artist from Utrecht. Breda, Den Bosch, The Hague and Delft also boast fantastic examples of street art. There are guided Street Art Tours in many of these places, or you can follow a route individually using an app. Rent a bicycle and explore the city!
You might also like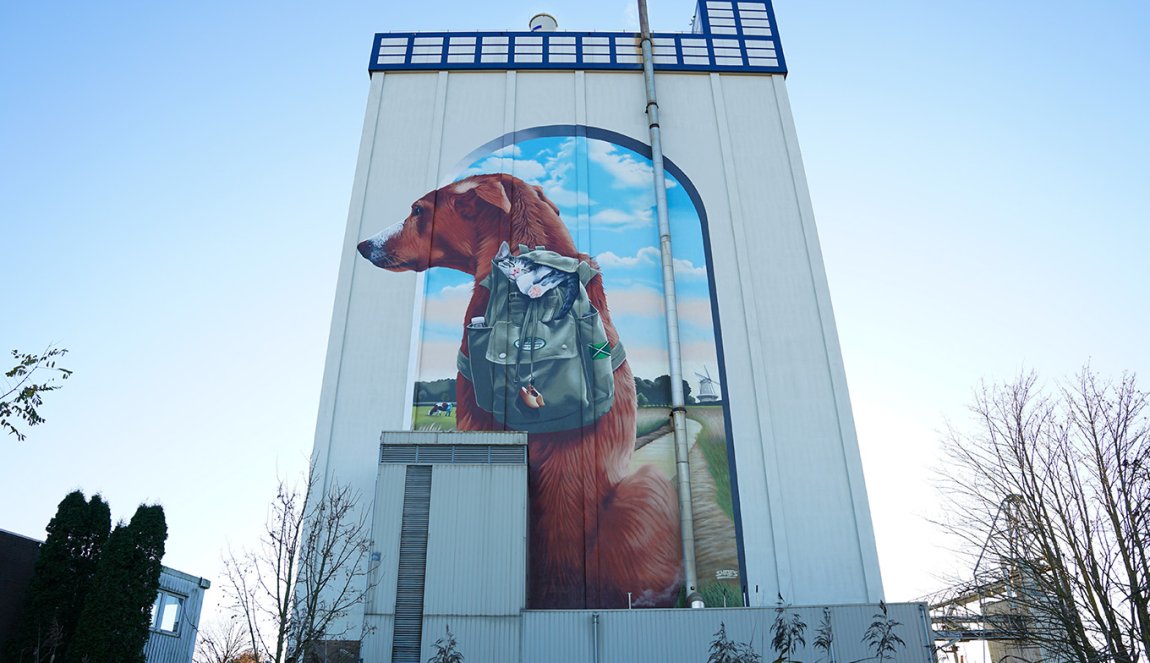 Category:

Visit Instagram
Unique stories from the Achterhoek come to life with the Silo Art Tour.
Mentioned cities
© Iris van den Broek

Rotterdam is a dynamic city with its own unique character. Find out why the city is well worth a visit.

© VisitBrabant

Eindhoven is Europe's design capital and one of the most beautiful hidden gems of the Netherlands. Discover it for yourself.

© Visit Veluwe

Read all about Arnhem here. Visit the old city center, the Openluchtmuseum, Burgers' Zoo, or Hoge Veluwe.

© Toolkit The Hague

Many associate The Hague with the International Court of Justice. But did you know that it's home to historical monuments, beaches, fabulous museums and a vibrant shopping centre?

© VisitBrabant

Discover Den Bosch, with beautiful monuments and history, St. John's Cathedral, great restaurants, fun shopping streets, fascinating museums and the works of Vincent van Gogh and Jheronimus Bosch.

© Sabine Bends

Find out why Utrecht is regarded as a cozier alternative to Amsterdam.

© Trabantos via Shutterstock

Discover the city of Nassau in Holland, which is known for its excellent restaurants and terraces and wonderful shopping districts.

© Repistu via iStock

What makes Amsterdam one of the most vibrant cities in the world?