© Oliver Groot - Hexashots
In an ideal world, our beautiful tulips would be indestructible and you could step into our colourful fields for an amazing selfie surrounded by these iconic Dutch flowers. Alas, this is not the case because, while our tulips are incredibly beautiful, they are also incredibly fragile. That's why it is important to admire them from a distance and to please stay out of the fields during your visit. But not to worry, we will explain how you can still come away with exquisite photos. It goes without saying that you are more than welcome to join us in admiring the fantastic fields of blooms, but please take care with the flowers. Our annual spectacle of colour is not only a great spot for selfies but also an important sector of Dutch trade and a source of national pride.
Feel free to take a photo with the flowers but please do not venture into the fields.
You can take beautiful photos even from a distance.
Enjoy our lovely flowers but do so respectfully.
How to make a tulip-friendly selfie!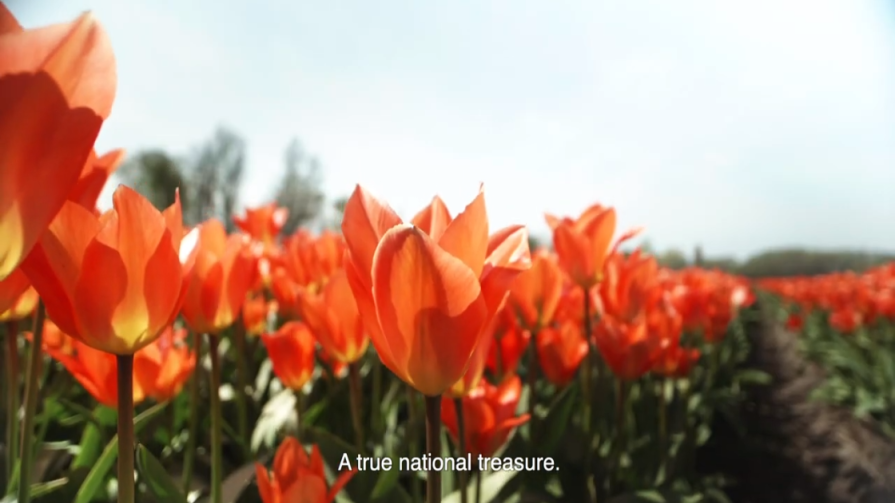 The dos and don'ts near the tulip fields
We can understand why you would be tempted to take a photo in the middle of a colourful sea of flowers…But did you know that flower growers suffer damages worth hundreds of thousands of euros every year due to people wading through their flower fields? So go ahead and take the best #tulipselfie but respect our flowers and growers and please do not walk in the flower fields, however tempting it may be.

You can damage the flowers and bulbs or transmit diseases to them and the subsequent damage affects growers immensely. It causes a loss of income and is quite disheartening because growers put an awful lot of effort, care and love into growing these beautiful tulips. Moreover, the flower fields are private terrain and how would you like people traipsing through your back garden every day without permission? To prevent damage, some growers mark off their fields with a fence or rope. But even if this is not the case, you now know that you should never walk in the fields among the flowers. It's also important to note that you could also incur a hefty fine.

You are allowed to walk along the edges of the tulip fields but be careful and respectful of our flowers so we can all continue to enjoy them. You can still take some truly fantastic photographs without walking into a field of flowers.
Tips for the ultimate tulip selfie
So how do you take a cool selfie with a vast, colourful sea of flowers in the background? Here are our six tips for the ultimate shot!
Do not photograph against the light

When photographing against the light, your camera tends to underexpose the subject, which can create unwanted shadows. So make sure your subject (i.e. you) is properly exposed.

Don't place the subject in the centre

Make your image come alive and place the subject of your photo slightly off-centre. This will make your photo look more dynamic. Just make sure you focus the camera on the subject so that it appears sharp in the photo.

Bring depth to the photo

The human eye can see width, height and depth but unfortunately the camera cannot. So try to divide a photo into three layers: foreground, middle area and background. And then fill that in. A subject in the foreground can be a brilliant introduction to the background, like a person in front of a field of flowers with a sea of colourful tulips in the background.

Take your time

It's such a shame when you rush to take a photo only to return home and discover that it didn't turn out well. Take your time along the fields to admire the tulips and find the perfect spot for the best photo. But please remember to stay only along the edges of the field!

Varied body of work

Don't forget to use the different modes on your camera. They're there for a reason! You can use landscape or portrait, for example, or work with a creative filter. You can also zoom in to emphasise small details that might not show up in an overview photo. Try out different compositions and photo styles and return home with an interesting, varied body of work.

Be happy!

And last but not least: make sure you look happy in the photo. This shouldn't take much effort when enjoying the amazingly colourful tulips!
© Claire Droppert

© Olivier Groot - Hexashots

© Visit Flevoland

© Olivier Groot - Hexashots

© Robin Utrecht via HH / ANP

© Olivier Groot - Hexashots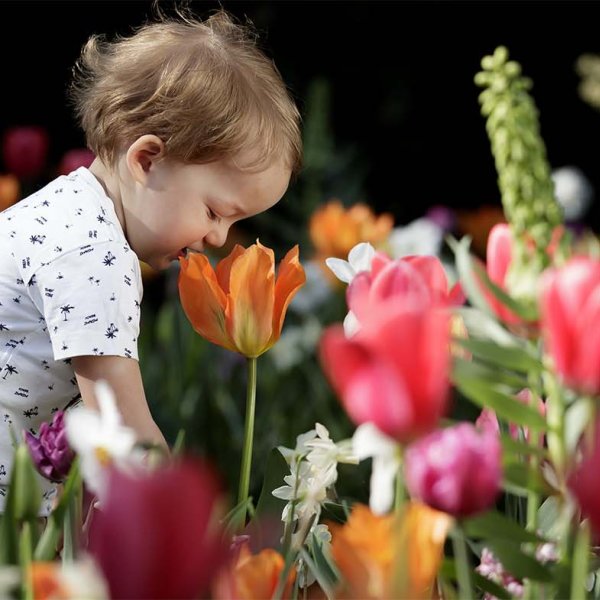 Flowers
Dive into the story of Dutch flowers, meet growers and florists, and discover the best insider tips.
Go to Flowers