What is there to do in Giethoorn?
In Giethoorn, a typically Dutch village in Overijssel, you can perfectly see how the Dutch love to live with and on the water. In an environment full of lakes, reed beds and forests lies this picturesque village with its many handsome farms with thatched roofs and characteristic wooden bridges.
Giethoorn was established as a settlement of peat harvesters. Peat cutting created ponds and lakes, and people built houses on the islands between them. As a result, access was only possible by bridge or using traditional Giethoorn boats, so-called punters – narrow boats pushed along using a long pole by a punteraar.
Fortunately, little has changed in Giethoorn. The tall wooden bridges are still there, and you can still travel the waters on a punter, as well as on an electric boat or a tour boat. A 1 or 2-hour boat tour takes you past the gorgeous 18th and 19th-century farmhouses and under the bridges. Learn more about the history of Holland, Land of Water.
© Marketing Oost

© Marketing Oost

© Marketing Oost

© Marketing Oost

© Marketing Oost
Where to go for good food in Giethoorn
Giethoorn undeniably has a reputation when it comes to gastronomic enjoyment. It is home to various excellent restaurants, many of which are of course beautifully situated at the water's edge. The highlight among them may well be restaurant De Lindenhof (Beulakerweg 77), with 2 Michelin stars, but Hollands Venetië (Beulakerweg 167) and 't Achterhuus (Dominee T O Hylkemaweg 43) are also highly recommended!
More in the area
Not far from Giethoorn, you will also find such old Zuiderzee towns as Vollenhove and Blokzijl. There, you can stroll past historic buildings, ancient churches and castles, and have a moment of pure enjoyment on a terrace by the water's edge. And, if you like exclusive restaurants, be sure to visit the top-level restaurant Kaatje bij de Sluis * in Blokzijl. For nature lovers, National Park De Weerribben-Wieden is highly recommended.
If on an extended stay in this area, consider visiting the nearby Hanseatic towns of Zwolle and Kampen. Or take the kids out for a day in Slagharen amusement park.
Watch this video: Giethoorn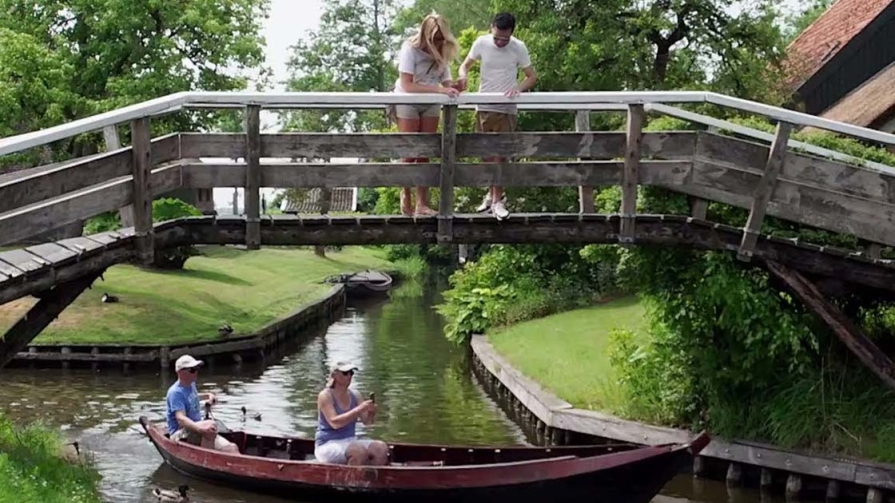 Accessibility
Giethoorn, in the province of Overijssel, is about an hour and a half's drive from the capital city of Amsterdam or Amsterdam Airport Schiphol. You can park around the village center and continue on foot, by bike or by canoe. The most popular mode of transportation here is the punter. Want to be sure not to miss a thing while visiting? In that case, you should book the luxury day tour to Giethoorn from Amsterdam. The tour group is no bigger than eight persons so the guide can give you a lot of personal attention and tell you all about this unique village.
Editor's tip
If you love walking, the 'Giethoorn walking route' (4.3km) is a great walk through the water-rich village of Giethoorn. Characteristic wooden bridges, canals and thatched-roof farmhouses make for a picturesque setting along the route. Longer is also possible, this walking route is 15.3 km. If you want a rest along the way, find a table at one of the great terraces by the water.
Frequently Asked Questions
Take a digital journey through the Netherlands Land of Water
Discover the Netherlands' water-rich cities, the most beautiful natural areas and the water icons that have made history in 360 degrees. Get ready for an unforgettable experience and get to know everything this beautiful land of water has to offer you.
Start the unique 'water experience'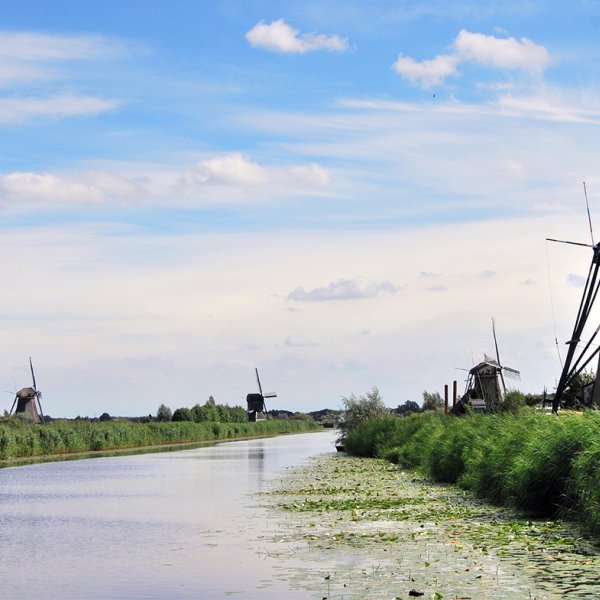 Living on and with the water
Dutch culture is closely interwoven with the water. Discover the rich history, meet local and international water heroes, and travel along to the most iconic places. Immerse yourself in the story of the Netherlands, Land of Water.
Read more