The flora of De Meinweg
Right across the terraced landscape, which is unique in the Netherlands, two stream valleys were formed. Between these two stream valleys you will find different types of forests, including deciduous and coniferous forests. In the deciduous forests, you will often find oak, beech and birch trees. De Meinweg also boasts extensive heathlands, especially in the higher parts of the area. Here you can find heather and bell heather, which form a beautiful purple carpet when in bloom. The park is also home to several mysterious fens and bogs. In and around these wetlands, you can come across plants such as peat moss, water lilies and blunt-leaved bog-moss. De Meinweg also has drifting sand areas where grasses and lichens thrive.

Along the stream valleys you will find plants such as marsh marigolds, reeds and marsh violets, which flourish on moist soil. The park is also home to some rare plant species, such as sundew (a carnivorous plant) and several orchid varieties. This diverse flora contributes to the ecological balance of the park and provides a home for a wide range of animal and insect species. Conservation and protection of these plant communities are of great importance to ensure the biodiversity of De Meinweg National Park.
Animal kingdom of De Meinweg
In addition to special trees and plants, De Meinweg National Park is home to a wide range of animals . Red deer and roe deer are well represented in the park. Especially in the early morning or evening twilight, you can see them grazing in open fields or along forest edges. De Meinweg is also one of the two home bases of a population of wild boar. These omnivores roam the forest in search of food, and their presence is an important part of the ecosystem. Badgers and foxes can also be found in the park. Badgers build their sets in the ground, while foxes dig their dens in hills or among tree roots.

The park is also a paradise for bird watchers. You can spot different types of woodpeckers, such as the black woodpecker, as well as nightjars, goshawks and buzzards. To add to that incredible richness of animal variety, you will also find unusual amphibians, reptiles and insects in the fens and marshes.
Exploring the park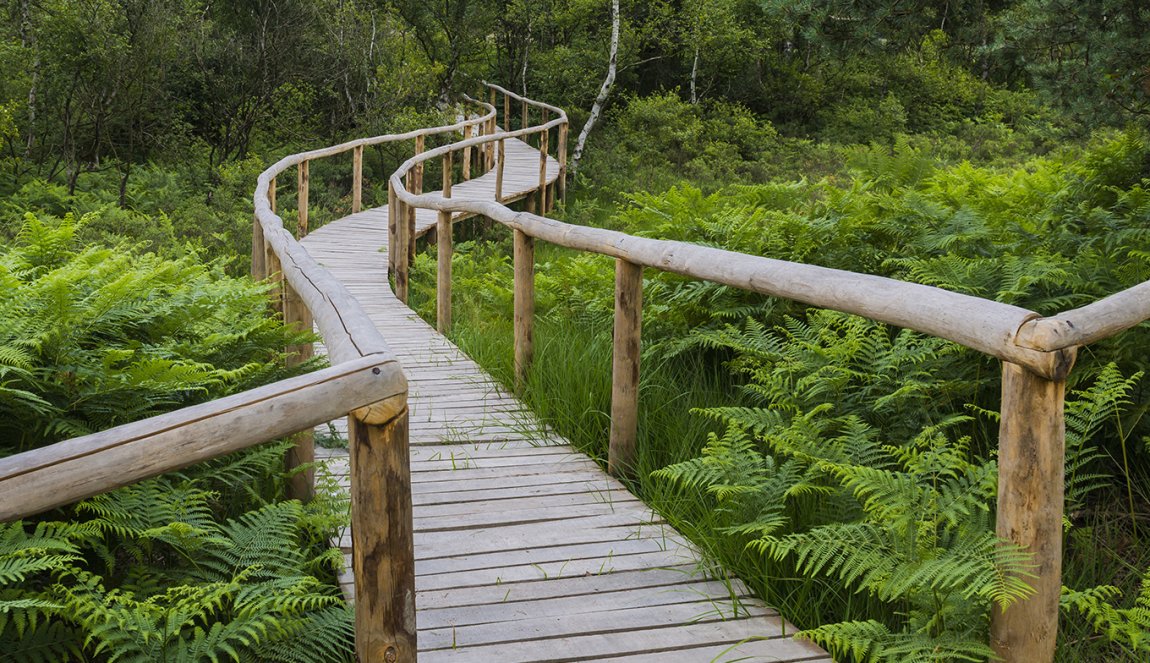 The Meinweg has a large network of footpaths, cycle paths and bridle paths, making it a perfect area for beautiful nature walks. But you can explore the area in various other ways as well: by (electric) bicycle or on horseback. If you are looking for an adrenaline kick, the park also boasts challenging mountain bike trails. In other words, everyone can enjoy the full experience of the park in their preferred way. Please make sure to stick to the designated trails.

There's no doubt that De Meinweg National Park is a special park with a varied landscape of forests, heathlands, fens, drifting dunes and stream valleys. It is home to rare plants and animals, including deer, foxes, badgers and many bird species. Popular activities include hiking and cycling on marked routes. As a refuge from the urban hustle and bustle, De Meinweg offers peace and quiet in a beautiful natural environment. Visitors can enjoy the natural treasures of the Netherlands while the park protects biodiversity for future generations.